Thunderbolt Casino Makes A Donation
Thunderbolt Casino Makes A Donation
Thunderbolt Casino has just made a R50,000.00 donation.
Every year, we here at Thunderbolt Casino aim to make a difference with our philanthropic campaign.
This year, we set out to focus our efforts on the all important notion to, "Do what you can, with what you have, where you are". 
And so, our philanthropic initiative for 2022 lead us to making a R50,000.00 donation to Isithembiso Babies Home in Gqeberha.
In addition to making a donation to Isithembiso Babies Home, the initiative also aims to raise awareness for the home as well as inform people of the numerous different ways in which they can help.
We're calling on all willing and able residents of South Africa to help by making a donation to contribute to this worthy cause.
All About The Isithembiso Babies Home
Isithembiso Babies Home is a Non-Profit Organization (NPO) that provides a loving home for children under the age of 3, who have been abandoned, neglected or abused.
The organization aims to love, nurture, and assist in developing physical, emotional and cognitive abilities of the babies. Once a child has been placed in their care, the babies are treated by a range of specialists, including paediatricians, occupational therapists, dieticians and physio therapists. This is done whilst working with social services in order to place each child in a foster home or reunite them with their families.
They commit to making a positive change by rescuing babies and creating families. Since the organizations inception in November 2005, they have provided a safe and loving home for over 140 babies in Port Elizabeth. The NPO looks after 12 children at a time. They are divided into 2 homes which enables the organisation to care for a maximum of 6 babies per home at any given time. In addition to this, the organization is in the process of adding a cluster home for orphaned and abandoned children older than 3, which will significantly increase their capacity to be able to love, support and care for these young lives.
Isithembiso was created so that hope can exist for abandoned and orphaned babies. Their aim is to provide a stable environment for children who have a difficult start in life.
If you're interested in finding out more about Isithembiso babies home then watch this moving Youtube video.
How can I contribute?
Thunderbolt Casino has made annual donations to this worthy cause, we believe that together we can make a difference. If you are interested in finding out more of our previous contribution efforts, then click here.
Are you interested in making a difference and contributing to this worthy cause? If so, please click the button below to make a donation. Every bit counts and at the end of the day, it really is about doing what you can, with what you have, where you are. 
The organization solely relies upon donations made by individuals and businesses. The donations go towards hands-on nurturing and therapeutic care of each baby, ensuring that the babies stay in a happy home in a secure family suburb, making sure that each baby is on a nutritional diet and has sufficient nappies, and covering the daily administration costs of the organization.
Becoming a volunteer is another way you can aid in making a difference to this all important cause. The practical help that you can provide is indispensable in ensuring that Isthembiso is a place of love where every baby gets the support they need.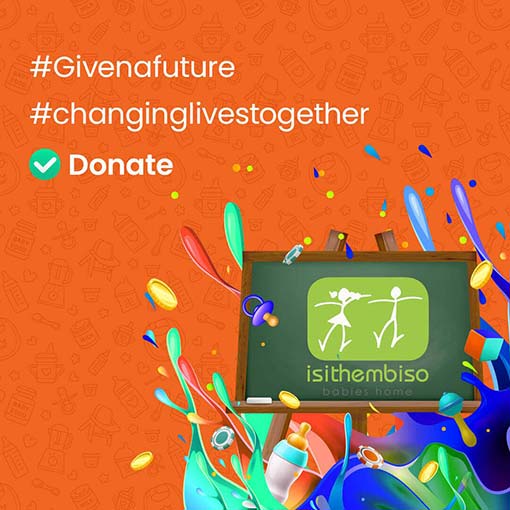 Please note that Thunderbolt casino does not in any way benefit monetarily from this campaign. Our main goal is to help raise awareness for the organization and to make our annual philanthropy campaign donation to Isithembiso Babies Home.
We would like to say a big THANK YOU to all of our loyal players for making this contribution possible.
MORE NEWS