Eternal Love
New Games
Twilight fans, pay attention because Eternal Love is on its way to Thunderbolt with huge wins, big rewards and entertainment to last a lifetime.
Thunderbolt Online Casino is proud to bring our players the latest in slot releases and now, you too can be a part of Eternal Love, the vampire-themed slot that has wins galore to be discovered, an interesting bonus round as well as an undercurrent of love so strong, you'll feel that you're part of the human-werewolf-vampire love triangle. Due for release in the first week of February, Eternal Love may seem a little familiar to those who have read and loved the many vampire love stories released in the last decade. Though the theme may seem a little dark at first, you'll quickly notice that the game is not meant to scare anyone, but rather to pluck at the heart strings and get the blood pumping faster.
Don't forget about the Bonus for the New Game
DEPOSIT
BONUS
COUPON
R25-R250
100% Match + 50 free spins for Eternal Love on top
ETERNALSPINS
R251-R500
100% Match + 100 free spins for Eternal Love on top
ETERNALSPINS
over R501
100% Match + 150 free spins for Eternal Love on top
ETERNALSPINS
How to get your bonus::Go to the cashier's 'Redeem Coupon' section and enter the coupon codes ETERNALSPINS before making a deposit! Afterwards you will receive according to your deposit amount the free spins and 100% on top. This bonus is valid until 9th March 2016 Thunderbolt Casino Terms & Conditions apply.
The game is said to have a massive 243 possible combinations available on its five reels and it is an all-ways pay game. The scatter, which is a coin, is the key to finding the biggest wins in the game and unlocking the free spins, life meter (which we'll get to in a minute) and the big bucks available to be claimed from this eternal love story. If you're wondering what, besides love, is at stake, here's your answer: a 50 000 times payout.
The wild symbol is also a useful one to keep a watch on if you're hoping for the wins and though it only appears on reels 2 and 4, it can make magic happen. No, it won't transform you into a vampire or turn your partner into a wild werewolf, but it does have the power to help you complete winning combinations.
We mentioned that the scatter was a pretty powerful little symbol and finding it will help you unlock the bonus round, which is the life meter. Now here's where the game gets a little bit mystical and very exciting: when you find three or more of the scatter symbols in the reels, you'll be awarded up to 10 free spins. Then, you'll be shown a life force meter which will hide within it a total win amount of between 2 and 100 times what you originally bet. Now, we say 'hide' because this amount won't be revealed until your free spins are done.
Once the free spins have expired, you'll be shown the mystery amount and, if you haven't reached that amount with your free spins, you'll be given more free spins and more chances to win, until you eventually hit that total. On each of the extra games, your life force will also increase up to 1 000 times the triggering bet! This is called the extended life feature and though you may not be able to live forever in the real world, there's a way you can do it on the reels.
Remember that, as with most of the new games being released at Thunderbolt Online Casino, you can play any time on the mobile casino which means you never have to worry about getting home in time to get a few spins in. Take your casino with you wherever you go and ensure that this month of love, yours lasts forever with Eternal Love.
Have fun playing this game on mobile, instant play or download and stay tuned!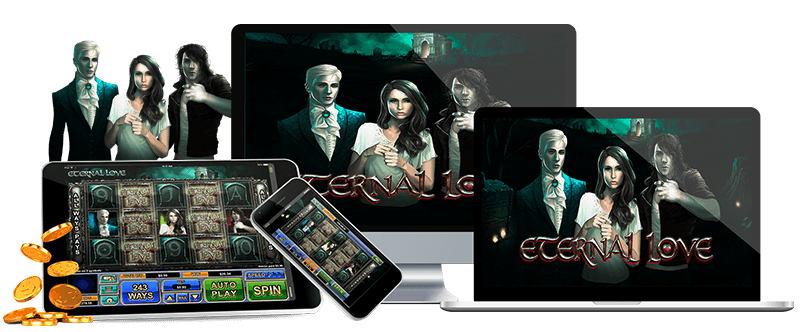 MORE NEWS