CashtoCode Deposits
 Thunderbolt Online Casino is excited to announce that we have a great new way to deposit!
We have partnered with CashtoCode (C2C) to make depositing instant, private and even safer. Enjoy a deposit bonus to accompany your CashtoCode deposit (info below).
What is CashtoCode?
C2C is an online voucher system that does away with having to make deposits into your Thunderbolt account directly from your bank account or credit card. It's a quick and easy, no fuss method of payment, and completely safe and secure.
Your CashtoCode BONUS!
200% + 20 free spins for Cleopatra's Gold
(min. deposit R200)
Coupon code: CASHTOCODE
Only valid on CahstoCode deposits
What are the Benefits of using a CashtoCode eVoucher?
Using a CashtoCode eVoucher to make a deposit is like using cash - there's no paper trail, your transaction is private, payments to a casino do not reflect in your bank or credit card statement, and there's absolutely no chance of your debit or credit card details falling into the wrong hands in cyberspace. And once you have your C2C voucher, your deposit reflects immediately and you can start playing there and then!
Where do you buy CashtoCode eVouchers?
You can choose between two internet service providers to buy your C2C vouchers – Dundle , OFFgamers or Reload Hero (recommended due to lowest fees). We recommend using Reload Hero as their site has the lowest fees for South African customers. Though Dundle has a dedicated South African version with rand values and is a little easier to navigate than OFFgamers, so Dundle might be the best bet, though both sites are reputable.
How to buy a CashtoCode eVoucher
Select CashtoCode on your preferred supplier website (these sites sell a lot of other types of vouchers for different uses). Then choose a voucher value. Both Dundle and OFFgamers offer R3500, R900, R500 and R200 vouchers. You can, of course, buy multiple vouchers. There is a service cost attached to each voucher, but the higher the value, the lower the service cost percentage. Then choose your method of payment (check which are available in your country). Some of these also incur a small fee, while others such as PayPal are free. Once your transaction is complete, your voucher code will appear on the screen. It will also instantly arrive in your email inbox, along with the receipt and redeem instructions.
How does a CashtoCode eVoucher work with Thunderbolt?
Paying online with CashtoCode is simple. When depositing at Thunderbolt, select 'CashtoCode' as your payment method. Enter the voucher code you received from your preferred supplier and you're done!
Some important points to note about using CashtoCode eVouchers:
The voucher code can only be redeemed once. So you need to use the full amount in one go.
CashtoCode eVouchers are valid for 12 months after the purchase/issue date.
A C2C voucher can only be used as a deposit method, and not to withdraw.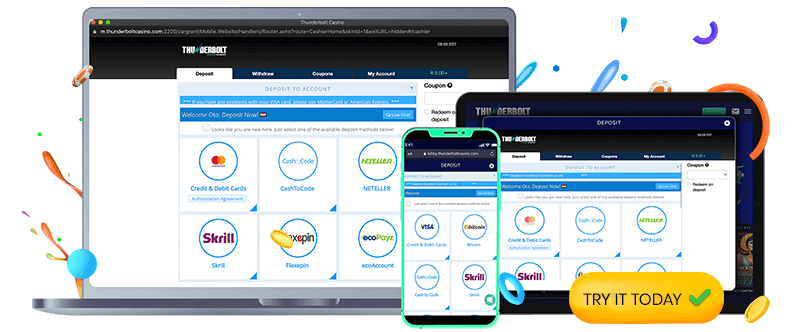 MORE NEWS