Popular Mermaid, Sprite Joins Thunderbolt
Popular Mermaid, Sprite Joins Thunderbolt
New Games
Out of all the underwater creatures, real or mythological, mermaids have always been special and loved; although in some legends they can be pretty mischievous.
With the head and upper body of a female human and the tail of a fish, this fictional creature has become part of the folklore in many cultures worldwide. From ancient Assyrian legends to Hans Christian Andersen's fairy tale "The Little Mermaid" and the Disney animated movie of the same name, the world has always been fascinated by these magical beings often represented with long flowing hair and beautiful singing voice that would lure sailors who have spent long time at sea to get shipwrecked and become their lovers.
The mermaid from Thunderbolt's latest release, Mermaid's Pearls, is pretty harmless. In fact, her role is to look stunning and entertain you as you spin the reels of this fascinating video slot machine. Who is she? She is the sexy and popular 'Web J' personality Sprite from Taipei, Taiwan. Being the popular web celebrity that she is, RTG has found her to be the perfect solution for their mermaid, a delightful character who is unselfishly ready to share her collection of valuables with the players.
Mermaid's Pearls offers amazing design and a 5x5 game engine. Instead of regular paying lines, the game utilises the convenient All Ways Pay system which amounts to 3,125 potential winning combinations in this particular case. The reels are set against a dark blue background with blended imagery of passing fish and corals on the seabed rocks. Other than Sprite in different poses, you can see seashells of different shapes and sizes on the reels, as well as gorgeously round and shiny pearls which have been deemed Collection Symbols.
The goal is to collect pearls during base game and the main bonus feature. Up to 25 pearl icons may appear during standard gameplay and free spins. When the 15-25 number is reached, the player will receive corresponding prizes. The collection of pearls is measured on the Pearl Meter, a progress bar showed on the side of the reels. When the Pearl Meter reaches 300, the Shipwreck Pick Bonus gets triggered. In this feature you choose a magic pearl to win an instant cash prize. When the Pearl Meter reaches 600, the Treasure Pearl feature is activated and the player gets10 free spins with blank positions and pearls appearing on the reels.
Move over Ariel, Sprite is Here!
The moment you load Mermaid's Pearls you will know that you are dealing with a slot game that has never been seen before. Yes, mermaids have been the subject of many slots under the sea, but none quite like Taiwan's Sprite. Mermaid's Pearls does not feature a progressive jackpot pot, but it boasts medium volatility and a top prize of 12,500 times the bet per way. On the 22nd of May and every day after that, you will be able to play Mermaid's Pearls in every version of Thunderbolt, mobile and instant play, so start getting ready to dive in.
Available across all platforms. Play anywhere, anytime.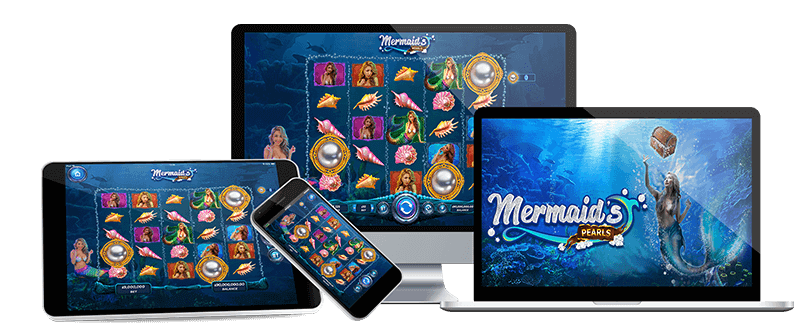 MORE NEWS