Popinata- with a Popinata Bonus
Popinata- with a Popinata Bonus
New Games
Get your hands on some yummy sweets by hitting a colourful papier-mâché donkey and a Popinata Bonus.
Have you ever tried hitting a colourful papier-mâché donkey? If not, you might want to give this fun form of entertainment a try on April 18th, the Piñata Day. Or, alternatively, spin the reels of the new RTG game inspired by these creative candy containers, appropriately called Popiñata. Where? Well, right here at Thunderbolt Casino! After all, isn't this this where fun happens every single day?
Make the Piñatas Explode to Win
You are cordially invited to join a piñata party taking place in a Mexican desert on a warm summer evening. Colourful containers shaped like guitars, beer bottles, sombreros, strawberries and rockets, hang on 10 paylines suspended between two spikey cactuses. As your hips inevitably start to move to a festive tune playing in the background, symbols will form winning combinations over 5 reels.
They will pay both left to right and right to left, celebrating your good luck with exploding piñatas. Reels 2, 3 and 4 can additionally deliver a Wild Donkey piñata, which can not only stand in for any of the others, but also expands to cover the entire reel before wins are awarded. Once that happens, a Wild Re-Spin is triggered. After paying out, all reels which contain the expanded Wilds will be held while others re-spin, possibly more than once. The maximum win this game offers is 250x your line bet.
Thunderbolt Celebrates the Piñata Day with a Popinata Bonus
Did you know that the piñata tradition does not actually originate from Mexico? The idea to fill a container with treats, suspend it up in the air and kick until it breaks, dates as far back as the 14th century. It was brought to Mexico by Spanish conquistadors, and once there, this original game took on a religious significance.
The container represented 7 deadly sins, and beating it was a symbolic way to battle temptation and evil. But even back then, the piñatas contained prizes, only their purpose was to reward a successful outcome of this battle. Nowadays, we attach a significantly more benign meaning to these colourful containers and often use them to entertain our party guests.
To celebrate the Piñata Day, Thunderbolt will not only provide a colourful and vibrant, appropriately themed new game, we'll also mark this day by offering our players a great deal. Stay tuned to find out what it is, then collect you treat and kick the heck out of the festive piñatas on April 19th. There's no telling what might pop out as the result, but what we can promise is that you'll have loads of fun while doing it.
POPINATA arrives to Thunderbolt on 19th April
But before you do, we've got another tempting offer for you! If you make a deposit of R50 or more, while using coupon code PRE-PINATA, we'll set you up with 4 x 100% up to R3,000 bonus, PLUS 33 Free Spins on Secret Symbol. The offer is valid until the end of April, so make sure to claim it and boost you bankroll before Popinata arrives to Thunderbolt.
4 x 100% up to R3000 + 33 free spins for Secret Symbol
(min. dep. R50)
Coupon code: PRE-PINATA
Valid only on April 30, 2017
How to get your bonus: Go to the cashier's 'Redeem Coupon' section and enter the coupon code PRE-PINATA before you make a deposit. Thunderbolt Casino Terms & Conditions apply.
Don't miss out on this mexican rewards from Real Time Gaming and Thunderbolt Casino. You can play and enjoy our games also on your mobile, via Instant Play or Download. And watch out for the Popinata Bonus coming soon with the release of the game.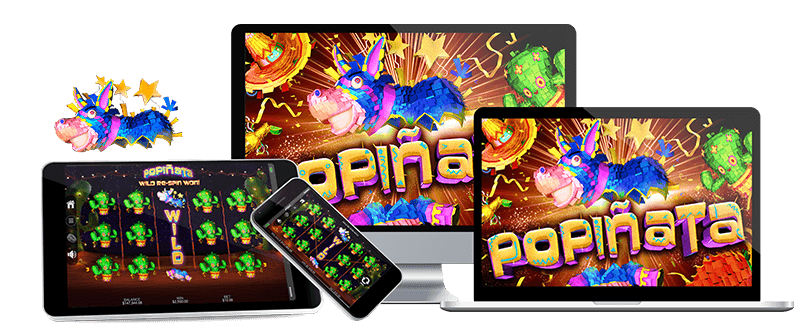 MORE NEWS