Meet Wu Zetian the Legendary Chinese Empress
Meet Wu Zetian the Legendary Chinese Empress
New Games
Realtime Gaming has released a new title inspired by Wu Zetian, a legendary Chinese sovereign who ruled during the Tang dynasty.
She came from a rich family who continiously encouraged her to read and become more educated throughout her childhood. At the age of fourteen, Wu Zetian became an imperial concubine of Emperor Taizong of Tang and after his death married the Emperor's successor, his youngest son. This was only the beginning of Wu's successful political career during which the lady was progressively gaining influence. It wasn't long before she started making all major decisions.
Though considered to be a power-hungry, ruthless individual, Wu was recognized as a capable ruler and her leadership resulted in the major expansion of the Chinese empire. RTG has paid tribute to her in a superbly designed Asian-themed video slot with unique features. Players will benefit from giant symbols and see days turn into nights while connected reels spin for free to deliver high-paying symbol combinations.
Giant Symbols Populate Connected Reels
An ornate temple is home to 3x5 reel area with 25 fixed paylines, protected by fire-breathing dragons on each side. The collection of beautifully designed, highly detailed symbols includes the powerful lady herself, her husband the Emperor, warriors, horses, jade figurines, jewellery items, lotus flowers and lanterns. All of them, with the exception of Scattered Gongs, can take a single reel position or appear 3x2, 3x3, 3x4 and 3x5 in size. During the base game, you might see reels 2 and 3 or reels 4 and 5 connect and spin with 3x2 giant symbols while Scatters land as two adjacent 1x1 icons. Wild Pearls will help by gracing all reels but the first and can also expand to occupy an area as large as 3x4. Scatters will not pay on their own but have the potential to launch a lucrative feature. It will take at least 3 consecutive ones to activate free games bonus round and enjoy 5 spins on the house. Depending on the number of triggering symbols, players will benefit from 3, 4 or 5 connected reels throughout the feature.
Wu Zetian is a highly volatile game with an RTP ranging between 80% and 97.8%! Making the most of its unique special features could result in a majestic win of 50,000x your line bet. Feel free to choose your favorite way to access the game and launch a download version or play online on both desktop and mobile devices.
Claim Free Spins and Match Bonuses
All Thunderbolt customers will get an opportunity to try the wonderful new title for free with 30 spins (as long as a deposit was made within the last 7 days that is). your bonuses are valid until the 23rd of February and winnings are subject to the rrgular 60x play-through. Match bonuses are also on offer during the same period and claimable more than once.
Play anywhere, anytime. Available across all platforms.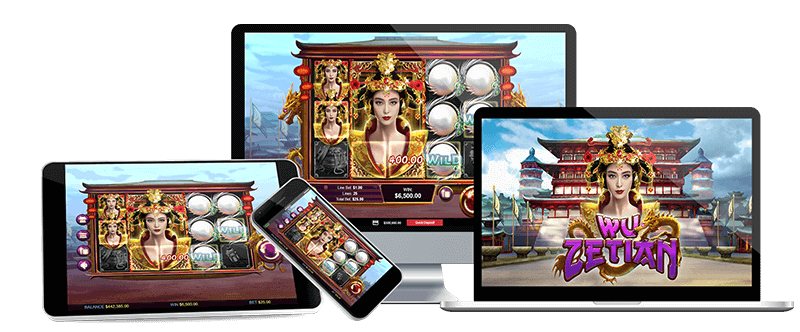 MORE NEWS