Steampunk Science at Thunderbolt
Steampunk Science at Thunderbolt
New Games
Scientists are typically married to their work – add a touch of madness to their endeavours and you get an experiment-making machine working day and night until they mix that perfect concoction. Dr. Winmore,
a mad scientist from the fictional steampunk world didn't just dive into making elixirs all by himself. First, he created a series of robots to help him. Together, the creative experimenter and his helpers have better chances of landing the right potion recipe. You know, the one that brings wealth and good luck wherever you go and whatever game of chance you play. Get ready to operate some heavy lab equipment and benefit from cascading wins.
The Dr. Winmore video slot features a less conventional reel grid with 5 columns and 5 rows. Beams of electricity flash in the background and glowing buttons invite you to make those reels come alive. The symbols span across test-tubes, bulbs, vials and energy balls to batteries and one-eyed robots, which are the symbols you should be most pleased to see. For a win to occur, at least 4 symbols need to land in adjacent vertical and horizontal positions. Diagonal combinations do not count. After a win, the symbols will disappear allowing new ones to fall down from above and possibly form more winning combos. As if this weren't enough, consecutive wins will be awarded multipliers. The multiplier value builds from x2 to a maximum of x6. You can earn the max multiplier by landing at least 5 subsequent cascades.
The moustache-boasting Dr. Winmore plays the role of a Wild. He will substitute symbols that are missing to help complete winning formations. Robots are special symbols which have special abilities, designed to increase your chances of bagging a win. Dr. Winmore is a generous scientist, have no doubt about that.
Take Care of the Robots
The cheeky robots appear randomly on screen. Once they make an appearance, they will remain in their positionsuntil regular winnings, if there are any, are paid. With no more winnings left, the robots will activate and clear positions around them, following specific patterns. There are 4 different robots and 4 different clear patterns: entire column, entire row, both row and column and adjacent positions. The great thing about this feature is that robots will showcase their powers even if there are no winnings generated. So, in situations when you can't trigger cascades, the robots will vacate certain positions and still create options for new, possibly winning combinations.
Dr. Winmore online slot comes with low volatility and a top award worth 300 times the bet. On February 19th, the wacky scientist will set up shop at Thunderbolt, so think about paying him a visit for an electrifying session. Have you ever met a robot? This is your chance!
Available across all platforms. Play Dr. Winmore anywhere, anytime.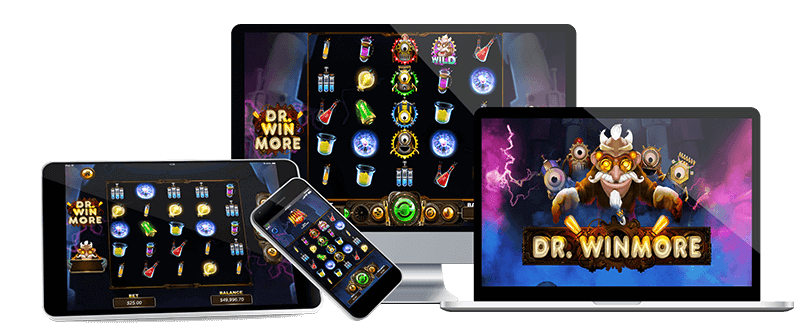 MORE NEWS