Vintage Classic Featuring Modern Technology
Vintage Classic Featuring Modern Technology
New Games
Why look for inspiration in movies, music, history or ancient tradition? When you can tap into the nostalgia for the first slot machines and the superstars of pubs and bars
 available at your fingertips. Thanks to Thunderbolt's latest release, the charm of 3-reel slots is not lost in the sands of time. No, it's being kept alive by online slots like 777. Sometimes, simple reel action is more powerful than storylines, narratives, characters and impressive animations. 777 is an example of this power; joined by captivating and engaging features, this basic slot has a lot more to offer than one might think.
By loading the game, the player will be faced with a modern-looking slot machine with flashing buttons instead of levers. The cabinet, however, features familiar old-timey symbols such as bars, double bars and triple bars, as well as the games logo which is 777. The symbolism of the number seven is globally known – this is a number associated with good fortune, progress, development and positive thinking. As the game stands,the luck is on the player's side. The paytable is shown on the main screen and the player can always keep track of the prizes that could potentially end up on his/her account. A total of 3 reels are used in the game and there is only 1 paying line. The gameplay is brought to a bare minimum and then the developers added a bit of seasoning – Wild symbols, the Hold feature and a progressive jackpot.
A deck of cards is the Wild symbol which substitutes all other icons. When this symbol participates in a line win, the payout is tripled. The win multiplier can also increase and reach up to 9x the stake. Whenever there are matching symbols on the central line, the Hold feature becomes active. The buttons under the reels will light up and the player will get to choose to hold one or two reels for the upcoming spins. The Hold & Spin round ends when three Wilds are won and the Hold buttons are disabled.
Normal Bet, High Bet and Super Bet
777 comes with three different bet levels, each with a different max win value. If you play with Normal Bet on, you can expect a maximum win of 1,000 times the bet. High Bet level brings a potential maximum win of 1,680 times the stake and if you go for the Super Bet you can hope for the progressive jackpot. The jackpot's seed value is 4,200 USD or around 60,680 ZAR. Normally, with each wager, the size of the pot grows. To win the jackpot, one needs to line up three Wild symbols. This is only possible by playing the Super Bet level. Lucky cards and lucky sevens are the winning combination in 777, the classy new game from RTG, available at Thunderbolt!Everyone's invited to share the good fortune, on their desktop computers or mobile devices – this classic gem works smoothly across all platforms.
Available across all platforms. Play anywhere, anytime.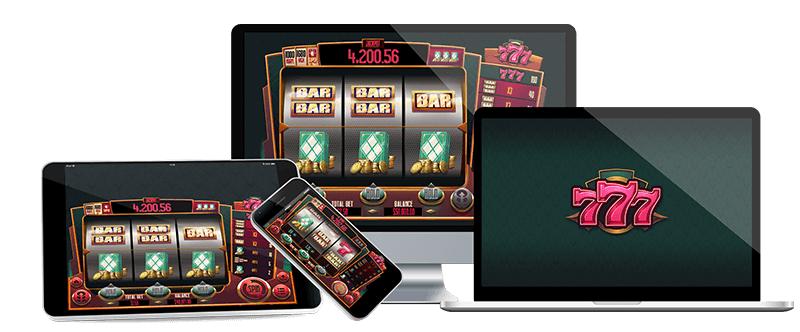 MORE NEWS