Meet Cubee, the Star of Thunderbolt's Revolutionary New Game
Meet Cubee, the Star of Thunderbolt's Revolutionary New Game
New Games
The star of our never before seen new game!
Though Thunderbolt players are generally kept up to date with new releases, we're sure this is not one that you might have expected. We can say with full confidence that none of our users have seen a game like Cubee before. Cubee is a furry little critter with a big smile, and he is getting ready to go on an adventure in which he is expected to battle the mean-looking Rocco and a group of pesky enemies. Cubee needs to travel through time to complete each chapter of this thrilling adventure, making use of the big time travel portal placed right in the centre of the screen to help him. The first time you load Cubee, the game may seem confusing, but it is actually quite simple. Cubee's battle with begin with Rocco in the Stone Age, advances into the Era of Piracy and then to the Viking Age to finally beat him and safely make it back to his homeland, Cubeeland. To acheieve all this, he definitely needs your help.
Each time you hit Play, the time portal will spin, bringing forward objects and characters that will affect both Cubee and Roccos' statuses in this epic battle. The symbols you'll see are mostly weapons (clubs, spades, axes), which you'll need to make use of in order to reduce Rocco's health level and eventually advance to the next era.
Another thing you'll see is floating enemies, power balls and energy balls. You can increase Cubee's energy levels by absorbing energy balls so that he can defeat the floating enemies who are on an equal or lower level. Forget about traditional reels and paylines and go into this story fresh, with a new set of eyes. Chances are you'll like it!
Mission Objective: Cubeeland
Keep in mind that when you reach the Era of Piracy, the portal will show cannons. Collect them, as they will add free games. Collect bows and arrows in the Viking Age to add multipliers to those free games and enhance any winnings you may gain from this special feature. Once you get Cubee to Cubeeland, Rocco is no longer a threat.
All that's left is to stack up the wins and rejoice! Cubee is an impressive "floating symbols" casino video game. Definitely not your ordinary slot, but it plays easily like if it were one. After a spin or two of the magical time travel portal, you'll forget all about the geometry of reels, rows and paying lines. Don't forget one thing, though - by playing Cubee, you can win as much as 50,000 times the bet per spin!
Play anywhere, anytime. Available across all platforms.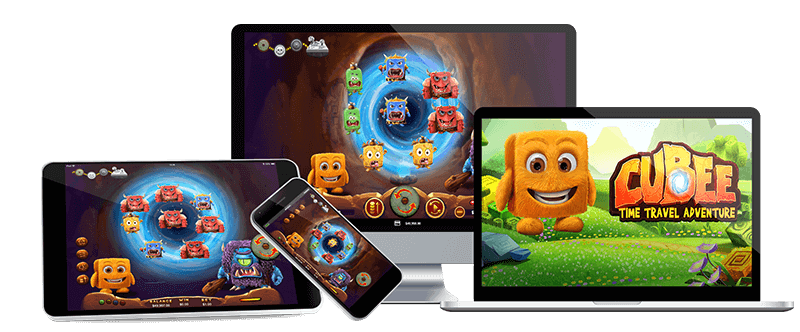 MORE NEWS