Kind Fairies Inviting You In
Kind Fairies Inviting You In
New Games
How can you resist the lovable little faces of the woodland fairies, calling you to join them in an enchanting forest setting straight from a childhood fairy tale? Well, maybe not an exact depiction, as this forest is slightly more psychedelic,
but still pretty close – certainly as colourful as we remember it in fairytales. There are vines and magical fruit everywhere and the reels are left transparent so that you can relish in the beauty of the slot's design.
The game is built around 3 reels and 3 rows, offering 27 ways to win. The reels are populated by small flying fairies, spreading their pixie dust all around the grid. They have cute hats and look like mushrooms themselves. However, the main item of the game is the real magic mushroom which also plays the role of the Wild. It performs substitutions whenever necessary, so as to complete winning combinations and bring more funds to your casino balance. Other symbols are also theme-related, such as a lute and a notebook made of leaves. Magic Mushroom slot has an all-ways-pay configuration which compensates for the reduced reel grid and leaves enough room for decent wins at desired frequencies.
Even though the game dispenses with Scatters and complicated multi-level special features, it still gives out an impression of a well-rounded online video slot with a few additions here and there that make it special and fun to play.
A Splash of Colour and Re-Spins
We've mentioned the Magic Mushroom Wilds, but we haven't given the full report on them – aside from replacing regular symbols, they will expand on the middle reel. In other words, three Wilds will line up and make one big mushroom. The shroom will grow as much as the middle column lets it, allowing more wins to form. This is also what triggers the re-spin feature with randomly selected symbols on reels 1 and 3, along with blank spots so as to reduce the chances of flopping.
Magic Mushroom slot comes with low volatility and full optimisation across all desktop computers and handheld gadgets. As of today you can log into your Thunderbolt casino account on your preferred device and start spinning to make the mushroom grow to your benefit. The fairies are there to help, so give them a wink and they'll fly right over!
Available across all platforms. Play anywhere, anytime.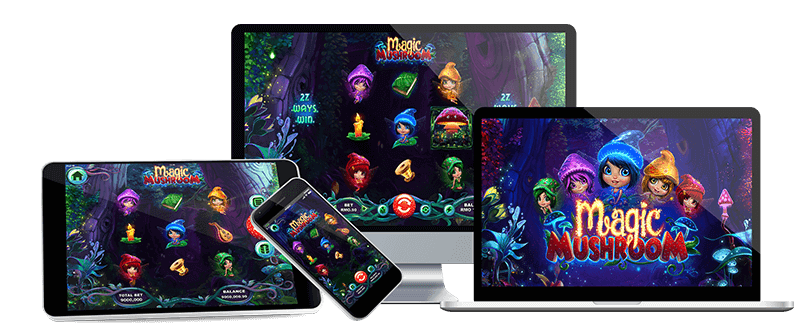 MORE NEWS