Gods of Ancient China
New Games
Have you met the Ancient Gods of Ancient China? Now is your chance
Our brand new Ancient Gods video slot tells a story of the Protectors of the Heavens which may not have their place in modern notions of religion, but they sure live on in the tradition of Chinese history, where people are constantly seeking inspiration from ancient myths and legends.
According to the legend of the Four Heavenly Guardians, the four celestial beings embodied in animals were given a task to guard the four directions of the compass. Each of the animals (Azure Dragon, White Tiger, Black Tortoise and the Vermillion Sparrow) had their seven constellations to protect, which resulted in them being associated with the four seasons and elements.
The myth comes alive in our new online video slot with 25 paying lines and 5 reels. Thunderbolt players can adjust the number of active lines to their liking as well as determine the preferred bet per spin before hitting the Spin button. The game's Wild symbol is the Yellow Dragon of Earth, here referred to as the Center Dragon. In the myth, he represents the Earth as the center of the entire realm of constellations guarded by the four beasts. In the slot, the Center Dragon plays the role of the substitution symbol and adds to the action on the reels, mostly motivated by the Golden Medallion Scatter symbol. Three or more Golden Medallions activate Free Games. Unlike most games, Ancient Gods doesn't have a fixed number of free spins awarded upon the trigger. Instead, 2 free games are awarded for every Golden Medallion and Center Dragon that has landed on the triggering spin. The feature can be re-triggered and depending on how many Golden Medallions initiate the round, the wins can be doubled or tripled.
Unlock the Treasures of the Universe
Ancient Gods is a slot without a jackpot payout, but the Free Games feature can be more than lucrative enough. If you keep re-triggering the round and tripling your wins, you're looking at a small fortune coming down from the heavens right into your lap. The max payout for Ancient Gods RTG slot is 7,500x the stake. How will the Immortal Beasts of Eden repay you for all the spins you put into the balance of the universe? Find out at Thunderbolt Online Casino.
Enjoy free spins from us to give the new game a go
Thunderbolt makes sure you get to spin for free to give you the opportunity to see if you enjoy this new slot. So here we go, play 30 rounds on us Simply redeem the coupon code ANCIENT-30 and voila, the bonus is yours to enjoy. Subject to general Terms and Conditions and valid until 4th August.
30 free spins for Ancient Gods
Coupon code: ANCIENT-30
Valid from 04 July - 04 August 2018
Play anywhere, anytime. Available across all platforms.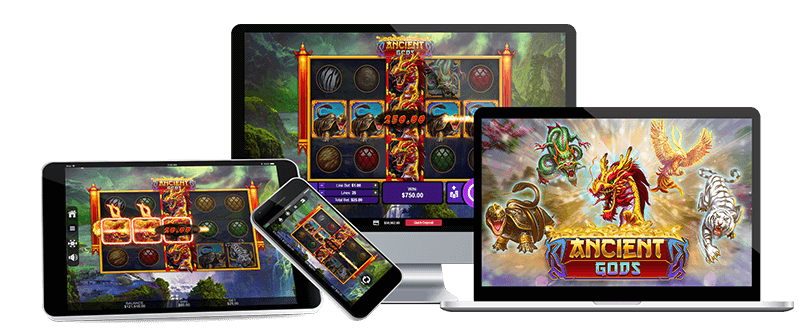 MORE NEWS