Freedom Day Celebrations at Thunderbolt
Freedom Day Celebrations at Thunderbolt
New Promos
It's time for some phenomenal Freedom Day celebrations! 
Proudly South African - this sentiment certainly rings true at Thunderbolt Casino and what better way to celebrate our rich history than on Freedom Day.
We are no strangers to climbing some mountains but as a nation we always come out on top and well, the view is great. To commemorate these significant moments in our past, celebrate the present and look towards our nations beaming future we are given public holidays. Freedom Day is one such holiday.
How to celebrate Freedom Day in South Africa
Freedom Day is a South African public holiday celebrated on the 27th of April, which signifies freedom and memorialises the first democratic election held on that day in 1994.
Stuck on what to do this Freedom Day? Don't fret, Thunderbolt Casino has got your back. We've got some ideas in store for you, including some epic Freedom Day free spins.
Row your boat to Robben Island
We've all heard of Robben Island but if you've never been, then now is the time.
Robben Island is home to the infamous prison where Nelson Mandela spent 18 of his 27 years, along with over 3,000 political prisoners during their fight to end Apartheid.
Today, the island is a national and UNESCO world heritage site, and has quickly become one of South Africa's most visited and popular sites.
In an effort to merge history with the future, this global heritage site is now virtually accessible. The guided virtual tour presents a glimpse into the story of the island to people all over the world, so no matter where you are this Freedom Day you'll have a chance to visit Robben Island.
Travel back in time at the Apartheid Museum
Bet you've never been in a time machine? Well now is your chance. Head to the Apartheid Museum and delve into the past.
This iconic museum is favoured by South Africans and is voted as one of the most favourite museums in SA. So take a leap into the past where you can get deep insight into the good that overcame the wrongs of the past.
Kom Ons Braai!
What is more South African than a braai? We'll give you a moment to come up with something... Braaing was also your answer, wasn't it? 😉
It's so South African, it even has it's own public holiday. It's not just a social gathering, it's a culture and let's be honest we will use any excuse to braai.
This Freedom Day, throw some coals on the fire, get some chops, grab a dop and relax.
Explore the Nelson Mandela capture site
Found in Howick, KwaZulu Natal, the Nelson Mandela capture site is one if the most breath-taking remembrance sites in South Africa.
A view made for reminiscing, the luscious green surrounds add to the display that becomes Madiba's face as you move closer. If you can't visit in person then simply take the virtual tour.
Hang out at the feet of the Father of our Nation
The Nelson Mandela square is home to a six-meter tall sculpture of Madiba. This Freedom day you can go for a bit of shopping or perhaps even grab a bite to eat at one of the many restaurants that are at the feet of the father of our nation.
Feast your eyes on the SA Botanical Gardens
We're all proudly South African here and love to celebrate every national symbol and all the significant South African features. So why not head to Kirstenbosch National Botanical Garden where you can feast your eyes one one of the most magnificent displays of the Protea (our national flower) and of course all the surrounding scenic beauty the location has to offer.
Needless to say, this is not the only home to the Protea, you can also head to the other equally impressive botanical gardens of Durban or Johannesburg where you can be amazed by the beauty our country has to offer.
Freedom Day is celebrated at Thunderbolt
While having a braai, visiting the Kirstenbosch gardens or hopping in a time machine at the Apartheid Museum are all excellent ideas for Freedom Day celebrations, we've got the best idea of all! Why not spend Freedom Day 2022 getting lucky and cashing in some big wins? That's right we're making Freedom Day even more exciting with some Freedom Day free spins.
Freedom Day Free Spins
One, Two, FREE...Freedom day celebrations are happening this year at Thunderbolt and we're toasting with some epic deposit bonuses and free spins. How to get these free spins? Well, all you have to do is head on over to your message centre and email to receive all the delectable deets!
But don't forget that you can still claim a bunch of other bonuses and promotions too. We recommend that you sign up for our newsletter to receive our other exclusive bonuses that we have in store.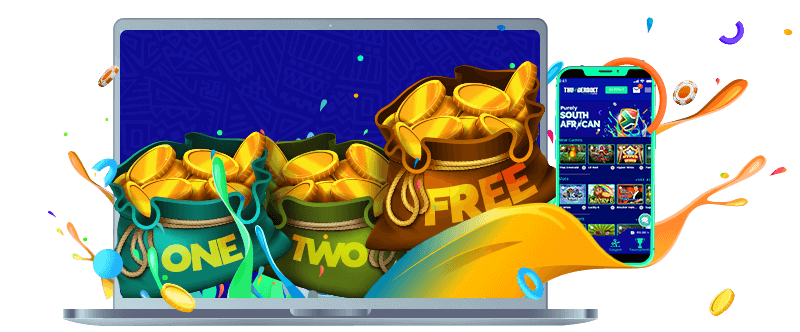 Proudly South African
We here at Thunderbolt are and will forever remain proudly South African so we hope you make use of the Thunderbolt Freedom Day Celebrations guide for 2022 so that you can spend the 27th of April in the best way possible.
But of course, we want you to have lucky spins, big grins and epic wins 365 days of the year - so whilst you're waiting in anticipation for the 27th of April to roll around and for your freedom day free spins, why not check out these spectacular bonuses that you can redeem in the mean time.
100% up to R8000:
100% Deposit Bonus
Coupon code: 04ART100
Min. deposit R25
Valid until: 30 April 2022
How to get your bonus: click the coupon code above or button below to directly add it to your account before making a deposit | Thunderbolt Casino Terms & Conditions apply.
15 FREE SPINS:
15 Free Spins on Spring Wilds
Coupon code: 04ART15
No Deposit Required
Valid until: 30 April 2022
How to get your bonus: click the coupon code above or button below to directly add it to your account | Thunderbolt Casino Terms & Conditions apply.
MORE NEWS