An Egg-ceptional Easter Bonus
An Egg-ceptional Easter Bonus
New Promos
The magic of Easter is everywhere you look and we have a few special bonus surprises in store for you this Easter weekend.
While some like to gift chocolate and sweets, we here at Thunderbolt Casino much prefer 14 carrot gold (we're just so full of yolks). By gold we of course mean bonuses, and this Easter you're in for something egg-ceptional.
The Best Holiday of the Year
Underrated holidays are the best holidays, you know the ones you don't make such a big deal of but end up having the best time? Well, Easter might be the most underrated holiday of them all (speaking of which happy Easter). Christmas is great and everything but with all the hustle and bustle at that time of year you're left utterly exhausted by the time the new year rolls around. Easter on the other hand comes around at the perfect time of year and tends to be accompanied by copious amounts of sweets and chocolate (which let's be honest is never a bad thing). We think it's about time Easter gets the proper credit it deserves, so here are 5 reasons why Easter is the best holiday of the year.
Give us all of the chocolate: Marvellous marshmallow eggs, giant Lindt bunnies, and let's not forget those delicious candy-coated hollow milk chocolate eggs (you know, the ones that leave an absolute mess everywhere but you can't stop eating). This holiday is the chocolate gift that keeps on giving. Eat it for breakfast, in fact, eat it all day long.

Did someone say hot cross buns: There is nothing more irresistible than the first bite of a warm freshly baked hot cross bun. It's absolutely mouth-watering, that perfect combo of sweet raisins and aromatic spices all combined in freshly baked bread (yes our stomachs are rumbling now too). You're guaranteed to get your hands on these culinary' masterpieces on Easter weekend, so savour each and every single bite.

Long weekend, yes please: This one really speaks for itself, doesn't it? With Easter comes a long weekend, which means you get two short working weeks in a row! If you ask us every week should only consist of 4 working days but for now, we will happily accept the long Easter weekend.

A new season: While those in the Northern hemisphere have just gotten a spring in their step, we are saying goodbye to the stifling heat and a warm welcome to Autumn leaves and steaming cups of hot chocolate. With Easter comes the breathtakingly beautiful change in seasons and it's certainly one of our favourite times of the year.

Easter bonus surprises: We always have awesome bonuses and promotions here at Thunderbolt, but it's only fitting that we offer a little something extra during the best holiday of the year. If you want to be the very first to receive the deets then sign up for our newsletter to receive our Easter bonus and other exclusive bonuses that we always have in the works! But we suggest you keep on reading to find out more about the best Easter bonuses and the top ways to get lucky this Easter weekend.
Crack on with Lucky Easter Slots
We're all about giving you all the hints, tricks and tips to make sure your Easter weekend includes cashing in some major wins. So don't put all your eggs in one basket, instead try a variety of our lucky Easter slots to double your luck and hit that jackpot!
Spring Wilds
High volatility

25 paylines

Lucky streak feature

Theme: Easter
When Easter time rolls around, there are many reasons to be "hoppy". One of which is getting to play this super-sweet slot game filled with joy, Easter treats and many ways to win. But don't be fooled by the sunshine, rainbows and adorable animals. This lucky Easter slot offers something a little different too. Whether it's the special bonus symbol plus scatters that award instant free spins or the Easter theme, Spring Wilds is a treat for all Thunderbolt players.
Purrfect Pets
Medium volatility

25 variable paylines

Major and minor jackpot

Theme: cats and dogs
Thunderbolt has the purrfect way to increase the egg-cellence of your Easter weekend. Hop 'til you drop with this Easter slot filled with dogs, cats, egg-squisit music and magnificent graphics. The entertainment is never-ending and the prizes don't stop coming. There are insane multipliers, completely random triggers, wilds, and scatters. So you know you're in for a lekker time with this slot.
Jackpot Piñatas Deluxe
High volatility

20 fixed paylines

Network jackpot

Theme: Mexican
Now, we're not saying that we're the eggs-perts when it comes to celebrations but at Thunderbolt we like to go big. So why not make Easter an egg-travaganza with a piñata party? Get ready to smash a piñata and get some incredible Easter payouts. This progressive slot takes place in a deserted Mexican town (there's no mariachi band to dance to just yet) but just as you think there's nothing going on, you'll spin those reels and get an Easter surprise.
Kung Fu Rooster
Medium volatility

12 variable paylines

Free spins feature

Theme: Year of the Rooster
🎵 Every bunny was kung fu fighting 🎵 Easter isn't just all bunnies, double your luck this Easter weekend with Kung Fu Rooster. According to Chinese culture, the Rooster is a symbol of luck, protection and fortune. So in a game where the Rooster is the hero, it's time to fill that basket with some big Easter wins.
Mermaid's Pearls
Medium volatility

3125 AWP lines

Pearl collection symbol

Theme: underwater
Ready for an Easter egg hunt under the sea? No we're not offering chocolate bunnies and sweet treats but rather some profitable pearls and shipwreck bonuses. In Mermaid's Pearls you see a magnificent mermaid with wavy hair (see what we did there 🥁) as you dive into the mysterious deep blue to collect lustrous pearls with every spin.
An Egg-stra Easter Slot coming soon
Get ready for some hare-raising entertainment like never before, with our brand new Easter slot Run Rabbit, Run! Making its way to your Thunderbolt lobby on 13 April 2022.
Run Rabbit, Run
Medium volatility

25 Paylines

Major and minor jackpot

Theme: Easter
In their quest for carrots, these cheeky bunnies are rooting for you to win as they lead you toward bonus features, morphing wild symbols, prize multipliers, extra wilds and free games. Get ready for a cracking time and an un-bunnylievable big win.
The Easter Weekend Promotion
Join us this Easter weekend for an Easter egg collection like no other. Although we don't want to give away too much just yet, you know we're all about giving you those exclusive sneak peeks.
Starting on Good Friday (the 15th of April, mark your calendars 😉) and coming to you all Easter weekend long, we will be giving you an assortment of mysterious eggs to unlock. Each of these unique eggs will contain a special bonus surprise.
So keep an eye on your message centre and emails to make sure that you're the first to unlock your lucky eggs and enjoy hours of fun with Thunderbolts Easter egg collection.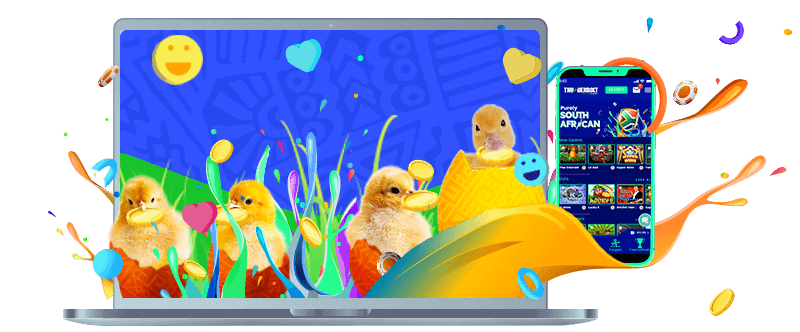 Another Eggs-clusive Easter Bonus
Do you have a lucky rabbits foot in your pocket? Or were you frolicking in a field of four leaf clovers? Oh we know, you caught a glimpse of a shooting star! Well, whatever your lucky secret is, it seems the odds are in your favour!
Look on the sunny side of life and get ready for a month of bonuses like never before. Whilst you're waiting for the Easter weekend promotion, check out these egg-citing bonus offers you can redeem in the mean time.
100% up to R8000:
100% Deposit Bonus
Coupon code: 04ART100
Min. deposit R25
Valid until: 30 April 2022
How to get your bonus: click the coupon code above or button below to directly add it to your account before making a deposit | Thunderbolt Casino Terms & Conditions apply.
15 FREE SPINS:
15 Free Spins on Spring Wilds
Coupon code: 04ART15
No Deposit Required
Valid until: 30 April 2022
How to get your bonus: click the coupon code above or button below to directly add it to your account | Thunderbolt Casino Terms & Conditions apply.
MORE NEWS