A Gem of A Game
Juicy Jackpots and Gem-azing wins await in Gem Fruits Online Slot!
Get ready for a shiny, fruity adventure of interactive features, alluring symbols and jackpot prizes when you play Gem Fruits slot at Thunderbolt online casino.
Gem Fruits offers an exciting mix of luck and strategy where the combination of classic symbols merges with 21st century technology for a stand-out slot of fun, excitement and a chance to squeeze out some real money wins with every spin!
Spin Your Way to Shiny Riches
The sweetest slot around is here to deliver the juiciest rewards.
Start the reels rolling in the Gem Fruits slot and you'll be greeted with a visually stunning display of a melding of both classic and contemporary elements.
The shiny green-blue screen displays an array of alluring symbols including luscious pieces of fruit, colorful letter and number symbols and images that denote Wilds and Scatters. Each symbol has its own value ranging from high-value plums, cherries, lemons, grapes and oranges to lower-value letter and number symbols.
This slot is a bit of a retro-machine which harkens back to the early days of slots gaming. The first "one-armed bandits" were simple mechanical devices which were often featured in salons and candy stores. Players pulled the machine's lever in an attempt to line up simple fruit symbols. Winning combinations were rewarded with a drink or a piece of gum by the shop owner.
While the 2023 Gem Fruits slot machine is also a fruity treat, it offers much more.
All symbols exhibit crisply and brightly on this 5-reel, 25 payline slot so players enjoy a high-energy, immersive experience. The symbols are brightly-colored 3D graphic images that will have you drooling. Line up three or more symbols and collect the corresponding payout.
Then, if you want to use those wins to buy some fruit, go ahead! But these days, you can use your payouts to make any other type of purchase – with a max win possibility of 50,000 times your bet per line, you might be looking at hundreds of rands in real money cash wins.
All You Need to Know About the Fruitylicious Fun
Gem Fruits is a suitable slot for both beginning and advanced gamers. You can make low-budget bets of a coin or two on a limited number of paylines or bet the max on all 25 paylines.
The choice is yours – but remember! Only those paylines on which you've placed a bet will pay out on a win so it's advisable to place at least a small bet on as many paylines as possible.
There are two special symbols in this game, the Wild Symbol ("Wild") and the Scatter symbol (the Gem Fruits logo). Both of these symbols appear randomly, triggering extra winning combinations, free spins and jackpot rounds.
When you see the Wild symbol appear on reel two, three four or five it will substitute for any other symbol to complete a winning payline. The Wild symbol functions as a Wild in both the base game and the free spins round.
If three multi-colored Gems Fruits logo appear in any pattern on the reels, you win a Scatter combination payout and, at the same time, activate the Free Spins round. If you get three scatters you are awarded 10 free spins and if you achieve four scatter symbols you will receive 15 free spins. Five scatter symbols, appearing simultaneously on the reels in any position will result in you receiving 25 free spins. Free spins involve spinning the reels for free and receiving a payout based on the wager that you placed on the spin that activated the free spins.
During the Free Spins, Reel #5 is replaced with a 1x3 Stacked Wild symbol. The Stacked Wild holds in place while the spins continue to give you extra opportunities to achieve real money free spins wins. The free spins can retrigger if you get 2 scatter symbols on a free spin.
So,if you spin multiple scatters on a free spin, you'll be awarded five additional free spins. The free spins game ends when you run out of free spins or after five retriggered rounds of free spins.
An Overflow of Jackpots in Every Spin
Why settle for ordinary when you can play Gem Fruits and "raisin" the stakes?
Fruit Gems features five separate jackpots which can trigger randomly at any time. There's a Grand Jackpot, a Maxi Jackpot, a Major Jackpot, a Minor Jackpot and a Mini Jackpot. Jackpot rounds can be triggered at any time during both the regular game and the Free Spins game. Land 5 identical symbols, with Wild symbol options as well, on a payline to activate the Jackpot feature.
When the Jackpot feature launches, check the Jackpot Reel which is located to the right of the main reels. The Jackpot reel will start to spin and when it stops, look to see where the pointer is pointing. That's how you know which jackpot you've won.
If the pointer lands on the Grand Jackpot you collect 25,000x your line bet!

If the pointer lands on the Maxi Jackpot you will be given 5,000x your line bet!

If the pointer lands on the Major Jackpot you win 2,500x your line bet!

If the pointer lands on the Minor Jackpot you collect 500x your line bet!

If the pointer lands on the Mini Jackpot you will add 50x your line bet to your win box!
A Slice of Fun with a Side of Shiny Wins
Gem Fruits is a high volatility slot meaning that there are fewer wins but the wins that do come are big ones! The game features adjustable bet levels, autoplay options and user-friendly navigation tools so that gamers can enjoy playing at any time and from any location on any internet-enabled PC or mobile device.
This game's unique mechanics, stunning visuals, exciting special features and multiple jackpot opportunities make it a top choice for players looking for a fresh slot machine adventure.
Diamonds might be forever, but Gem Fruits wins are for now!
30 Free Spins on Gem Fruits
Coupon code:GEM30
Requires a deposit in the last 7 days
Valid from 13 September 2023- 12 October 2023
How to get your bonus: click the coupon code above or button below to directly add it to your account if you've made a deposit in the last 7 days | Thunderbolt Casino Terms & Conditions apply.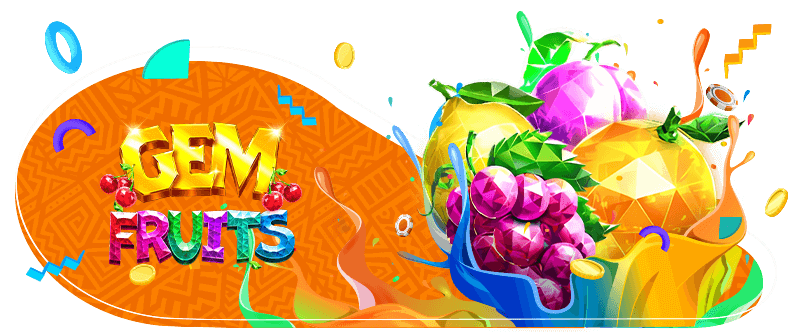 MORE NEWS