Banana Jones
Real Time Gaming is proficient in making spectacular video slots, but it was about time to see something new and refreshing coming from the workshop.
The novelty is called Banana Jones; it may sound like a regular online slot but it's far from it. Banana Jones has an engine built on the amusing Snakes and Ladders Board Game which makes it exciting and new. The main character is Banana Jones, a curious little adventurer monkey on a mission to retrieve the one and only Crystal Banana a magnificent, magical item wanted by the wicked Leopold the Leopard as well. Leopold has an army of guerrilla snakes and intends on making Jones' quest as tough as possible. That's where you come in - throw the dice and help Banana Jones progress towards the temple!
That's right, the new feature is played with dice. You needn't spin the reels; instead, you get 5 rolls of the dice and a chance to benefit from an outcome ranging from 2 to 12. The number provided by the dice will serve Banana Jones as the number of steps he needs to take on the game surface filled by vines, snakes and valuable diamonds. Stepping on a vine will help Jones advance towards the temple. On the other hand, stepping on the snake will send him downwards towards the serpent's tale and away from the Crystal Banana. The vine, the snake, and the diamond are collected and tracked by their respective counters on screen. Completing the tracker meter will result in a payout according to the paytable.
Banana Jones comes with two fun special features: the Treasure Wheel Bonus and the Crystal Banana Quest Feature. Land on the treasure chest in front of the temple and you will spin the wheel once for a cash prize. Reach the temple and you will choose from various chests and fruit inside. The fruit you pick will be added to the counters, improving your chances of receiving more payouts from then on.
Snakes, Vines and Tropical Secrets Unveiled
From one lily pad to the next, the little critter Banana Jones is determined to obtain the glorious Crystal Banana, and your help will secure vast riches hidden beyond the walls of the temple. With a chance to win up to 2,565x your bet in this game, we propose you renew your dice throwing skills as well as knowledge of board games and embark on this adventure at Thunderbolt Casino with a bountiful bonus of R50 free!
R50 fee to try the new game
Coupon code: 50-BANANAS
Valid from 01 August - 01 September 2018
Play anywhere, anytime. Available across all platforms.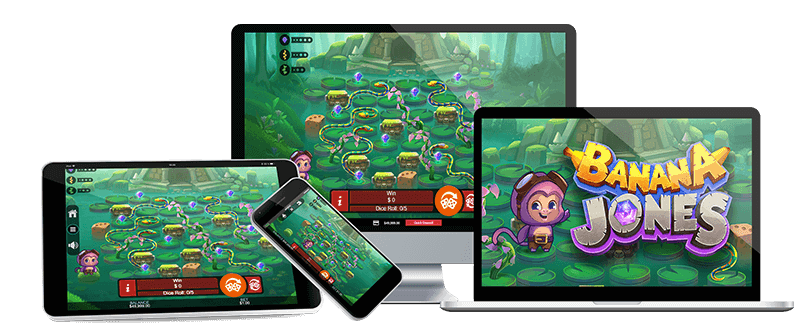 MORE NEWS