Find all 5 of the Thunderbolt Scheemies
Sceehmies are a group of mischievous monsters who are plotting and scheming some serious mischief right before Halloween.
They've managed to steal FIVE freebies that were intended for you, our loyal Thunderbolt customer and you need to find the Scheemies and claim your freebies back!
But beware, as the Scheemies are known to be good at shapeshifting and will appear shapeshifted as a letter when you do find them in your 'AVailable Coupon section'.
We present your 5-week mission: Assist us in finding each of the 5 Scheemies to retrieve and claim all FIVE of the freebies, which are rightfully yours.
There will be a series of THREE deposit bonuses that need to be redeemed before you'll be able to find each of the Scheemies and claim the respective freebie.
Scheemies will appear in your 'Available Coupon' section right after completing the THREE deposit bonuses. Make a note of each shapeshifted Scheemies' letters to make up a secret word that will unlock an R3100 free bonus on Halloween!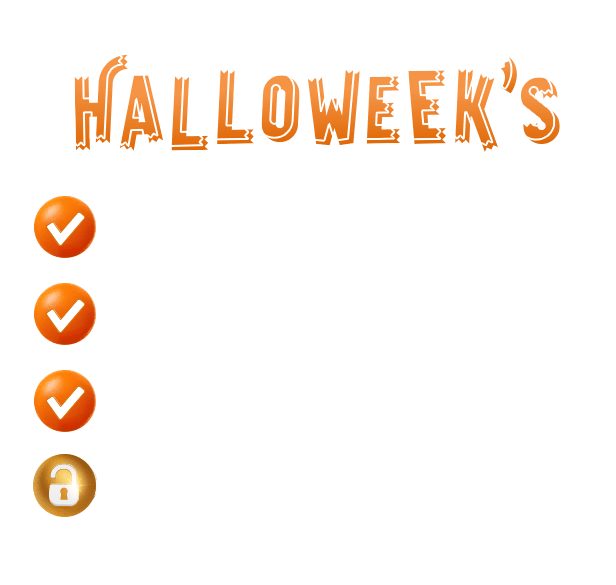 Here's is what you should do for each of the 5 Halloweek's:
Complete three specific deposit bonuses (found in the table below)every week. After doing so, you'll see a Scheemie and free bonus appear in your 'Available coupon' section.
Each Scheemie will be accompanied by a single alphabetic letter. Your goal is to find and collect those secret letters throughout the 5 week promotion, unlock the final message and secure your MASSIVE R3100 free on Halloween!
On Halloween - 31 October 2021 - check your 'coupon' section for your free bonus, or, contact ThunderBOT our lovely chat bot, present him with the secret message and he will automatically add your R3100 free bonus to your casino account, or,  you may also 

contact one of our top notch support agents to have your free bonus redeemed, the choice is yours.
Complete this process to achieve your goal of finding each of the 5 Scheemies every week:
BONUS INFO
STEP 1: Halloweek 1 (OVERVIEW)


(September 27 - October 04)
BONUS
COUPON CODE
100%  + 15 free spins for Cleopatra's Gold
(min. deposit R30)
HALLOWEEK1-1
50% up to R8000
(min. deposit R25)
HALLOWEEK1-2
100% + 20 free sins for Ghost Ship
(min. deposit R40)
HALLOWEEK-1-3
R150 Free for SCHEEMIE 1
X X X
(check your 'Coupon' section after completing all the deposit bonuses)
*please note: deposit bonuses need to be redeemed in consecutive order before unlocking the freebie, which will appear in your 'Available Coupon' section as soon as you've completed the third deposit bonus.



(October 04 - October 10)
Please note: you need to complete Halloweek 1 deposit bonuses in order to redeem Halloweek 2 deposit bonuses
BONUS
COUPON CODE
50% up + 50 free spins for Count Spectacular
(min. deposit R50)
HALLOWEEK-2-1
100% up to R8000 
(min. deposit R30)
HALLOWEEK-2-2
100%  + 15 free spins for Sweet 16
(min. deposit R70)
HALLOWEEK-2-3
R200 Free for SCHEEMIE 2
X X X
(check your 'Coupon' section after 

completing all the deposit bonuses

)



(October 11 - October 17)
Please note: you need to complete Halloweek 2 deposit bonuses in order to redeem Halloweek 3 deposit bonuses
BONUS
COUPON CODE
100% up to R8000 + 15 free spins for Asgard
(min. deposit R50)
HALLOWEEK-3-1
60% up to R8000
(min. deposit R25)
HALLOWEEK-3-2
50% up to R8000 + 50 free spins for Cleopatra's Gold
(min. deposit R50)
HALLOWEEK-3-3
R350 Free for SCHEEMIE 3
X X X
(check your 'Available Coupon' section accordingly)
STEP 4: Halloweek 4/strong>
(OVERVIEW)

(October 18 - October 24)
)
BONUS
COUPON CODE
100% up to R8000 
(min. deposit R25)
HALLOWEEK-4-1
100% up to R8000 + 30 free spins for Cash Bandits 2
(min. deposit R50)
HALLOWEEK-4-2
150% up to R8000 + 30 free spins for Ghost Ship
(min. deposit R200)
HALLOWEEK-4-3
R600 Free for SCHEEMIE 4
X X X
(check your 'Available Coupon' section after completing all the deposit bonuses)
STEP 5: Halloweek 5
(OVERVIEW)

(October 25 - October 30)
BONUS
COUPON CODE
50% up to R8000 + 50 free spins for Plentiful Treasure
(min. deposit R250)
HALLOWEEK-5-1
100% up to R8000 + 20 free spins for Diamond Fiesta
(min. deposit R200)
HALLOWEEK-5-2
100% up to R8000 + 15 free spins for Sweet 16
(min. deposit R200)
HALLOWEEK-5-3
R800 Free for SCHHMIE 5
X X X
(check your 'Coupon' section after completing all the deposit bonuses)
 HALLOWEEN BONUS
(October 31) 
| ULTIMATE FREEBIE | COUPON CODE |
| --- | --- |
| R3100 Free | check your 'Coupon' section for the bonus. |