Growth Through IR Development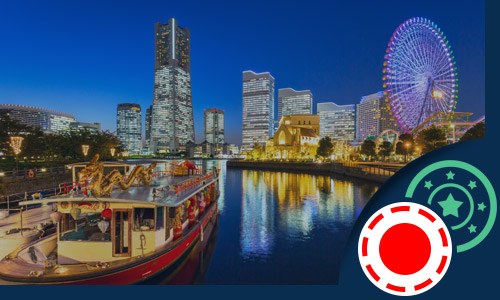 In the meantime, the only way to enjoy casino play in Yokohama Japan is by playing our very own Springbok, the best online casino for South Africa, but Yokohama is trying to change that.  Yokohama has been working hard in recent years to push itself forward economically. The city promotes itself as a world-class host for conferences and exhibitions. It has developed its seafront and other tourist sites and is doing other things to draw investment from the private sector, civil society and international organizations.
The city government is also betting that, if one of Japan's future three integrated resorts will be built in the region, it will spur even more growth.  For that reason city officials, led by Mayor Fumiko Hayashi, are throwing the city's hat into the ring in the race to host one of the location-as-yet-to-be-determined IRs.
Hayashi announced that Yokohama is entering the bidding in a news conference. "You might think of Yokohama as this big, rosy city known for hosting a wide variety of events, but every year we find ourselves saddled with deficits of about ¥50 billion when compiling our budgets. That's the reality. It is a strong sense of crisis over the future of Yokohama that made me decide we need to move toward hosting an IR." 
Praise and Criticism
Yokohama's decision is drawing both praise and criticism. Yokohama has been in an economic downswing in the last few years as its manufacturing and foreign trade industry base plummets.  Supporters are pinning their hopes on the potential that a casino resort will bring, hoping that it will turn Yokohama into a hub for tourists. However, many local citizens balk at the prospect of building a gambling center in their city. They want to know how the city plans to deal with the gambling addictions and influx of criminal gangs which casinos bring.
Yokohama has now joined Osaka, Wakayama Prefecture and Nagasaki Prefecture as one of Japan's cities whose government supports having a casino built in their area.
Background
In 2018 the Japanese government passed the Integrated Resorts bill. This bill allows for three IRs to be built in Japan. The locations in which they will be built, as well as the operators who will be chosen to develop those casinos, are still up for grabs.
The government stipulated that the IRs will not be casino-only projects but must include hotels, shopping facilities, conference centers and family-friendly activities.  This way, they rationalize, the introduction of gambling in Japan will help struggling cities draw a wide variety of tourists -- not only gamblers.  Still, the law came under intense criticism from opposition parties and the issue is still highly controversial. 
Yokohama
Now that Yokohama has announced that they are ready and willing to host an integrated resort, U.S. casino operator Las Vegas Sands Corp. is ready to adopt the city for their own hoped-for Japanese venture. In a statement, released after Hayashi's announcement, Sands said that it is moving its sights to Yokohama from its previous targeted city of Osaka, which is also being wooed by other casino operators. Sands is also looking at Tokyo for its IR hopes.
Sands CEO and Chairman Sheldon Adelson said his firm will "target new development opportunities that allow us to maintain our industry-leading returns on invested capital.
"We think an investment in Tokyo or Yokohama gives us the best opportunity to do exactly that."
Casino supporters in Yokohama are united by the city's dire straits.  City statistics show that the population is forecast to peak this year and then start shrinking. According to the numbers, by 2065, the working population is predicted to become two-thirds of what it is today which would be a disaster for Yokohama's future tax revenue.
Part of the problem stems from the city's rapid urbanization over the past few decades.  Much of its infrastructure, including roads, sewage, water pipes and bridges are already in need of renovation which is straining the city's coffers.
Tourism
Yokohama does draw tourism to the Red Brick Warehouse and Yokohama Chinatown but in general, the city isn't enjoying much tourism revenue. According to official data, the number of tourists, which was once on the rise, has plateaued. Of those who do come, many take a casual, single-day trip and then return to Tokyo to eat, sleep and shop. 
Observers say that people come to visit a site for only a short amount of time, and don't consider staying for dinner or overnight, because there's no nightlife.  For example, many of the Yokohama restaurants in Chinatown close at 8:00p.m.
In 2017, Yokohama attracted just 730,000 overseas hotel guests — less than 1 percent of the nationwide total of 80 million. Yokohama sees itself lacking behind other large Japanese cities which had significantly higher overnight visitation.  "Call me sentimental, but let me remind you that Yokohama became one of the first to open its port to the world in 1859 and invited civilization from abroad. That's our history," Hayashi said. "But look what's happening now: Most foreign tourists' go-to destination is either Tokyo or Osaka. Or maybe they go to places like Hokkaido or Akita, where there is something uniquely attractive. Does Yokohama have something like this? I'm not sure. That's why we need the IR."
The Yokohama city government estimates that an IR would generate economic effects worth up to 1 trillion yen in its first year with tax revenue of up to 120 billion yen a year. Masaya Fukuda, head of public relations at the Yokohama Chamber of Commerce, points out that, while Yokohama thrived as a manufacturing center after WWII, many firms moved their factories to China and South Korea as those countries developed as manufacturing bases.
Even serving as host to international conferences isn't the boost to the economy that city officials would hope. Fukuda commented, "There are new hotels being built at the moment because Yokohama will host some games in the 2020 Tokyo Olympics and Paralympics. But once the event is over, what will we be left with? Nothing. We really need to have an IR as a post-Olympics goal." 
Opposition
There's a significant opposition in Yokohama to bringing a casino development to town.  Many of the critics are concerned with an increase in gambling addiction which is already an issue in Japan due to the pachinko gaming craze. There are plenty of stories of pachinko addicts who end up in debt or play for hours while ignoring all other obligations and responsibilities. 
Japan already has, what it says are, the world's strictest gambling regulations. By law, visits to casinos are curbed to a maximum of three times a week and 10 a month. Japanese citizens will be required to present their My Number identification cards when entering a casino to enforce this limit and will be required to pay an admission fee of 6,000 yen. 
By and large, local residents in Yokohama are not supportive of a casino development in their neck of the words. One local expressed the fears of many when she said, "Having a casino is uncharted territory for us. We don't know what's going to happen. The casino will attract a whole bunch of people, including those from overseas, and I'm just worried it might have a bad impact on the safety of our neighborhood." 
Other residents are resigned to the idea that their city will host a casino. "I hope the casino will serve as a tourist attraction, because Yokohama, with its struggling fiscal situation, doesn't really have anything we can be hopeful about in the future," another local citizen said. "But I'm worried about gambling addiction. I'm not a gambler myself, but I know some people who get really addicted to pachinko to the point of no return. I don't want Yokohama to be associated with something like that."