Wynn Backs Out of Osaka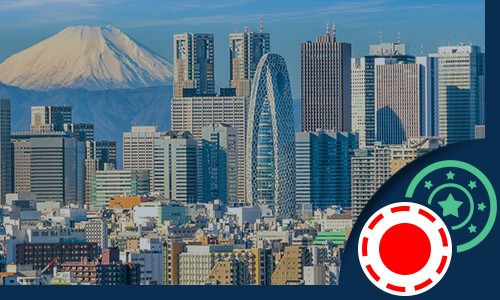 A Wynn Resorts spokesperson announced last week that it is moving its focus from Osaka to Kanto -- which includes the greater area of Tokyo – in its bid for a Japanese gaming license. Now MGM is the big front runner in the race to build an Osaka Integrated Resort. Casino online games may come in the future.
Competitors
When the Japanese parliament legislated the construction of three Integrated Resorts,   Wynn was one of seven operators that vied for a gaming license in Osaka.  Las Vegas Sands and Melco Resorts dropped out of the running which reduced the number of competitors participating in Osaka's Request-for-concept (RFC)  to six - Galaxy Entertainment Group Ltd., Genting Singapore Ltd. and Entertainment Ltd and MGM Resorts International as well as 2 local consortiums.
Currently, Wynn operates two integrated resorts on the Las Vegas Strip as well as Macau and Boston properties. Wynn's announcement stated that "Although we have decided not to pursue an integrated city resort in Osaka at this time, we wish the city the very best and look forward to following its continued success….Wynn Resorts is currently focused on the Kanto area." 
If Wynn is successful in obtaining a Kanto license, it will give it access to the Tokyo market, Japan's largest city, as well as to the Tochigi, Ibaraki, Saitama, Gunma, Chiba and Kanagawa prefectures.
Change Of Tune
Wynn Resorts, under the leadership of former CEO Steve Wynn, was originally interested in building in either Tokyo, Yokohama or Osaka. The company believed that any of these locales would each be suitable for the type of high-end integrated resorts the company is known for building. Steve Wynn was forced to resign in 2018 under a cloud of controversy after allegations of sexual abuse were leveled against him.  
Wynn's successor, Matt Maddox, has been more flexible in directing the company in Japan.  He is amenable to looking at other locales, such as Kanto, and calls the company's present focus "low profile" in their pursuit of a Japanese presence. He said that the Wynn Resorts is presently evaluating  "various cities." 
MGM a Shoo-In?
With the news that Wynn is shifting its focus away from Osaka, the race is down to three viable competitors: Genting Singapore, Galaxy Entertainment and MGM Resorts International. Brian Sandoval, former Nevada Governor, is leading the company's Japan effort. MGM is still focused on Osaka and it is widely viewed as the leading contender for a Japan gaming license in Osaka.
In a statement released after the Wynn announcement, an MGM spokesperson noted that "We announced our 'Osaka First' strategy and have not wavered from that plan. We have always had confidence in our position, as what we will bring to Osaka is something only MGM Resorts can deliver."
Japan's Casino Industry
Japan is preparing to issue three gaming licenses. The country's gaming market is estimated to be worth more than $25 billion a year once resorts open, making those licenses highly coveted by casino operators including U.S.-based companies such as Sands, Wynn, MGM, Mohegan Gaming & Entertainment, Hard Rock International and Rush Street Gaming. A number of international operators have also joined the competition.
Many of the companies have already set up offices in Japan and have been wooing officials in the cities where they want to develop their IRs. Some of these cities are making demands above and beyond the IR itself – assistance with city transportation needs, infrastructure development and participation in security services.  The companies have been, by and large, amenable to those demands.
Japan has the potential to become the second-largest gaming market in the world, eclipsed only by the Chinese territory Macau. Many observers now believe that MGM is the likely leading contender for an Osaka license. MGM has partnered with Orix, an Osaka-based financial services group, which is guiding them towards their goal of obtaining the Osaka license. Orix is assisting MGM in preparing a Request for Concept, the first stage in getting approval for the Osaka license.
Jim Murren, CEO of MGM, said that his company aims to bring world-class entertainment, cultural events, convention expertise and dining and retail experiences to Japan.  They will focus on offering an experience that "will have broad appeal both nationally and internationally." However, MGM shouldn't expect smooth sailing in Osaka, despite Wynn's withdrawal from the Osaka race.
Both Malaysia-based Genting Group and Hong Kong-based casino operator Galaxy Entertainment Group are competing for an Osaka license. Brendan Bussmann, a partner at casino research firm Global Market Advisors, says, "No one's going to give anyone a free pass to a large site like Osaka. This is too competitive of a market for three licenses for anyone to get a pass in any prefecture."
It's expected that Osaka will be the first Japanese city to develop an integrated resort.  Bussmann believes that other cities such as Yokahama are better suited for some of the other operators, including Wynn. Yokahama has 3.7 million residents and Bussmann feels that Wynn's reputation for marketing to the high-end bracket is better suited to Yokohama. 
According to Bussmann, "The site in Yokohama also offers an advantage to Wynn because it sits in an urban environment similar to what they recently opened in Boston. … Osaka is much more of a mass market."
Banning Steve Wynn from Casino Industry
While Wynn Resorts has, largely, extradited itself from the scandalous legacy of Steve Wynn, Wynn himself will be answering for his misdeeds for many years to come.  Despite the fact that he has not been formally indicted for sexual abuse, the Nevada State Gaming Control Board recently filed a five-count complaint against Wynn which may result in him being formally being banned from the casino industry for life.
The 23-page complaint seeks a revocation of Wynn's finding of suitability from the Nevada Gaming Commission. Wynn has 15 days to respond but if the complaint stands, it will likely prevent him from ever being licensed again by the state.
The five counts of the complaint each addresses Wynn's failure to exercise sound judgment and discretion to prevent incidents that might act as a detriment to the development of the gaming industry and reflect on the repute of the state. 
The complaint also asks the commission to fine Wynn. According to the complaint, "The Gaming Control Board's investigation found evidence of multiple instances of sexual contact by Mr. Wynn involving subordinate employees. By engaging in this conduct, whether consensual or not, Mr. Wynn disregarded Wynn Company's policies and procedures."