Winnie Mandela Eulogized Before Millions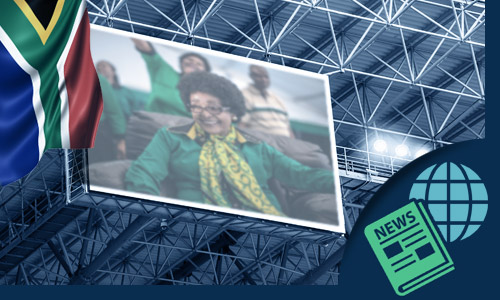 During the deepest years of Apartheid, when even a mild protest against the regime was a serious gamble, not in the innocuous way that we like to play online casino games, but in a frightening real world way, Winnie and Nelson Mandela were the symbols of the struggle for freedom for the millions of oppressed South Africans.
This past week, Winnie Madikizela-Mandela was laid to rest in a state funeral in Orlando Stadium in Soweto attended by tens of thousands and watched on television by tens of millions around the world.
A Controversial Leader Earns Widespread Praise
Winnie Madikizela-Mandela was even more controversial than her communist husband in her zealous defence of freedom for the severely oppressed black majority in South Africa.  She has long been remembered for her open endorsement of the "necklaces" that characterized the violent side of the struggle against Apartheid.
American Jesse Jackson eulogized her as the symbol of the world-wide anti-Apartheid movement.  Before Winnie Mandela, anti-Apartheid agitation was far more localized.  In Jackson's terms, "She never left the belly of the beast."
United Nations Secretary General Antonio Guterres called Winnie Mandela "an international symbol of resistance."  He made the point that Winnie Mandela had great international influence beyond the struggle to end Apartheid.  Mr. Guterres stated that as a woman in patriarchal, racist South Africa at the time, Winnie Madikizela faced obstacles that clearly stymied many similarly-minded young South African black women.  Winnie prevailed and carved out a legacy that, despite the controversies it engendered, lives on in the progress women around the world strive to make and in many cases succeed in making in many diverse countries.
Winnie Mandela's Worldwide Reach
It may seem trivial to some that Saudi Arabian women can now drive cars and can leave their homes unaccompanied by a male family member but in Saudi Arabia those two progressive victories are thunderous changes in the way their society is organized.  It indicates that Saudi women will likely win more freedoms and autonomy in the future.  The lavish praise that Winnie Madikizela-Mandela received in death may indicate that she had a hand in these gains that were earned by a very different ethnic group of women in a distant land.
Inauspicious Youth
Winnie Madikizela grew up in a rural village in the east of South Africa.  When she moved to Johannesburg it was as the country's first black social worker.  She may or may not have already been radicalized in the manner of the African National Congress's leader Nelson Mandela whom she married in 1958.  Nelson Mandela was arrested in 1962 and was sentenced to serve a lifetime imprisonment sentence. 
Many Long Years Alone
No one could have known that Mandela would be released after serving 27 years in prison.  During those long years, Winnie Mandela embraced the struggle and became one of its foremost leaders.  Certainly, if she hadn't yet been radicalized before her husband's imprisonment, she was radicalized by it and became increasingly outspoken in her attacks on the regime as time went on.
Enduring the Worst of Apartheid
Winnie Mandela was arrested and tortured for her desire to live as a free black woman in a majority black country but she was spared the rigors of prison.  Instead, in 1977 she was exiled internally to a small, remote village.  The movement begat other leaders and the Apartheid regime gave way to a more democratic society in 1989.
The years of exile were hard on Winnie Mandela.  After she was allowed to return from exile, she got involved with a gang of radical blacks called the Mandela United Football Club.  They were accused of at least 18 murders of young boys and Winnie Mandela was convicted of having first-hand knowledge of the murders and of being an accomplice.
Her prison sentence was ultimately reduced to a fine.  But the legacy of violence never quite left her.  Winnie Mandela and Nelson Mandela were divorced in 1996.  Their marriage, which enjoyed only four years that could be characterized as a normal marriage couldn't endure the great struggle for freedom, 17 years of imprisonment, the violent nature of the struggle, and ultimately the sea of change that accompanied South Africa's entrance into democratic politics.
Uncomfortable in the Rough and Tumble of Democracy
Winnie Mandela floundered in the atmosphere of elections and slow-moving legislative processes.  Nevertheless, the African National Congress never lost sight of the contributions Winnie Mandela had made throughout the dark years when struggle really meant struggle and any voice against apartheid risked one's freedom or even one's life. 
Jesse Duarte, deputy secretary general of the ANC said that "…this is our hero.  This is our heroine."  He made it clear that whatever terrible missteps Winnie Mandela may have taken in her advocacy for freedom and in her support for perhaps the wrong young men after Apartheid had ended, Winnie Mandela did so much under such horrifying circumstances that she needs to remembered for the enormous good she did and forgiven for the bad she connected herself to.
Winnie Mandela Touched Millennials
Winnie Mandela's enduring legacy can be seen in the outpouring of emotion amongst the younger generation of South African blacks to whom the struggle against Apartheid is merely history.  Winnie Mandela was the living symbol of the struggle of the generation of the 1960's and beyond but today's black youth are for the most part worried about getting ahead like all millennials in all advanced or advancing societies.
Winnie Mandela's death refocused their attention on the close history of their country's sad past even as most days they look ahead to their country's affluent and successful future.  It seems trivial indeed that today one of the big issues facing the government is whether online casino gaming should be allowed and, if so, how taxes could be collected to be spent for the common good!