South Korea Ponder Hosting a Land-Based and Online Casino Games Cluster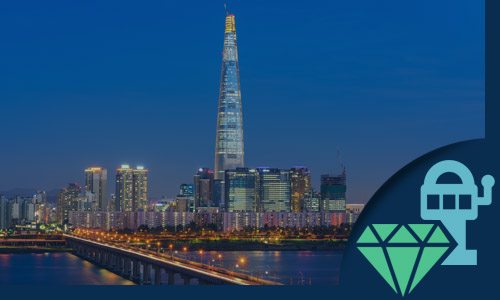 South Korea is considering spurring tourism and revenue growth by allowing multiple casino operators to build a land-based and online casino games cluster in Inchon. The country's relationship with gambling is complicated – South Korean citizens are only allowed to enter one of the 18 currently-running South Korean casinos.  But the successes of other casino clusters including Macau and Manila have encouraged South Korean leaders to pursue the plan.
Inchon
Inchon already hosts the Paradise City casino. Two additional integrated resorts are in the development stage. Paradise, which is a $1.4 billion IR, is a project of Japanese gaming operator Sega Sammy.  Paradise already leads South Korea's casino market, thanks to its location near the Inchon International airport. The airport handles more than 60 million passengers annually. 
Paradise City's Phase I opened last September with a spa, an art museum, a nightclub, a retail plaza and a boutique hotel. Many of the guests are Chinese and, as relations between China and South Korea continue to improve, there's every reason to think that the number of Chinese guests at the integrated resort will increase.  
The second international casino operator to build in Inchon is Caesars Entertainments. Caesar's casino resort, which will also be within a 15 minute drive of the airport, is due to open in 2021. Caesars president of international development Steven Tight commented, saying "Since Caesars new IR will be the first and only internationally branded integrated resort in the region, its debut will add a differentiated IR option, Furthermore, as evidenced by other markets such as Las Vegas, Macau and Singapore, an IR fosters innovation in tourism products – new shows and attractions, better rooms, higher quality services which attract more visitors."
Entertainment
U.S. tribal casino operator Mohegan Gaming and Entertainment has joined the Asian gambling scene.  It will be going international with its Inspire casino which will be located at the opposite end of the airport from Paradise City. Mohegan Gaming and Entertainment will be adding a theme park to its integrated entertainment resort (IER) in collaboration with Paramount Pictures.
The Inspire Super Arena, with 15,000 seats, is set to be South Korea's largest indoor sports and concert venue. Mohegan's vision is to duplicate the success its Mohegan Sun Arena which is located midway between Boston and New York on the grounds of its casino resort.
Mohegan will be providing acts to its Inchon facility via its U.S. entertainment promoter partner, Live Nation. Inspire is scheduled to open in phases, starting in early 2022. Its facilities will feature the biggest hotel ballroom in the Incheon/Seoul area along with a private air terminal, a pool area and an indoor climate controlled water park.
Mohegan Gaming CEO Mario Kontomerkos issued a statement that said "This is a combination of integrated attractions that just doesn't exist in the market today. Inspire is the perfect catalyst to spark Inchon's transformation into the industry's next major entertainment hub."
Korean Outlook
Gambling is seen as problematic by Korean government authorities but the potential revenues are too lucrative to turn away. That's why the government is prepared to build an industry around casinos but they are aiming to cater the industry to incoming tourism.
One observer explained that "There are some conflicting ideas about how to introduce more foreign capital into Korea. The government has decided to liberalize casino regulations in order to encourage foreign investors to develop the areas and create jobs. This will, ultimately, promote the Korean economy."
Korean society tends to be very conservative, however, and the media in Korea focuses – overtly, some critics say -- on the side effects of gambling. "It's a very sensitive subject." the unnamed observer – an attorney practicing in Korea, said. "My guess is that more than half of Korean citizens don't want to see expanded gambling available to their citizens. It wouldn't be easy for the government to liberalize regulations on the casino industry."
Kangwon Land
The only casino in Korea that is open to Korean citizens is Kangwon Land, located three hours east of Seoul in a remote mountain area.
Kangwon Land has a monopoly on domestic patrons. It's the top performing casino stock in Asia and is now valued at $7.2 billion, trailing only Galaxy Entertainment and Sands China in annual revenue throughout Asia.   Despite its remote location and despite the dearth of high rolling VIPers, the casino is experiencing steady growth.
The gaming area is small – 1,360 slot machines and 200 tables packed into an area smaller than 2 football fields. The facilities at the venue include a ski resort but nearly all of its revenue comes from gaming. Nearly all of the visitors are South Korean. Only 1% are VIP players.
New Competition
The Korean government may not be prepared to open the field to more gaming venues for South Koreans but competition is poised to intensify for casinos that attract foreign visitors. In addition to the Paradise/Sega Holdings developments in Inchon, a consortium of U.S.-based Caesars Entertainment Corp and Lippo Ltd has begun construction and licenses for two more casino resorts. Those licenses will be awarded in the near future, probably sometime this year.
Last year, Las Vegas Sands discussed investing up to 5 trillion won (over 4 billion USD) in an integrated resort in the city of Busan. The Sands said that such an investment would be dependent on relaxing the ban that forbids locals to enter the casino. Presently, Kangwon Land's monopoly on local players, based on political concessions made to the economically depressed former mining area, will give it exclusivity on South Korean players until 2025. Industry insiders don't expect the South Korean government to change its policy anytime soon.