Singapore's Government to Strengthen Local Casinos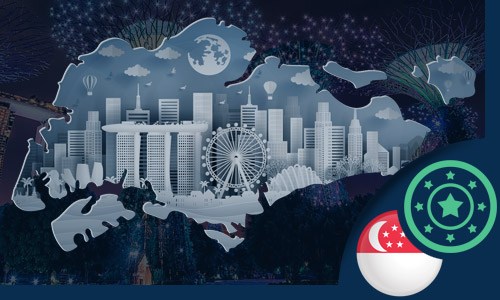 Singapore's 2 casinos, the Genting Singapore Resorts World Sentosa and the Marina Bay Sands, are receiving a boost from the government to help them compete more actively in the growing Asian gambling market. The two Singapore casinos can look forward to the assistance of four of Singapore's government ministries to help them increase their combined investment by two thirds and become more competitive in the battle to attract gamblers in Asia.
Luckily for us Thunderbolt Online Casino players, we don't have to get into politics, but let's see what the full story is....
Singapore and Casino Entertainment
Two casinos, the Marina Bay Sands and the Resorts World Sentosa, opened in 2010. But even before they came on the scene, billions of dollars were being gambled away in Singapore every year. Singapore Pools, a state-linked lottery, was the source of much of the yearly turnover.
The lottery operator saw close to S$11 million per day running through its coffers. Experts estimate that.58 percent of Singaporeans aged 18 years and above were gambling, at least on a part time basis, and 2.1 percent were showing signs of gambling addiction.
Other gaming activities included majhong and card games which were played primarily among friends and family. The Scratch It! scratch-and-win game was launched in 2004 and was another popular betting game. In general, table games and slot machines have historically  been less popular in Singapore but the government decided to approve the development of two Integrated Resorts in 2005 where casinos would be combined with other entertainment facilities.
The two integrated resort developments were the Marina Bayfront and the Sentosa. Both resorts opened in 2010. The resorts' success hasn't impacted negatively on Singapore Pools' turnover for their games which include Toto, Singapore Sweep, 4-D and sports betting which continue to grow.
The CRA -- Casino Regulatory Authority of Singapore -- is responsible for regulating gambling activities for the Singapore Government. The CRA's responsibilities include ensuring that the operation and management of the casinos in Singapore remains free from exploitation and criminal influence, casinos do not cause harm to minors, vulnerable persons or to society at large and ensuring that gaming in a casino is conducted honestly.
The Casino Control Act governs all casino activities in Singapore.
New Avenues for Growth
The new casinos started out strong when they opened in 2010. During their first year of activity, they brought in an estimated gross gaming revenue of US$6 billion. Observers were speaking of Singapore as a strong competitor to Macau as a second Asian gambling destination – one that might surpass the Las Vegas Strip in GGR. But Singapore's 2019 GGR was only US$5.9 billion. The government determined to counteract the decline by granting Marina Bay Sands and Resorts World Sentosa their long-awaited permission to expand 
Four Singapore ministries –Finance, Home Affairs, Social and Family Development and Trade and Industry -- will be involved in the expansion project which, if projections are correct, will increase their combined investment by two-thirds. Each casino will spend S$4.5 billion (US$3.3 billion) on new facilities. The ministries' joint announcement declared that  "the IRs' investments will enhance the vibrancy and tourism appeal of their offerings to remain competitive with other destinations in the region, and bring in more than half a million additional visitors annually."
Changes
Marina Bay Sands is planning to build a 1000 suite luxury hotel tower with a 15,000 seat indoor arena at the base of the tower, a dramatic atrium and rooftop pool area featuring "signature" dining. The casino will also add gaming space – permission to do so is the Singapore government's enticement to the casino in return for Sands' other investments.
It's expected that the additions will be linked to the existing complex via an underground network that already crosses city streets. Hotel, gaming, retail, and convention components will be linked and will include an MRT train station.
Singapore's Resorts World Sentosa plans to add two new sections to its Universal Studios theme park, convert its theater into "Adventure Dining Playhouse," enlarge S.E.A. Aquarium into Singapore Oceanarium and redevelop waterfront areas with a free wow factor attraction, a retail and dining promenade and a public event space. RWS is also planning to add two new hotels with a total of over a thousand rooms and, in return for its investment promises, will be allowed to increase gaming floor space by 11,000 square meters. 
A spokesperson for the 4 ministries said "Each IR made an independent assessment of what they would require and eventually we arrived at commercial arrangements that each IR was comfortable with."
Future
Singapore is already preparing for future revenues and a hoped-for increase in casino visitation. The country increased its casino entry tax for Singapore citizens and permanent residents by 50%. The government also announced that it will increase casino tax rates from 5% to 8% for VIPs and 18% for mass play. If an IR fails to fulfill its investment commitments the rates could rise another four points in each category.  Operators are being assessed an additional 7% sales tax on net win – between 2021 and 2025 that rate will increase to 9%.
Some observers think that the government should rethink those hikes. They believe that locals and visitors alike will be deterred from coming to Singapore and that many will be diverted to other destinations. Singaporeans may even find that it's more economical to travel to nearby low airfare destinations than to stay and play in Singapore.  
Morgan Stanley analyst Praveen Choudhary estimates the 2022 tax hike will trim 6% from Singapore visitation and the entry tax increase will cut GENS Ebitda 2%. Another analyst, JPMorgan's DS Kim, estimates that RWS improvements will add just S$0.02 to its share value.
Singapore's government and the casinos are hoping that the optimistic forecasts will prove to be the correct ones. Vitaly Umansky, an analyst for Sanford Bernstein, sees expansion as positive overall for Genting Singapore with stock rate "outperform… taking GGR market share and showing operational improvement in [its fiscal first half]."
Others note that Singapore will be the biggest winner, regardless of the casinos' future performance. The country will have a new arena and waterfront plaza.