Philippines Casino News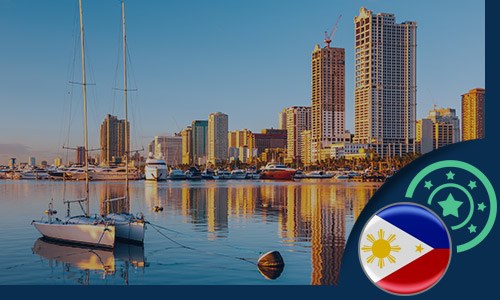 There's plenty of room for casino growth in the Philippines but operators are wary after President Duterte has been sending mixed signals regarding his approval or disapproval of casino expansion in his country. 
Gambling is technically legal in the Philippines and various legal and illegal forms of gambling can be found in many locations around the archipelago. The Philippine Amusement and Gaming Corporation (PAGCOR), which is a state-owned enterprise, operates multiple casinos around the country, It is also responsible for regulating privately owned casinos. There are 20 casinos in metro Manila itself and dozens of others around the country.
The Philippines also hosts companies that serve offshore markets. The PAGOs are a big Philippine industry. PAGCOR oversees the regulation of those firms as well.
President Duterte's approach to the casino industry in his country has been mixed. He banned the construction of new casinos on Boracay and held up the granting of a license for Landing International's license in in Entertainment City, Manila.  He tried to crack down on the iGaming industry when he became president in 2016 and declared war on online gambling soon afterward. Hundreds of eGames parlors were forced to close around the country after Duterte declared "Online gambling must stop. It has sprouted here and there. This is out of control."
As could be expected, investors skedaddled. Now however, there are indications that Duterte is in a different frame of mind. New casino projects have been given the go-ahead and Duterte, he has said that he wants more online casinos. He's also made it clear to the Chinese that, contrary to their desires, he has no plans to close the Philippines thriving online casino venues.  
Some of the newest updates from the Philippine gambling  world: 
New Casino Project
One of Duterte's aides has hinted that the Philippine president may be amenable to lifting the moratorium on new casino projects.  Andrea Domingo, head of PAGCOR, said that the position needs to be clarified but the president may be prepared to allow operators to move forward on several of the developments. Two of the projects that might be allowed to proceed would be the Bloomberry Resorts Corp's project in Quezon City and Landing International's project in Metro Manila.
President Duterte's latest state of the nation address, delivered last week, included praise for the country's gaming regulator. He asked PAGCOR to "push for more gambling" which some observers are interpreting  as marking an end to the moratorium. Presidential spokesman Salvador Panelo agreed that Duterte could be signaling a change in his outlook, saying "That would be the logical consequence of what he said."
According to data that it filed, PAGCOR paid out a total of US $375.4 million in gaming taxes and related compulsory payments from the 2019 first half gaming revenue.
Offshore Gaming Operations
China recently initiated discussions with the Philippines regarding China's wish to have the Philippines shut down online gaming operations that are based in the Philippines. China's President Xi Jinping discussed the possibility of shutting down all Philippine Offshore Gaming operators (POGOs) when he met with Duterte recently during Duterte's official visit to China.
China forbids all online gambling within its borders. Mainland Chinese gamblers are able to access the POGO sites and play their games, which the Chinese government wants stopped. For the Philippines, POGOs are an important contributor to the government's revenue. Xi's request for a POGO shutdown was delivered as "a comment," a government spokesman said, though Duterte "took note" of this comment.
Now, despite Duterte's previous negative comments about online gaming, concern about the economic impact that such a shutdown could have on an important industry, Duterte has decided to allow the POGOs to continue. 
According to government spokespeople, the Philippines government has decided to continue allowing Philippine offshore gaming operators to conduct business from the country.  Upon returning home from his official 5-day trip to China, Duterte said ""I decide that we need it. Anyway, it's government-controlled."
"There's not much work. If we have progressed as a country, there is a lot of work then you don't have this stupid thing… activity of allowing gambling," he said. "But at this time, I really couldn't do anything. Many are hungry. But turn around ... Don't just fool the government. Don't fool me."
POGOs are an important source of revenue for the Philippine government through taxes and license fees. They also represent a significant source of employment as well as rental fees that are earned by owners of commercial buildings that house offshore gambling sites.
Duterte used the occasion to warn illegal operators. He is still not a fan of gambling, but he stressed that the reason he is allowing their operations to continue is to primarily provide jobs to Filipinos. But he has no patience for illegal online casino operators.  "Watch out, you concessionaires. When you make a mistake, you don't remit, it's just a non-remittance, you better close then let's talk or talk about it."