Osaka Hosts First Casino IR Expo in Japan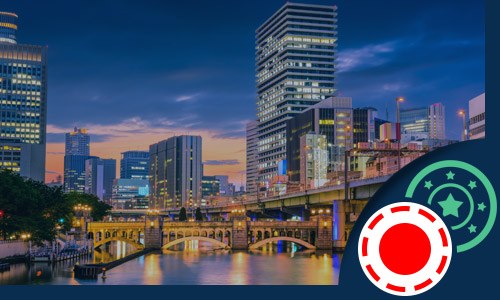 Osaka is a Japanese city that is vying to obtain one of the three Japanese Integrated Resort licenses which will enable it to open a hotel resort - and who knows......maybe a type of Thunderbolt online casino in the future.  
This month the city is upping the game by hosting an IR Expo to draw attention to its aspirations. The two-day event is drawing six of the major international operators that hope to do business in Japan as well as vendors who want to sell their wares to casino-related businesses. The Expo will feature entertainment, shopping, exhibitions and opportunities for meetings and conferences.
Osaka has been lobbying heavily to be named one of the sites where the government will allow an as-yet undetermined operator to open an IR. The tremendous investment that Osaka and area officials and businesses are putting into this Expo showcase that commitment.
The Expo is sponsored by, among others, the Osaka prefecture, the Osaka municipality, the local economic federation, the Osaka Chamber of Commerce and Industry, the Osaka International Business Promotion Center, the Osaka Convention and Tourism Bureau and tourism bureaus of nearby Kansai, Kyoto, Hyogo, Hyogo, Biwako and Tokushima. 
Over 10,000 visitors are expected at the Expo where 200 companies will be displaying their wares. Also present will be entertainment and construction companies, banks and other firms that are hoping to work with the cities and casino operators – each of which hopes to eventually receive one of the three coveted licenses. 
Operators
Six International casino operators, including MGM Resorts Japan LLC, Caesars Entertainment Japan LLC, Las Vegas Sands Corp., Melco Resorts & Entertainment Ltd. and Wynn Resorts Ltd. will have representatives in attendance.
In addition to Osaka, three additional Japanese cities have committed to working to bring an Integrated Resort with casinos, restaurants, shopping malls and hotels to their city. One is Tomakomai in Hokkaido. Tomakomai is located near the New Chitose Airport and it believes that an IR in its city could attract over 8 million visitors a year.
Plans have been drawn up for a casino resort at the Dutch-style theme park Huis Ten Bosch in Sasebo, Nagasaki Prefecture. Officials there predict that they could attract 7.4 million visitors a year.
Osaka has been particularly aggressive in its attempts to see one of the casino licenses granted to them. Their strongest competitor in their region is Wakayama, which is also in the Kansai region. Osaka is widely considered the favorite location the a large-scale casino resort in that area. City planners have already drawn up tentative plans for an IR complex which, local planners predict, will draw over 24 million people a year. In contrast, Wakayama's casino-resort plans predict 4 million visitors per year. 
Central Government
According to the Integrated Resorts bill, passed last year by the Japanese Parliament, a maximum of three casino licenses will be awarded to three Japanese locales in the initial phase.
Casino operators hope that there will be more licenses given over time but public opposition is significant -- there is a high level of anti-gambling feeling in Japan over problem gamblers and other casino-related social ills. The fight over the IR bill was bitter and it's unclear even when the first licenses will be issued, much less when more will follow.
Osaka
Osaka's plans are to have a casino resort up and running by the time that the World Expo is held there in 2025.  That makes for a tight schedule, especially if Tokyo doesn't issue a license within the next couple of years. One of the favored candidates for winning the rights to an Osaka IR, MGM Resorts Japan, says that opening before 2025 is not out of the question but the longer the government delays, the harder it will be.
Jason Hyland, representative officer and president of MGM Resorts Japan said "We would like to meet (Osaka's) expectations. We'll certainly do everything we can do to be as responsive as possible."
The IR Bill specified that any integrated casino resort built in Japan must include conference facilities as well as hotel and lodging facilities. Right now there's a shortage of modern meeting and convention facilities in Osaka. If the city can get an IR license in the near future, it will ensure that the Kansai region is able to compete against Tokyo for the lucrative international conference and event business.
Kaneyuki Myohdai, president of event organizer Sakura International Inc. which is hoping to work with the Osaka IR if and when it is built, commented that "The coming of the 2025 World Expo to Osaka, and a casino resort, if it opens up in 2024, offer Osaka great opportunities to attract more conventions and exhibitions."
Request for Concept
The IR Expo is, Osaka officials believe, the first and most important step in positioning their city as the logical first choice for Japan's first IR license. The city upped the ante last month when it launched a request-for-concept application phase. The city requested that interested casino operators submit an application where they would show why they are the best candidates to run any Osaka casino that may be built.
The municipality outlined their expectations that casino operator's RFP responses would meet IR requirements as mandated  by the IR Bill passed last year by the Japanese government. These requirements include that Japanese cultural attractions be featured, spaces be dedicated to conventions and exhibitions and a hotel of approximately 3,300 rooms be built. 
Osaka has made it clear that any operator chosen as Osaka's partner will be expected to pay for almost half of the total cost for the regional subway which will need to be extended to Yumeshima. Estimated total cost of that subway extension is $482 million.
Following the RFP submission, Osaka is asking candidates to follow up with a design plan, to be submitted by August 2019. Officials will review the design proposals, after which they will issue a "basic policy" for an IR. After Osaka has chosen its gaming partner, the municipality will forward this IR plan to the national government for consideration.
All this is before the national government has even named the three locations where licenses will be given.