Sports Betting Options in South Africa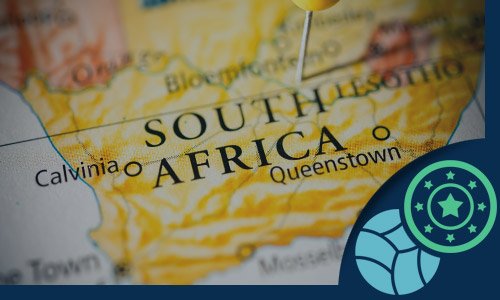 South Africa's online sports betting market is expanding and now features interactive and legalized wagering available for all sports. Sports fans can bet on all sports, both those played within the country and those played in international forums. 
South Africa's online betting sites are regulated by the National Gambling Board (NGB), the entity which will soon be reorganized as National Gambling Regulator. The NGB supervises land-based casinos and online sportsbooks in South Africa's nine provinces. In 2018 the NGB reported that gaming revenue in South Africa was almost $4.34 billion with 11% of revenues coming from online sports betting.
National Sport
Sports betting is a national sport in South Africa. Sports betting makes up 20% of the national GGR – close to $466 million. Of that, 25% of the revenue comes from online betting.  Sports betting is an expanding industry in South Africa with an average of 21% growth rate in the last 10 years.
In South Africa almost every citizen has at least one mobile device. Most mobiles in South Africa are held by young adults and teens. National leaders see sports betting as popular due to the fact that the market is well-regulated. Government officials believe that providing the opportunity to wager on sports adds to the national identity, culture and well-being of South African citizens and to the country.
Sports betting crosses social divides between citizens of all ages, sexes and racial backgrounds. South Africa is a multi-ethnic environment where 11 different languages are spoken and the history of the relationship between the races is complicated. Yet despite the differences and past conflicts, the vast majority of South Africans are avid rugby, soccer and cricket fans.
In addition to these popular sports, sports wagering fans in South Africa can also bet on boxing, golf, cycling, running, field hockey, tennis, sailing, surfing and triathlon along with dozens of additional sports options - thus the vast popularity of sportsbetting SA.
Bookmakers
There are almost one thousand retail outlets and close to 300 operational bookmakers in the country. That compares to 38 casinos that host a bit over 900 gambling tables in the country. It's clear that sports betting is the preferred form of gambling for South African players.
Legal online sportsbooks provide wagering options in up to 300 markets for over 80 sports with almost 8,000 opportunities every day. The revenue streams are attracting the notice of the leagues and the teams who are starting to demand their share of the profits. The South African Football Association is leading the campaign, arguing that between 60% and 90% of placed bets are from soccer.
International
ICE Africa was launched in Johannesburg last October 24-25, 2018. The tournament involved 24 African and 89 worldwide nations who were hosted in an event sponsored by one of the world's leading gambling operators. The event emphasized both the maturity of South African gambling scene and continental iGaming potentials.
American affiliates were slow to embrace African opportunities but once they realized the opportunities they came to explore. They focused on ways to lower legal barriers to build viable operations, the mobile-first orientation and additional opportunities that the regulated market offers.
As gamification expands, the gaming industry in South Africa is also reviewing ways to implement RNG games into sportsbooks. Such a tactic could fill the gaps in video poker and online slots, offering these games also at sportsbooks.
Mobile
Today young adults comprise the majority of South Africa's online sports bettors. These individuals overwhelmingly use mobile devices. At present, only about 25% of all target groups utilize desktop platforms. The recent launch of the first commercial 5G network builds-up means that mobile connectivity actually exceeds wire-line capacities. Young sports fans are also attracted by the innovative product improvements that focus on better content, design, and UI so the level of users' experience is always increasing. All of these developments serve as a litmus test for online sports betting capabilities for the entire continent.
iGaming
So, will South Africa adopt iGaming, above and beyond online sportsbooks? 
iGaming regulation can produce state revenues which the government could put to good use. There's a state withholding tax of 15% in South Africa on winnings above $1,700. Last year the overall volume of all taxes from the South African gambling sector was close to $165 million, with sports betting alone contributing $34.59 million.
These extra funds going into the public coffers represents a huge improvement of the quality of life for all South Africans.
If, as many observers say, Africa is the new gambling frontier, South Africa has the potential to lead the way for hundreds of millions of bettors, both on-site and online for sports betting and other casino games.