Online Gaming is Growing all over India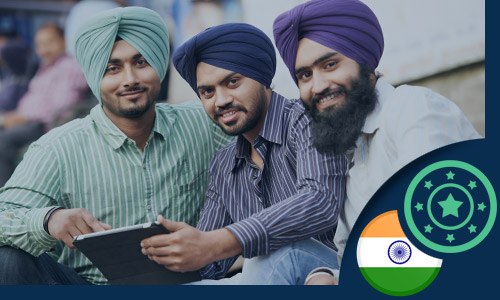 Online gaming is growing in India, thanks to the rapid proliferation of mobile devices and better access to more affordable Internet. Fantasy Sports has become the most popular online casino game-type, winning out over Real Money Games (RMG) such as poker, quizzes and rummy, casual games/mobile-centric games and esports.
Fantasy Sports
Fantasy Sports is a form of skill-based sports gambling in which sports fans create their own teams, based on real life players, and then place bets on the teams that they've built. Wins are achieved based on the real team's actual performance in genuine matches.
In every country, fantasy sports offerings mirror the type of sporting events that are popular in that region. In India, participating players enjoy playing fantasy sports based on basketball, cricket, football and kabaddi along with some secondary types of sports. After a player creates a virtual team he accrues points based on the statistical performance the team and the team's players during the course of the real-life match. Payouts are determined accordingly.
History of Fantasy Sports In India
Fantasy sports launched in India nearly two decades ago. The first game to hit the country was Super Selector fantasy game which was launched by ESPN-Star Sports in 2001. In the beginning, people registered their games for free. Contest duration ranged from a month to the course of a specific series. As time went on, other popular tournaments such as the UEFA Champions League, ICC events, IPL and the English Premier League developed games in which people could manage their teams for specific tournaments.
Fantasy Sports in India has experienced tremendous growth over the course of the last 2-3 years. The number of fantasy sports operators has multiplied x7 and the number of users increased x25 between 2016 and 2019. Estimates are that, as of 2019, over 100 million people were playing fantasy sports in India. 
Observers say that the rapid expansion is attributable to the emergence of sports leagues in India where football, kabaddi, basketball, volleyball, and badminton have all grown in popularity. Fans enjoy multiple opportunities to engage in fantasy sports through the establishment of the new leagues which ensures that users can engage with multiple sporting events throughout the year.  The Premier League (IPL) remains the prime sports property in India, both for sports fans and for fantasy sports participants.
Bettors and viewing fans can follow the leagues on fantasy sports platforms or as non-participating viewers.
Court Ruling
In August 2017, the High Court of Punjab and Haryana ruled that playing fantasy sports online does not amount to gambling since it involves a substantial degree of skill. That ruling encouraged the participation of more users by spreading awareness about the legality of fantasy sports.
The case was initiated by a gamer, Varun Gumber, who claimed that he had deposited Rs. 50,000/- on the Dream11 fantasy sports website on two separate games and lost his money as he created fantasy teams. He asked the court to take action against Dream11 for promoting gambling.
The court  rejected Gumber's contentions. It held that a great deal of user's knowledge, judgement, adroitness, and discretion is required to create a league team and the user is obligated to continuously monitor the sporting event, weather conditions, statistical performance of the player, previous track record, etc in order to succeed. In examining Dream11's terms and conditions, format of the league and game rules the judge noted that substantial skill is required to play fantasy sports. The judge held that, as with horse racing, fantasy sports, which involves building a team and then assessing the possibilities of the team – and the individual players -- and is not the type of gambling enterprise in which everything is based on chance.
The court noted that Dream11 is duly registered as an incorporated entity in India and has been regularly paying service tax and income tax. The judgement stated since fantasy sports is not gambling, it is a business activity. As such it is afforded the protection of the right to free trade and commerce as guaranteed under India's Constitution.
Growth
Judicial observers in India have commented that the order of the Punjab and Haryana High Court is significant as it sets down the fact that an element of skill is involved in online fantasy games. Since the trial's conclusion the fantasy sports industry in India has expanded considerably, fueled by the certainty that the law stands behind fantasy sports entertainment.
Multiple fantasy sports platforms including as Dream11, MyTeam11, 11Wickets, Starpick, Halaplay and Fantain have partnered with sports leagues. Dream 11, which controls approximately 50% of the fantasy sports market in India, has partnered with the International Council of Cricket, Hero Indian Super League, the National Hockey Federation, the Big Bash League and Hero Kadabbi League.  MyTeam11 has official agreements in place to partner with the Pakistan Super League and the  Pro Volleyball League. Other partnerships have been signed as well.
Models
There are two models of fantasy sports games offered by the Fantasy Sports Operators in India:
• Pay to play – Users pay an entry fee to participate in paid contests. The operator charges a platform/service fee of 15-25 percent of the total pool before disbursing winnings.
• Free to play – Users play free contests, which may or may not have cash prizes for winners
Most fantasy sports contests are still on a 'Free to play' basis -- nearly 85 percent of Dream11's user base plays for free.  Platforms have other revenue streams as well, including advertisements, brand partnerships and contest sponsorships. The most popular sporting event at Dream11 is cricket which consists of approximately 85% of its userbase. Other sports are gaining traction as new Indian leagues emerge. All of the platforms provide contests on a daily format. Dream 11 has also introduced a season long league format.
Deepening Connections
The rise of online fantasy sports is spawning a deeper connection between real life sports and sports fans in India. Through fantasy sports, many casual fans have been converted into dedicated enthusiasts. Fantasy sports is helping to increase user engagement among Indian sports aficionados and that, in turn, facilitates increased sports consumption.
Not surprisingly, technology is to thank for this upsurge in interest. Fantasy sports operators are using the newest technologies to market their product and to enhance real time fan engagement. The technologies include advisory videos platforms which appear on YouTube as tutorials and provide users with gaming tips and provide insights on predictions on team selection.
Income
Ad-income is the key revenue stream for fantasy sports platforms. Ad-income allows the platforms to offer "free to play" games and give players the feeling that they're getting something for nothing. Another industry to benefit from the growth of fantasy sports gaming in India involves the payment platforms that facilitate transactions to and from the fantasy sport's platform and provide for  transparency and traceability of funds.
Fantasy sports is also an income-producer for the government through tax income and taxes on the operators. GST is assessed at 18 percent of operator gross revenue after deducting the prize pool. Income to the government comes through both users and platforms, making it a gold mine for the taxman.
In non-monetary terms, fantasy sports is also contributing to sports development investment in India in infrastructure and talent. It's the key criteria for fueling growth in any sport and, observers hope, will help to get additional sports such as swimming, sailing, squash and golf off the ground in India.