Online Casino Games Sports Betting Going to Canada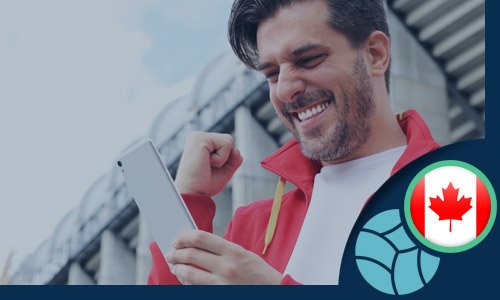 Sports gambling has been a controversial subject in Canada for many years but it is now on the verge of being legalized. The change which will allow Canadians to add online casino games wagering on single events to the already-legal parlay sports bets.
History
Gambling has been a part of Canadian culture since the First Nations played with gaming sticks in the centuries before John Cabot arrived. As Europeans began to settle in Canada they brought their own games, particularly card games of poker, blackjack and stook, as well as dice games of craps and barbotte. 
In 1892 the Central government legalized gambling under the Canadian Criminal Code and in 1910 an amendment was added to allow pari-mutuel wagers. Pari-mutuel betting became Canada's legal form of sports betting with a percentage taken out of the winnings for charitable or religious purposes.
In 1970 the Criminal Code was changed and provinces were given the authority to license and regulate gambling in their regions. Each province was given the opportunity to create its own gambling corporation to run casinos, lotteries, VLTs (Video Lottery Terminals)  and racetrack betting (and later online gambling) on behalf of that province's provincial government.
The first land-based casinos opened in Manitoba in 1989 and the gambling industry in Canada grew. Retail casinos opened in Ontario, Alberta, Quebec, Saskatchewan  and British Columbia while four Atlantic provinces, Newfoundland, Nova Scotia, New Brunswick and Prince Edward Island regulate their gambling interests, including both retail and online gambling, as a combined "Atlantic Lottery".
Online gaming has been offered by a number of the provincial corporations for a number of years, though it's not available in all provinces. Online gambling is a huge growth industry. Players have the convenience of playing the same games that they'd experience in a brick-and-mortar casino on their PC or mobile device so they can play, bet and collect winnings from the comfort of their living room chair.
Sports betting, however, was never made legal in Canada. Now the government is coming to the conclusion that bookmakers and offshore casinos are taking in millions in unaccounted-for proceeds and as the underground casinos collect tax-free profits, the provincial and national governments are losing out on a major source of revenue. 
Legalization
By outlawing betting on single events, Canada's criminal code prevented legal sportsbooks from operating in the country but consumer demand remained as high as ever and they would-be-bettors simply turned to unregulated avenues. Alongside the black market a thriving grey market operated and analysts estimated that as much as $14 billion was wagered on sporting events annually.
The industry tried multiple times to get the ban on single-event betting removed but successive governments resisted. Now, however, there seems to be movement in the form of Bill C-13 which promises to amend the Criminal Code and open the door to sports betting.
If C-13 passes, which observers believe is likely, provinces will be given the task of creating their own licensed, regulatory markets. C-13 had its first reading in December and expectations are that it will be passed into law in the spring. A number of provinces are laying the groundwork for the new opportunity and telecom-media giants Bell and Rogers are preparing to enter the market. 
Push from Down South
Canada's government has been turning down sports betting bills for years but once Canada's neighbor to the south opened its sports betting market, Canada seemed to have little choice but to follow suit.
The American sports betting market, which is growing at 8.83% CAGR and is estimated to become a $10 billion market by 2028, has shown Canada what can be done. America also paved the way to North American sports betting by getting the major pro sports leagues on board with sports betting.
Prior to the introduction of sports betting in America, the leagues fought tooth and nail to prevent sports betting from becoming a reality. Now, only 2 years after legalization in America, the leagues' chiefs including NBA commissioner Adam Silver, CFL's Randy Ambrosie, MLB's Rob Manfred, NHL's Gary Bettman and Major League Soccer's Don Garber sent a letter to Prime Minister Justin Trudeau in which they urged the government to change the law.  
"The hope is that by fall, even Labour Day, we will see expanded sports betting offerings out there," said Paul Burns of the Canadian Gaming Association to the Toronto Star. "It shouldn't have taken this long. But the finish line is in sight.I think it's a recognition of how it's changed in the United States and the [pro] leagues want to help create the right environment now for accessing that product. The consumers, they're there. It was about catching up to them."
Ontario is one of the first provinces to signal that it will embrace sports betting as part of its casino offerings. In addition to single-game bets, it's almost certain that specific outcome bets will be available.   
Leagues
The leagues, which had been adamantly opposed to sports betting before states in America began to adopt it, stand to benefit from the added Canadian market.  They are already seeing the benefits of the sponsorship deals, partnerships and increased fan engagement and are ready to be part of sports betting's expansion into Canada.
While the liberals haven't been big supporters of sports betting in the past, the tune has changed after a year of COVID-19 devastation. Casinos have been particularly hard hit by the shutdowns and provinces are eager to draw the money that had been siphoned off by black and grey operators back into regulated space.