Online Casino Fantasy Sports Market Sees Big Growth in SA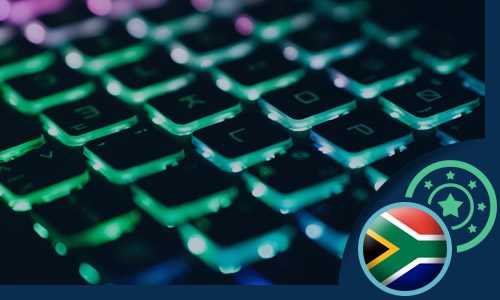 South African bettors haven't been able to wager on in-house number games or soccer for the last six months. Now, many are turning to online casino electronic gaming and fantasy sports for gambling fun.
eSports
South African bettors are eschewing the sportsbooks' beliefs that over-40s are too old-school to switch their gambling habits and will wait until old-fashioned football action returns. Old dogs DO learn new tricks and people who, before last March, wouldn't have known an esports tournament if it bit them, are now betting on the outcome of electronic games matches.
Up until March 2020, South Africans were betting billions of rands on the outcome of numbers games, football matches and horse races. As with other sectors of the economy, COVID-19 brought traditional sports betting to a halt. Retail outlets that traded in offline numbers closed and almost all races and sporting events were cancelled.
That means that, at a time when people are looking for activities to occupy their time, there's not much available to stimulate gambling action. Fixed retail outlets which once pulled in the majority of South African bets are quiet these days. 
Some sportsbooks are offsetting the losses by introducing wagering on esports matches. eSports matches don't rely on live sporting events. They take place totally online and allow bettors to place wagers online.  eSports just recently started to gain popularity in South Africa but the trend is growing and it's now possible for South African bettors to place wagers on most local online betting platforms.
Punters in South Africa are placing wagers on the outcome of many of the most popular esports competitions including League of Legends, StarCraft and Defense of the Ancients (DOTA). Keith Bolton, digital manager at Betting World said that punters can also bet on football matches that are played on the FIFA multi-platform game.
Bolton said that the sportsbooks' goal is to keep things going until traditional sports matches start again but many observers believe that the tide has turned. Traditional sports betting will certainly resume once the pandemic subsides but, the observers predict, esports betting will continue to be a popular alternative for gamblers.
Betting platforms in South Africa are introducing animated matches and sporting simulations which produce results based on an algorithm or random database draw. One such South African product is Jika, an animated horse race that, according to Bolton "looks exactly how you'd see it in real life."
Betting World has also launched an animated soccer game which "plays" a match every six minutes using the same basic Jika technology. Other outlets are introducing "simulated sports" that takes into account the football fans who are accustomed to knowing their teams and therefore want to place their bets based on their predictions of the outcome of specific encounters between teams.
Such simulations allow the bettor to experience, to a degree, the anticipation that goes along with a traditional sporting match, giving the bettor the chance to draw on his or her knowledge of the game.
In the future, traditional games like simulated lottery-type number draws and simulated roulette will also be offered on local betting sites.
Bolton says that COVID-19 pushed the company to launch these products earlier than they would have otherwise. "I don't think they'd have seen the light of day this quickly if it wasn't for Covid-19, but they were all products that were going to be introduced," he says.
The new products are also drawing new customers. "Previously we never had esports betting, so this is a world we never tapped into," said Bolton. "But we are seeing new customers sign up specifically to play games like DOTA or League of Legends." Now, says Bolton, the challenge is to draw in the traditional sports bettors. These are the people who aren't familiar with simulations and animations and don't feel comfortable with electronic games. "But," says Bolton, "we're getting there."
Fantasy Sports
More South Africans are also playing Fantasy Sports games as a substitute for traditional sporting events. In South Africa, Fantasy Sports Interactive, a fantasy sports software provider, has launched a fixed-odds fantasy via Hollywoodbets, the popular Sports Betting operator.
The new product combines the Hollywoodbets sportsbook and fantasy sports gameplay to give customers a diverse gaming experience that combines fantasy football and wagering according to a dedicated set of fantasy odds. Participating players can create their own fantasy team based on detailed statistics of league players. They will then be able to bet on their team's results according to fantasy odds.
Fantasy sports is a growing niche in the South African sports world but until now, the country was lacking a product that focused specifically on South African sports, teams, players and leagues. Now, with the Fantasy Sports Interactive/Hollywoodbets product, DFS players in South Africa will have a platform that fits their specific needs and expectations.  
The "Fixed Odds Fantasy" features point ranges (fantasy points thresholds) that users' fantasy teams must reach in order to win. The fantasy-based odds are generated by FSI, using an AI-based generation algorithm. The odds are generated once a week to define the winnings for each threshold.
Rowan Cross, COO of Hollywoodbets said, "We here at Hollywoodbets are thrilled to be the first South African company to bring this new bet type to our valued customers. Thanks to this partnership with FSI a whole host of new betting opportunities will now be available to the many fantasy league fans out there. We urge our customers to keep looking out for other exciting Fantasy League updates from Hollywoodbets and FSI in the near future".
CEO of Fantasy Sports Interactive Dennis Tsalikis said, "at FSI we are thrilled to reach the South African audience through the leading operator in the region. Hollywoodbets have a strong presence in the online and retail betting market, and an experienced team we have been delighted to collaborate with. We are confident about the product's success and the future of this partnership".