Online Blackjack Variants Available Now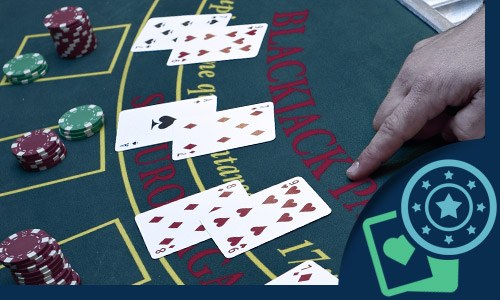 If blackjack is your game, Thunderbolt casino is your new gambling destination...at home, in the office, on the train or chilling out in the park.  Where ever you are and at any time of the night or day you've got unrestricted access to a suite of RTG blackjack games... some straight up and conventional and others featuring sassy rules, big bonus pays and precocious little side bets.
Notwithstanding your location or gambling device, you'll have crystal clear visuals of the blackjack table where the cards are dealt and the hands played with super smooth symmetry.  You can place a bet with a click or a tap; hit, stand, double down or surrender and scoop up the virtual coinage as and when you hit blackjack.....or your hand wins.
There's chat functionality integrated into the gaming interface and if you're a bit confused as to rules of the game, you can click to check what's cool and what's not.  You can tap into a selection of cross-budget table limits and monitor how many bets you make and hands you play.  Technology really does mean you have 'black tie' blackjack available at your fingertips!
So what are the blackjack games you can play at Thunderbolt casino?  Let's wade through your options one by one:
Play European Blackjack for the Best Return
Australian players may prefer unique blackjack variants like Pontoon but across the pond in Europe, classic blackjack with a twist or two is the game of choice.  Opt for European blackjack and your task of achieving 21 is curbed by a couple of punitive player rules.
You can only double down on a hard 9 to 11 and if your cards are mediocre at best, there's no surrender rule in place to recoup a portion of your total bet.  However it's not all plain sailing for the dealer either as the hole card in the opening 'gambit' is only dealt after you've made your play!
Despite these player handicaps, European blackjack should be your game of choice as the average return is 99.46%.  Here's a tip for you: RTG blackjack has a configurable number of decks that can be set by the casino.  If you play 6-deck European blackjack the house edge is fractionally lower than an 8-deck game.
Perfect Pairs: Classic Blackjack with a Side Bet 
Perfect Pairs is an entertaining blackjack variant that's really two games rolled into one.  You've got the conventional blackjack action where the hand closest to 21 wins.  And you've got the option to place a side bet on the probability of hitting two cards of the same rank as you attempt to reach your goal.  Hit a pair of matching cards with a side bet on the table and Perfect Pairs is a money spinner. 
The payouts on the side bet are pretty impressive; 25:1 on two identical cards, 12:1 for two cards that match in rank and colour and 6:1 of two cards of a matching rank.  Factor in a return of 99.46% - a number it shares with European blackjack - and Perfect Pairs should be on your playlist at Thunderbolt casino!  
Sevens are Solid Gold in Match Play 21 
Matchplay 21 is a popular blackjack variant for good reason; it has lots of big bonus payouts.  So if you're looking for an easy way to boost the bankroll....this is the game for you.  
The endgame is exactly the same as any other blackjack variant - to get to 21 without going bust and in so doing, beat the dealer's hand.  But the big money starts rolling in when you're dealt the magic card, which n the case of Matchplay 21 is 7!
Here are a few of the top card combinations that pay out tons of coinage:
Matchplay 21 - three 7 cards of the same suit plus the dealer shows a 7 pays 40:1 
Triple 7 Spades - three 7 spades gives you 21 and pays 3:1
Spades - 6 7 and 8 of spades pays 3:1  
Triple 7 -  three 7 cards of the same suit generates 2:1 
Considering there are so many extra ways to win playing Matchplay 21, the average return of 99.27% is not too shabby!
Here's an important tip for you; bonus payouts only apply to the original hands.  That means you are ineligible for the big money prizes the moment you split or double down.    
Super 21: Hit and Hit Hard  
The last of our featured 'black tie' blackjack games is designed for the gambling brave hearts out there.  Apart from hitting a two card blackjack, the aim of the game is to accumulate as many cards as you can in your quest for the elusive 21.
The idea is to hit and hit hard and you'll earn nice little cash bonuses for your efforts.  Super 21 is a snorter of a game that requires attitude, adrenalin and lots of low value cards to pull off a cash coup. 
Here's a snapshot of the Super 21 bonuses that pay out 2:1:
Blackjack in diamonds - Ace of diamonds plus any other 10  value card in diamonds
Five card 21
Six card 21
Any six card regardless of hand total
Go on; join the ranks of Sean 'Diddy' Combs, 50 Cent and Paris Hilton...high rollers with blackjack close to their heart!