NZ Prepares to Regulate Online Casino Gambling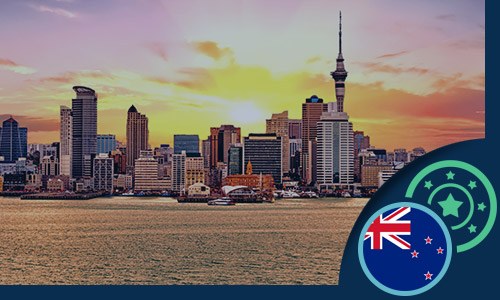 New Zealand is preparing to introduce regulations that will exert government authority over offshore casino games operators. The operators will be required to pay fees, both for the gambling services that they provide to New Zealand residents and for the bets taken on NZ racing and sporting events. 
Racing Reform Amendment Act
The Racing Reform Amendment Act 2019, which amends the Racing Reform Act of 2003, was announced to offshore gambling companies through a letter sent out from the office of the Deputy Prime Minister of New Zealand. The letter spells out what is required of offshore betting operators to as of July 1 2019.  The requirements include:
pay an information use charge (NZ product fee)
pay a point of consumption charge for bets taken from people resident in New Zealand
According to The Act, online betting on sports not currently represented by an existing domestic national sporting organization will be allowed.
Clarification
Much work still needs to be done to clarify the steps that offshore betting operators need to take in order to legally provide their services to NZ players. There will be formal arrangements that need to be made between the operators and the NZ authorities so that they can access necessary information (including banking data) about the gamers.
Operators are waiting for NZ authorities to clarify the obligations that are expected of them, including how government intends to facilitate payment of NZ product fees and POC charges. The government acknowledges the difficulties and for the meantime, is only focusing on having the offshore gambling operators pay GST (goods and services tax) relating to gambling services provided to NZ customers.
Government Interest
Although there are many reasons for the government to oppose online casino gaming, the New Zealand government does, in fact, support it. The government acknowledges that New Zealanders spend hundreds of millions of dollars on online gambling every year. Yet until the new Amendment was introduced, only two local bodies (TAB and Lotto) earned anything from online betting. The rest is being siphoned off to overseas websites. Domestic companies want in.
The Department of Internal Affairs researched options. They included:
maintain the status quo
allow TAB and Lotto to market more online gambling products
open up the market to all domestic and foreign companies under a licensing scheme.
open up the market to all domestic companies under a licensing scheme
Notably, all of the proposals seem to be inclusive of online gambling and none focus on minimizing harm from expanding gambling access.
Andre Froude, Marketing and Communications Director for the Problem Gambling Foundation of New Zealand, sees expanded gambling coming and is worried. "Our concern is always going to be around the harm. We don't want to see a whole lot of different gambling operators offering online products to New Zealanders. More importantly, we want to make sure that the online operators are going to be regulated in such a way that consumers are protected."
Max Abbott, a professor of public health and psychology at AUT,  specializes in researching the psychology of gambling and its effect on society. He says, "my preference, frankly, would be option one. I'd actually suggest that we even look seriously at blocking access to international sites because many of them aren't safe." 
Anti-Gambling Solutions
Some anti-gambling activists are saying that the country can rely on the goodwill of gambling operators.  They say that such operators, including overseas companies which aren't subject to New Zealand tax laws or regulations, would allow gamblers to "self-exclude themselves from using particular gambling operators or products (if this function was offered by the operator)". Basically, this would involve offshore operators blocking Kiwis from the online gaming sites.
Geo-blocking could also be a solution – geo-blocking is the technology that  allows companies to restrict content to different regions. Alternately, credit cards that originate at New Zealand banks could be blocked by the operator. 
Abbott would like to see compulsory caps placed on the amount of money that a NZ gambler could lose to any given site. This would work easily with domestic companies but would require a licensing and regulatory scheme with participation from overseas operators.
New Zealanders and Gambling
The amount of money spent on offshore gambling sites nearly doubled among New Zealand players between 2015 and 2017. The Lotto NZ online gambling programme saw a 26 percent increase in sales last year.
Kiwis spend approximately $2.4 billion on gambling every year. Online gambling represents a small proportion of that. Yet, everyone involved agrees that Internet casinos could be the future of the industry in New Zealand.
New Zealand's biggest land-based casino operator, SkyCity Entertainment Group, recently launched a Malta-based online casino. SkyCity, based in Auckland, is attempting to win a share of some of the hundreds of millions of dollars that are presently flowing to offshore casinos.
Home-Grown Online Casino Platform 
SkyCity casino will operate the website with the platform, front-end development, gaming content and managed services to be provided by the Maltese-based Gaming Innovation Group.
Chief executive Graeme Stephens said in a statement, "While ultimately a regulated online gaming market remains the preferred solution, the site launch is another step on our journey of pursuing opportunities to grow and diversify our earnings, addressing a new, fast-growing industry which is highly complementary to our land-based activities and offering customers a multi-channel gaming experience,"
According to SkyCity,  it is estimated that New Zealanders  currently spend about $160 million a year at online casinos which are provided by international platforms. The country's Department of Internal Affairs said there was an 84 percent increase in offshore online gambling from $132 million in 2015 to $243 million in 2017. The DIA said that industry estimates indicate that the combined spend of 2018 and the first 6 months of 2019 will see a spend of approximately $381 million.
When  the protocol for regulating the New Zealand online casino market is set, SkyCity will resume business-to-consumer components, much as it currently does for its land-based gambling activities.  SkyCity believes that the bulk of its business will continue to come from its Auckland casino which gets high-roller international business.