NZ Government Explores Ways to Regulate Online Casinos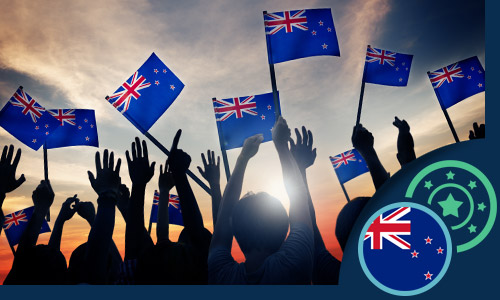 New Zealanders are avid gambling enthusiasts. Currently, online casino gaming is loosely regulated in New Zealand but the government is currently exploring if and how to lay down guidelines for online casino gambling. The government has launched a public consultations with the goal of testing public support for regulating the online casino industry.
Legal Status of Online Gaming in New Zealand
There are few legal guidelines that relate to the legality of online casino gambling in New Zealand. They include the Gaming and Lotteries Act of 1977 and the Gambling Act of 2003. The 2003 Gambling act states that "it is not illegal for someone in New Zealand to participate in gambling over the Internet if that website is based overseas." While that seems clear enough, Section 9(2)(b) of the Act  prohibits gambling at offshore casino sites that are operated from within New Zealand. If the server is in another country, which most are, NZ players can play at that site.
Since the Gambling Act was enacted, there have been two additions, one in 2005 and again in 2015. Neither of those amendments, however, relates to the rights of New Zealanders to play at an online casino venue. 
The Gambling Act does include some restrictions on online gambling and on the casinos that provide those gambling options.
No player or operator liability – it is neither expressly illegal nor expressly prohibited for a NZ player to play at an offshore casino whose server is located overseas.
No taxation – gambling winnings from both land-based casino gambling in New Zealand and online casino gambling is exempt from taxation. The NZ government considers gambling to be a pastime or a hobby, as opposed to being a profession. Therefore, any profits from gambling activity aren't regarded as taxable income.
Poker permitted – online poker rooms are in the same category as online casinos. There are no laws specifically permitting or specifically prohibiting people from playing in a poker room online at an offshore casino site
Sports betting under auspices of New Zealand Racing Board – the New Zealand Racing Board is responsible for sports betting services (including horse and dog racing) through the national lottery TAB. International sportsbooks that operate from offshore sites can legally take bets from New Zealanders.
NZ Lotto products are distributed under Lotto NZ and Totalisator Agency Board (TAB)
Two NZ governmental departments control gambling activities in New Zealand – the Gambling Commission is responsible for licensing casino operators. The Department of Internal Affairs  is charged with administering gambling legislation. The New Zealand Ministry of Health is responsible for issues dealing with problem gambling including preventing the problem and helping those who have been identified as problem gamblers.
New Zealand Gamblers
Despite the prevalence of NZ gambling products, most New Zealanders are playing in offshore casinos, either as part of their gaming experience or exclusively online. The New Zealand government has been exploring, for several years, its options to better regulate online gaming in the country.
Authorities believe that they have two options as they investigate how to regulate online gaming:
 

 

Full Legalization

 

 

 

Gambling Monopoly

 
Full Legalization
Full legalization would create a situation that would be modeled after the UK Gambling Commission (UKGC) or the Swedish Spelinspektionens. These government authorities oversee all forms of betting activities and gambling in their countries and are charged with ensuring that the gambling is carried out in a safe, transparent and fair manner.
There are several advantages and disadvantages to this sort of system
Pros:
The relevant authorities monitor the online casino sites to make sure that all customers enjoy fair and transparent gaming activity with terms and conditions for bonuses that regulate those promotions.
The ability to monitor an offshore casino site ensures responsible gambling by ensuring that the casinos are providing information and tools to prevent problem gambling and guaranteeing that customers enjoy a safe gaming environment.
The relevant authorities are active in confirming that offshore casinos aren't used for money laundering by obligating casino operators to conduct a Know Your Customer (KYC) check on each player before releasing any money to the gamer.
Cons:
The cost to the offshore casinos of acquiring a license from NZ authorities is relatively high and some operators wouldn't be able to afford it. To obtain a license, the authorities check that the casino has enough money to start operating and that the operator has not been involved in any prior fraud cases. This involves a lengthy application period. 
Gambling Monopoly
Gambling in several countries including in Canada and Finland is state-controlled. That's true for both offline and online gaming. In Canada, the gaming "corporation" of each province is a monopoly. In some provinces, the corporation, which is the official operator, offers iGaming while in other provinces, the corporation does not offer online gaming. Offshore companies operate in Canada but worry over competition is causing some provinces to try to enact laws that would prevent their citizens from accessing those sites.
In Finland, three governmental bodies are each responsible for a specific form of gaming; Veikkaus Oy, RAY and Fintoto Oy.
Pros:
Countries where gambling is controlled as a monopoly have successful and robust gaming infrastructures with high revenues from the gaming.
Charities and other non-profits gain in areas such as Canada where the law mandates that a certain percentage of the profits go towards charitable causes
Cons:
In countries where gambling is controlled by a monopoly, many of these state-controlled sites are facing competition from offshore casinos that don't operate under the same restrictions under which they must operate.
Many regions that have monopolized gambling, report a higher-than-average rate of problem gambling behaviors. 
New Zealand's government is struggling to come to a decision about how to regulate online gaming. Many observers believe that it's important for the government to move sooner, rather than later. The coronavirus shutdown has closed New Zealand's land-based casinos and more people than ever are going online for their gaming entertainment.