Challenges and Changes for Macau Casinos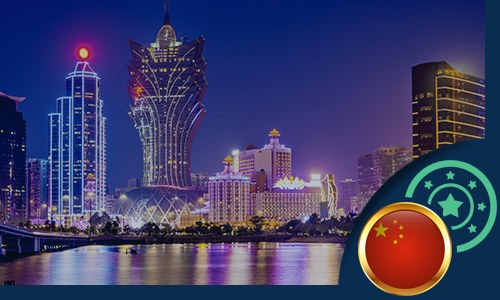 Macau's Statistics and Census Bureau has declared a recession following statistics that show that the enclave's gross domestic product declined for the second straight quarter. Yet the territory's casinos are finding new opportunities  amidst the challenges, including the introduction of casino online games.
Some of the latest in Macau's ups and downs: 
US Government Takes an Interest
US casino operators Las Vegas Sands, MGM Resorts and Wynn Resorts are taking the bull by the horns in their attempt to bolster Macau's casino industry. The firms are sponsoring a fact-finding mission that is taking Congressional representatives on a tour of some US-operated integrated resorts.
The delegation met with Macau Chief Executive Fernando Chui Sai On who praised the contributions the casino companies in their efforts to help the territory's economy grow. Chiu recognized the contributions of those companies which, he said, "were in line with the Macao SAR Government's strategy of adequate diversification of the local economy." The Macau government is also welcoming "the expansion of business in Macau by US companies, on the basis such companies recognised the principle of 'One country, two systems' and the Basic Law."
The US-China trade tensions are of great concern to Macau and to the operators whose licenses are set to expire in 2022.  It is generally anticipated that, after a re-tender, all six operators will be granted new licenses, the process could be more difficult for the three American operators if the trade war continues.
One of the Congressional representatives who is touring with the delegation, Dina Titus of Nevada, described the trade war as a "lose-lose situation" that "not only affected the exchange of trade and products but also exchanges regarding people, tourism and culture."
Hong Kong
Hong Kong's escalating protests is taking a toll on the Macau casino industry. An increasing number of visitors are steering clear of the world's biggest gambling hub as they worry about safety and transportation.
The Hong Kong protests started as opponents to a non-suspended extradition law took to the streets of the city. Those protests evolved into a direct challenge to the government as protestors called for full democracy. 
Matt Maddox, chief executive of Wynn Resorts, which operates two of six US-run casino resorts, commented,  "When you have hundreds of flights cancelled out of Hong Kong and some reluctance to travel, I do think that's impacting the premium end of the business." Nearly a third of Macau's visitors route their travels through Hong Kong which is a 30 minute drive from the Hong Kong international airport or an hour away by ferry.   
The Hong Kong issue couldn't have come at a worse time for Macau which has been grappling with lowered income as economic growth slows in mainland China. The bulk of Macau's gamblers come from China which is engaged in an escalating trade war with the United States. That deepening recession has been deterring VIP spenders. Tighter government regulations are also to blame for the downturn in visitation.
As Hong Kong reels from almost daily demonstrations that have spread across the city, the United States and Australia, which supply Macau with the majority of their gamblers, have raised travel advisories. One of the major complications of the Hong Kong demonstrations is the way that they have been able to disable a normally efficient transport network.
According to casino executives and analysts, the protests are likely to affect gaming revenue for the next few weeks. This at a time that is generally regarded as a high travel period for the former Portuguese colony.
Travelers board ferries for Macau at Hong Kong's Shun Tak Center and tour groups based there said that the protests had caused their business to drop 30 per cent or more over previous months. The Tak Center has been a hotspot for protests. The center has closed numerous times for safety reasons after police fired tear gas to disperse demonstrators.  
Gaming revenue fell 3.5 per cent in July, sharper than analysts had anticipated. Vitaly Umansky, doesn't see any solution while the protests continue.
Foreign Junket Scrutiny
On the other hand, Macau is benefitting a new directive of Macau's casino regulator, the Gaming Inspection and Coordination Bureau, that banned the city's junket operators from using Macau as a base for cross-border VIP gambling services settlement provided elsewhere. The  junkets are were no longer offering so-called proxy betting as a "marketing tool" for play in overseas casino markets.
Macau-based junket operator Suncity Group is accused of being involved in an online gaming platform which can be accessed outside Macau.  The platform targets high rollers from mainland China. That seems to have helped the Macau casino market performance. One analyst observed that in VIP, "volumes are recovering after junkets ended proxy betting… as a marketing tool overseas last month".
In a recent report on Macau, brokerage Sanford C. Bernstein LTD stated, "Compared to July, GGR improved over the past three weeks before summer holidays are about to wrap up. VIP volume is estimated to have improved by mid-to-high single digits of percent (month-on-month growth) with hold rate within the normal range. Mass also grew at low- to mid-single digits of percent month-on-month…negativity surrounding Suncity continues to pressure junket VIP as some agents withdraw some funds and some VIP players delay visiting Macau".
That may also be a contributing force to the recent Macau decline. According to Sanford Bernstein, total August GGR is estimated to have declined between 2 percent and 4 percent year-on-year.  Sanford Bernstein analysts Vitaly Umansky, Eunice Lee and Kelsey Zhu wrote "Delivering positive growth in August would need to rely on outsized VIP volumes and higher hold; something not in our forecast at this time." 
The Sanford Bernstein team also noted that a "continuing weakness" in China's currency the yuan posed risk to Macau GGR growth. "Historically, there has been some correlation between GGR and the Chinese yuan/Hong Kong dollar and U.S. dollar foreign exchange rate. The Chinese yuan broke CNY7.00 to the U.S. dollar earlier this month and remains weak."