The Costs of New and Replacement Casino Equipment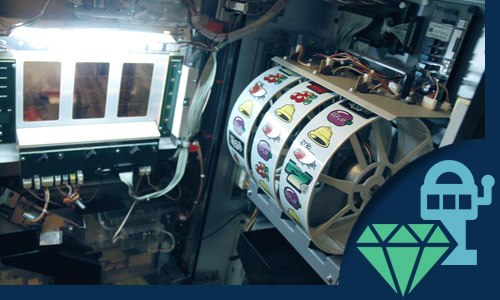 One of the unsung aspects of the gaming industry, both online and at land based casinos, is how do all those casino games get there?  We just take for granted that at an online casino there is no waiting and at land based casinos there are banks of slots games plus tables for all of the classic table games.  Where do they all come from?
A recent report on the next five years of casino gaming included South Africa as one of the African nations that will experience large scale growth in their land based casino industry and that many companies that supply casino gaming equipment will look to compete for South African business.  The niche that is involved here is formally known as the Global Casino Gaming Equipment Consumption Market.
Large Investment in Hardware
Every slots game you play at any land based casino is basically a relatively small package of software that sits inside a large hardware body.  The Gaming Equipment Market is mostly about the hardware body.  This also includes the gaming tables which may be made to exact specifications from the casino.
Everything players use in a land based casino is part of the Gaming Equipment Market.  That includes the chips, the playing cards, the roulette wheel, the dice, and so on.  Chairs and lighting, artwork and the like would go under décor and would be supplied by different vendors.
Casino gaming is not a one size (or one look) fits all enterprise.
Demographics
The land based casino market relies on demographic breakdowns to determine which games the casino should feature, where the games should be placed in the casino, what the décor of the casino should be like, and so on.  Women at land based casinos are usually accompanied either by male family members, usually husbands or boyfriends, or groups of holiday goers.
Men are more likely to be unaccompanied, either as part of a group, a convention, or simply on their own for the day or weekend.  Nevertheless, more women play slots than men and more men play poker or blackjack than women. 
The casino invests a relatively very large amount of money buying a single piece of equipment so they want to be extra sure that it is the piece of gaming equipment that will achieve the highest return.
Regions
Every region has its own special quality.  The US market differs greatly from the Mexican market because most players at these country's land based casinos are local.  An American casino has to fill its floor with the type of games the local population likes to play.  There are so many land based casinos in the US that the demographic breakdown may be for very small niches in a larger geographical area.
A new casino in New York State recently declared its first year a failure.  It cost almost 500 million dollars to build, stock, hire employees, and open to the public but the public, on balance, seems to prefer other casinos within a reasonable driving radius.  The casino in question may very well have failed to do the necessary analysis as to who would be its primary target customers.
Europe is also seeing new casinos being built.  These will cater to both European Union travelers and foreign travelers so these casinos have to be amenable to widely different cultures such as the difference between American, Chinese, and Japanese players.
The Far East has embraced the Integrated Resort concept.  This will also attract visitors from many regions and cultures as an Integrated Resort is at once a family holiday destination, a haven for excellent dining, a convention center, a venue for top theater productions, broad based shopping, and a casino.  In such a milieu the casino has to be both subdued to fit into the overall concept yet outgoing enough to attract casino gamblers who are simply looking for some gaming action.
Africans are becoming more affluent with each passing year.  The ups and downs of world, regional, and local economies cannot stop the long term trend of more affluence, longer life expectancy, and better health and medical care.  Nigeria, Egypt, and South Africa are the leading African nations in this report for the next five years.  Many observers also expect Kenya and the entire southeast of Africa to experience excellent growth in the next five years.  If growth is spurred on by increased tourism.  Land based casino gaming will follow.
Online Casino Gaming
This is the proverbial elephant in the room.  Land based casinos have a much different role to play than online casinos.  They offer real live gambling excitement.  Many blackjack players, concentrating on their next decision, still enjoy the loud noises that come from around the roulette and craps tables and the sounds that blend into a cacophony that can only be heard at a casino.   Online casinos cannot replicate this aspect of casino gaming.
Online casinos offer undeniably superior convenience, higher return to player rates, more games, no waiting, and many other amenities that land based casinos cannot match.  Each type of casino has its special role to play. 
The Global Casino Gaming Equipment Consumption Market thrives in areas where online casino gaming is not permitted.  This however is no longer a long term trend.  As jurisdictions learn how to extract tax revenues from online casinos, they will become more open to their legality.
Trend
Thus, even a short term outlook, covering just five years, is full of questions and doubts as to the ultimate profitability of this slots game or that roulette table.
For that reason, the analytical skill of experts is at least as valuable to land based casino operators as is the skill of researchers in gathering the data to be analyzed.