Macau to take rigorous steps on-casino-crime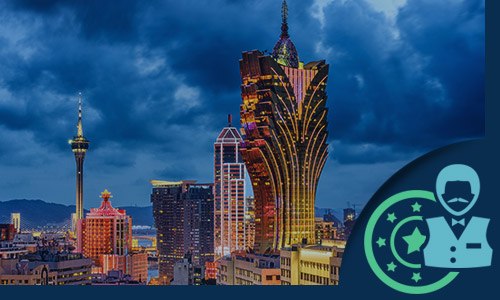 Over the course of the last few years, land based casino crime – in particular, incidents of loan sharking – has been skyrocketing in Macau. Estimates are that the crime rate in general has increased by 14% during the first quarter of 2019 while loan sharking has risen 37%. Authorities have announced that they are getting ready to crack down on crime as they worry that Macau's place as the world's leading destination for gambling could be endangered.
In addition to concerns that the crime is contributing to dropping casino revenues, the government's vision of making Macau into a family-friendly destination may be suffering as well. The island authorities have therefore concluded that they must overcome the casino crime regardless of the cost.
While the online casino scene does not have problems like these, we feel it is important to keep tabs on what's going on in the land-based casino industry.
Macau Crime
Crime figures for Macau show that there were 438 gambling-related crimes in the first quarter of 2019. Most of the crime revolves around illegal loans. Loan sharking has risen by almost 26% this year. Gamblers are being threatened and harassed and it's starting to effect visitation.
Law enforcement authorities have begun to align the resources and information of the main inspection and investigation teams so that they will work together through a single operations center. Every department will know exactly what the other departments are doing, which individuals are being watched and what each police official is doing. The center will operate 24/7 as the base for the four Macau police inspection teams as well as for gambling criminal investigators.
Vulnerable
Many Chinese Macau visitors are vulnerable to the moneylenders/loan sharks because their daily ATM withdrawal limits are capped and they are limited to the amount of hard currency that they can bring into Macau.  In the past, Chinese gamblers who could not pay their debts were reluctant to report the loan sharks' activities because they didn't want Beijing officials to know that they were attempting to dodge Chinese laws on moving money. Many were also ashamed at being preyed on by such criminals. 
But the tougher enforcement, spurred by pressure from Beijing and high profile attacks on gamblers (and one murder) is proving successful in ferreting out the triad gang members who target the casinos' patrons.  One tactic that the Macau authorities are using involves regulating the criminal triads out of the junket business – many Chinese gamblers were traveling to Macau via junket trips. The junkets also lend the visitors money while they're here so the government is working to ensure that the gangs are not involved in the junket travel.
The territory intends to bring further oversight to help with this crackdown.
Success
In February of this year, the Macau judiciary police arrested 71 people linked to a triad loan-sharking operation, including its alleged leader. The organization worked out of the VIP room of a Macau casino in Macau's Zape district. Police said that, in the last year alone, the gang handled around $13.7 million in loans.
The gang used "spotters" – members of the triad who were given the job of walking the casinos' floor, looking for cash-strapped players. The "accountants" and other senior members would then contact the player, make the deal and get IOUs. As "insurance," the gang would photocopy prospective debtors' ID cards. 
If a client defaulted on a debt the gang's "action team" would get involved. This would mean falsely imprisoning the individual until he or his relatives would find a way to pay. 
Recently a gambler who owed one of the triads approximately $6000 was killed – this added further urgency to Macau's determination to wipe out the triads from the casinos.  
Security
Macau has also been working on preparations for a possible terrorist  attack. Police staged a simulated attack on the Venetian Casino resort a few months ago to practice what and how to react if an attack were to occur. In the practice, injuries were simulated, hostages were taken and bomb threats were faced. That's the second anti-terrorist drill that's been held in Macau and follows incidents in Manila and Las Vegas.
Gaming Licenses
In the midst of the police activity, Macau has signaled that it is confident enough about the future of gaming in the enclave to consider issuing new gaming concessions.  If the decision to issue these new licenses is made, it will be done through a public tender process.
According to Macau Secretary for Economy and Finance Lionel Leong Vai Tac,  the Special Administrative Region (SAR) is reviewing whether to issue new gaming licenses. There are presently six licensed operators in Macau -- Las Vegas Sands, Galaxy Entertainment, Melco Resorts, SJM Holdings, MGM Resorts and Wynn Resorts. Collectively, these casinos brought in more than $37.8 billion last year. That represents a 14 percent year-over-year increase, though gross revenue is down 16 percent from the market's  2013 peak of $45 billion.
Simultaneously, Macau is in the process of reducing its dependency on the gambling aspect of casinos. New casino licenses will, almost certainly, be linked to a commitment on the part of the operators to build integrated resorts with family-friendly activities and other non-gambling vacation amenities.
In 2018 a record 35.8 million visitors traveled to Macau and now that the bridge to Hong Kong has been built the numbers are expected to increase. Macau wants to make their territory the chosen venue for all types of travel including meetings, incentives, conventions, exhibitions and other types of happenings. 
Taxes from gaming accounts for nearly 90 percent of Macau's operating budget so the territory isn't folding on its cash cow. At present all six of the casino licenses in Macau are set to expire in 2022. The old licenses, which will cost each of the six operators $25 million, will almost certainly be reviewed. Macau must then weigh the pros and cons of allowing new mega-operators into the market with a full-fledged permit. 
If the decision is to go ahead with new operators, the licenses will probably be sub-gaming licenses that allow the newest venues to operate table games and slot machines in conjunction with one of the existing six casinos. The new licensees will be required to commit to  "enhance social safeguards for employees, and that they should be able to contribute further to the diversification of the city's economy."