Jackie Chan Takes Top Billing on RTG Slots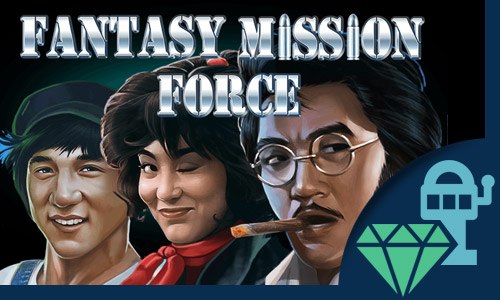 Realtime Gaming (RTG) is hell bent on giving us action packed super slots featuring the king of Kung Fu.  Following hot on the heels of Fantasy Mission Force slot is yet another Jackie Chan inspired money spinner based on the low budget cult movie, Eagle Shadow Fist aka Return to China.
This time a very young Chan plays Si To, a lithe and acrobatic member of a circus-based résistance army that's formed in response to the Japanese invasion of China in World War II.  He together with the decidedly bad ass Tang - played by Hao Li - and the renowned female martial artist Qiu Yuen are the key characters in the movie... and on the reels of the 5 reel and 25 payline Eagle Shadow Fist slot.
Why Play Eagle Shadow Fist Video Slot?
The latest iteration of Hong Kong cult classics that have made their way from celluloid onto the Thunderbolt casino games menu was released in February 2018.  Although it doesn't feature the violent fight scenes, mediocre cinematography and grisly deaths of the more than 20 movie characters - including our hero Chan - the video slot has plenty of cash generating surprises in-play.
Click on the Eagle Shadow Fist icon under 'New Games' at Thunderbolt casino and you'll instantly be in line for multiple real money payouts.  In addition to a 40 000 coin top win, there's a random progressive jackpot lurking in the wings.  Standard line wins are boosted by wilds with 2x multipliers and scatter activated free spins.  Hit three or more scatters and you'll earn 20 free spins with up to 4 x multipliers.  
There really is more than one good reason to play the latest Jackie Chan video slot at Thunderbolt casino right now.  Who knows, you could be the lucky punter who lands the progressive real money pot!
Why Jackie Chan Themed Slots?
But what is it about Jackie Chan classics that have got the Realtime gaming software developers all in a-froth?  According to a spokesperson for RTG Asia, Chan is "Hong Kong's cheeky, lovable and best known film star" who deserves a starring role in the latest casino games designed for the Asian market.
To achieve the expanding dynasty of Chan video slots, RTG Asia has worked hard to secure the rights of these iconic oriental movies produced more than 35 years ago.  Today, right now, you can fire up the game engines of Fantasy Mission Force slot or Eagle Shadow Fist slot on your desktop or mobile phone and enjoy a clip of actual footage from the film.
In addition to a sneak peek of the action you'll be perfectly placed to scoop up multiple base game payouts sweetened by the appearance of wilds, scatters, free spins and multipliers on the reels.  In short, Jackie Chan and friends are the conduits to crisp hard casino cash... with your name emblazoned on it!
What Else is New at Thunderbolt Casino?
Despite the noticeable absence of Jackie Chan in the character cast, Shanghai Lights video slot continues the RTG Asia trend of producing games for the oriental market.  It's yet another hot new casino game that's bound to cause a stir with players seeking a more elevated gambling experience.
In addition to a quintessential Far Eastern theme and sound track, the 5 reel and 50 payline video slot is heaving with payout potential.  Provided lady luck is on your side you can bank up to 50 000 coins thanks to an awesome array of special game features that include replicating wilds, free spins and the one of a kind multi-feature Super Spins!
The Super Spins feature in Shanghai Lights slot automatically kicks in after you've enjoyed 5 scatter-activated free spins.  During this lucrative little bonus feature wilds are complemented by 3 x multipliers, scatters pay at 5x the wager, reels 3, 4 and 5 can turn wild and special grouped symbols can appear on reels 2, 3, 4 and 5 to deliver lots of lovely bet line wins.  Hit the scatter during Super Spins and you'll get one more stab at the big time!
Tap Jackie Chan for a Big Win
Jackie Chan is not only a world renowned movie star and martial artist; he's one of the richest guys in Hollywood.  In fact, he's the second highest paid actor on the planet and one of the most philanthropic.  The man who started his career in 1976 as a no-name stunt actor is now estimated to be worth more than $350 million... and counting!
So if your bank balance is looking decidedly sad or you need a financial fillip to splurge out at the shops or on an exotic vacation, give Jackie Chan a tap on your PC, laptop, tablet or smartphone.  There's a choice of Eagle Shadow Fist or Fantasy Mission Force, RTG video slots that have the potential to pay out several times over.
Go for Big Hit RTG Slots
Then again, you can give the Chan factor a miss altogether and dip into an endless array of RTG slots that have the chance of a big hit written into the script.  Try Nova 7's slot, Panda Magic video slot, Bubble Bubble 2 slot machine or Swindle All the Way slot for an above average payout rate - they're fun, entertaining and substantively rewarding and are available right now at Thunderbolt online casino.