Is Live Mobile Casino Gaming Causing Players Unnecessary Stress?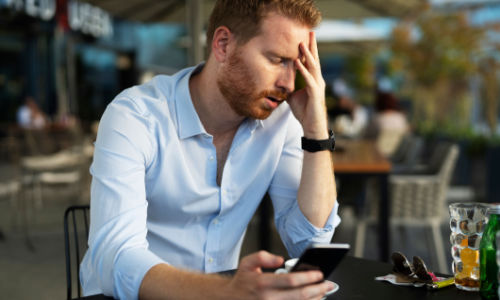 Are you feeling the pressure of live mobile casino gaming?  With lightning-fast gameplay and limited time to make decisions, live gaming can often end up feeling frustrating, instead of fun...
Yet, fear not!  Thunderbolt Casino for South Africans offers a stress-free alternative to live casino gaming.
In this article, we'll explore the differences between live and mobile casino gaming and why choosing Thunderbolt online casino South Africa for mobile games gambling can help you keep your blood pressure in check!
Factors to Consider Before Choosing Live Mobile Casino Gaming
Live casino games undoubtedly offer a thrilling experience due to the real-time action and the opportunity to compete against other players.  That said, the fast-paced gameplay and time constraints can be stressful and result in feelings of anxiety.  Whilst some players might thrive under pressure, other cave completely.
Initially, it might be easy to get caught up in the excitement – and before you know it, you could end up with a seriously depleted bankroll, and worst-case scenario, a depleted bank account.  The problem is that many players think the solution to get out of the financial mess it to keep going…
Here are a few things to consider, such as what live gaming entails in terms of gameplay, along with some of the factors which might be taxing on some players.  Check it out if you're thinking about playing live casino games:
Live casino gaming typically involves games such as blackjack, roulette, baccarat, and poker, among others.  These games are played in real-time, with live dealers and other players.
Players access live games through an online casino platform where they can choose their preferred game and table.  The dealer is streamed live through video, and players can interact with the dealer and other players through a chat feature.
Before each round, players place their bets, and the game begins.  The dealer follows the standard rules of the game and announces the results of each round.
The time limit for placing bets is typically around 10-15 seconds, which can add to the pressure of the game.  Players must make quick decisions and place their bets within the allotted time frame.
In live gaming, there is often a minimum and maximum bet limit, which can vary depending on the game and table.  Players must adhere to these limits when placing their bets.
If you're losing money because of betting time constraints, cash out and opt for regular mobile games for gambling instead.
For pro players, or adrenalin junkies, this type of mobile casino playing could provide the ultimate thrill and excitement!  It is, after all, an immersive experience that is currently as close to what B&M casinos have to offer.  The reality is, online casino gaming is not a one-size-fits-all – and if live casinos move too fast for you, the outcome could be devastating.
In Live Mobile Casino Gaming, Time is NOT On Your Side
We've already mentioned that one of the major elements of playing at a live online casino South Africa on mobile requires casino has a time restriction within which you need to place bets.  In games such as poker and blackjack where you need to make strategic and calculated decisions, a few seconds might not be enough.
As a result, many who play live mobile game when gaming end up making rushed decisions.  Decisions that weren't thought through thoroughly, decisions that are made on a whim – and decisions which could eventually end up disastrous.
Now, there is nothing wrong with admitting that you need more time to use your acquired knowledge to carefully contemplate what the game round is presenting before placing a bet.  Most players need time to assess and analyse and consider the relevant game strategies – and their bankroll – before betting their hard earned Rands.
Fortunately, Thunderbolt Mobile Casino a fantastic range of traditional online casino games –traditional in that our games are not live.  We want our players to have the best possible experience, which is why we offer mobile games for gambling that allow you to play at your own pace.
What Players Can Expect from Thunderbolt Mobile Casino
At Thunderbolt Mobile Casino, we're all about having fun in a relaxed environment.  Our mobile casino interface is designed to be user-friendly, making it easy for you to navigate your way around.  We furthermore offer a wide selection of mobile games for gambling, including slots, table games, and video poker.
In addition to our mobile gaming options, Thunderbolt Mobile Casino also offers a range of bonuses and promotions to enhance your gaming experience.  Our welcome bonus offers new players a generous deposit bonus, while regular promotions provide ongoing benefits and rewards to our loyal players.
We also offer a VIP program, where our most valued players can enjoy exclusive perks and benefits, such as personalized support and special promotions.  How does R10,000 on the house sound?  Good?  Of course it does!  Our match deposit bonus for new Thunderbolt mobile casino players is redeemable in four parts as follows:
100% up to R2500
COUPON CODE: FLASHMATCH1
(Min.  deposit R25)


125% up to R2500
COUPON CODE: FLASHMATCH2
(Min.  deposit R25)


150% up to R2500
COUPON CODE: FLASHMATCH3
(Min.  deposit R25)


R2500 Free 


COUPON CODE: ULTIMATEFLASH
(after completing the deposit bonuses above)
We also offer 50 FREE SPINS as our way of welcoming you to the Thunderbolt family.  This once-off gratuity can be redeemed with the coupon code 'BEGINNERS-LUCK'.
Choosing Thunderbolt Mobile Casino vs. a Live Casino
Our Thunderbolt online casino South Africa mobile platform is purposefully designed to be your go-to destination when you need some R&R.  We indulge our players with freebies as we know this is one way to put a smile on your dial!
We also understand the importance of offering a competitive mobile games gambling menu, which is why you will find hundreds of SpinLogic titles across every conceivable gambling genre.  With SpinLogic powering the games, you can expect realistic graphics and casino game sounds – and superior gameplay overall.
In fact, our mobile casino games are of such quality that you won't miss the 'live' element.  We might not be a live online casino South Africa, but our games are as engaging and immersive as what you'll find at live and B&M casinos.  Our customer support is also on standby 24/7, so there's always someone to chat to!  The best part?  We do not rush you to make any decisions.
Doesn't that sound a whole lot better than getting stressed out with seconds to place a good bet?  We bet it does!  If live casinos aren't for you, then now is the time to join our online casino South Africa for mobile gaming if you're not yet a member.  Thunderbolt is ready to provide stress-free cross-platform gaming for everyone (over 18, of course)!