India's Relationship with Fantasy Sports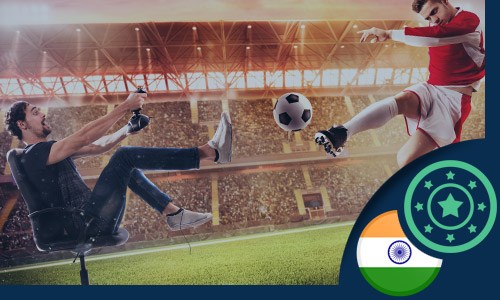 India's relationship with gambling has never been as smooth as that of the online casino South Africa. In some states the gambling laws are left over from the days of British rule while in others, modernizations have included updated online gambling laws. One area of particular controversy involves regulations that cover online gambling including the new and popular fantasy sports competitions.
Indian Law
In India, gambling is governed by the states. Only Indian states may formulate laws that regulate gambling activities within their boundaries. Many states' legislation relies on the Public Gambling Act of 1867 which prohibits operating a public gambling house. Under Indian law, games of skill and games of chance are regulated differently. Three states allow physical casinos – Goa, Sikim and Daman and there are casinos in all three states.
The 2000 Information Technology Act, theoretically, regulates online gambling in India but since it doesn't refer to betting or gambling by name, interpretation has been left up to the Courts. In most states that have, to date, refused to get involved. The state of Maharashtra banned online gambling (Bombay Wager Act) but no other state has done so.  The state of Sikkim  operates an online lottery where people throughout India can place wagers but to date, other states have not joined in opening up a gambling market for their citizens.
The Indian casinos that do operate are prohibited from promoting online gambling games. However, non-Indian casino companies (offshore casinos) may accept Indian players. Analysts estimate that illegal gambling can be valued at $60 billion annually (most from bets on cricket). If the country or the various states were to legalize gambling and fantasy sports betting, tax revenue from this sector would be a significant boost to the Indian national budget.
Fantasy Sports
Fantasy sports is growing in popularity in India. The Indian government has started to draft guidelines for regulating DFS at a national level. As an activity that is promoted as being skill-based, fantasy sports doesn't fall under the auspices of the kind of luck-based gambling laws that are outlawed by most Indian states.
The state of Andhra Pradesh has banned all online gambling including online rummy, poker and fantasy sports and "games of skill." The state of Tamil Nadu banned online rummy and poker but not fantasy sports.
Now, the government is considering looking at fantasy sports in a different light in order to make it legal for Indians to participate in fantasy sports betting. Observers are saying that the Central government should provide clarity on how to regulate online games including fantasy games.
"Since it is difficult to regulate the internet at the state level with several inter-state trade and commerce aspects involved, ideally there should be an overarching framework or guidelines issued by the central government," said Jay Sayta to print.in. Sayta is a lawyer specialising in policy and gambling law. "The central government should clearly define the parameters and contours of games of skill played for stakes, including guidelines on limits in stakes, prizes, advertising etc. and allow the activity, subject to tight regulations."
Skill Based
As mentioned, the possibility that India can regulate fantasy sports on a national level all comes down to whether the Indian Supreme Court sees fantasy betting as a skill-based game. If it agrees that fantasy sports is skill based, DFS operators will be allowed to operate in India by exempting their offerings under the Gaming Enactments. Among these enactments is the oft-cited Nagaland Act which recognizes virtual sport fantasy games and virtual team selection games as games of skill.
The High Court of Punjab and Haryana has already ruled that the Dream 11 fantasy sport format is, indeed, a game of skill.  In the case of Shri Varun Gumber v UT of Chandigarh & Ors (known as the Varun Gumber Case), Chandresh Sankhla S/o Jagdish Singh v The State of Rajasthan and  Gurdeep Singh Sachar v Union of India, the High Court of Bombay declared that fantasy sports were games of skill. In September, The Indian Supreme Court imposed a stay order on the High Court of Bombay's decision and is now getting ready to examine the issue on a national level.
Indian Legislation
In preparation of possible national action, Niti Aayog, the government's policy think tank, has prepared a draft paper that proposes "uniform national-level regulation" of Online Fantasy Sports Platforms (OFSPs). The paper sets out a framework for such regulation including:
legislative safe harbor
light-touch regulatory framework
self-regulation
A unified regulatory apparatus which will allow online fantasy games to proceed is believed to be favored by a large section of the government.  Niti Aayog cited a KPMG India report that noted the sector's surge – from 2 million users in 2016 to 90 million users in 2019. The report also pointed to a potential of 12,000 new jobs that could be created by the sector over the next few years.
What is needed is a comprehensive regulation that will encompass the entire country along with a "regulatory guideline or forum" or "definable test" to assess and determine if a game is one of skill or chance.
Inconsistency
Inconsistency in gambling laws in India is the biggest stumbling block to the creation of a unified, comprehensive online fantasy sports model in the country, wrote Niti Aayog. "While OFSPs operate through online media on a pan-India basis, their regulation proceeds under varied State-wise regulatory regimes. This could impact fantasy sports users' interests of transparency, OFSP operator integrity, and fairness may vary from state to state," the draft paper stated.
Minister of State for Finance Anurag Thakur has already said that he will support legalizing gambling activities in India. Kiren Rijiju, Minister of Sports and Youth Affairs, agreed, explaining that online fantasy games are instrumental for the growth of the sports industry. 
Legalizing fantasy sports will also help eliminate unscrupulous operators who attract players to scams by telling them that they are reputable fantasy sport operators.
Growth is irreversible. Policy may be playing catch-up in the case of India's fantasy sports world but better late than never.