Winning Streak Reached R700,000 at Thunderbolt Online Casino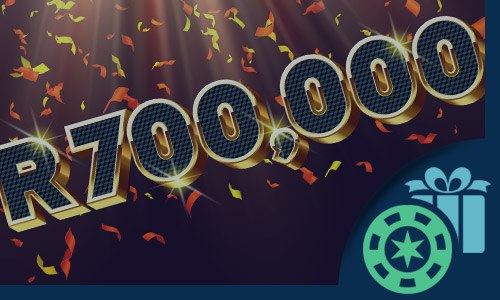 The best thing about games of chance is that you never know what's going to happen. A small winning streak can quickly turn into a huge one. That's what happened to James S. from Capetown, as his streak reached a whopping R700,000 from an initial deposit of R190 and a coupon code for a value of 110%.
"I couldn't believe it at first -- I even logged out and back in again just to make sure! I'm a regular at Thunderbolt. I've won quite a few times before -- but never such a huge amount!" he said after the winning streak reached its apex.
It all started with that original deposit. That small investment quickly grew to R242,000 and even with the ups and downs of online casino games, the amount never dropped below R110,000. Most of it was on the slots game, Secret Jungle, which itself is based on a theme, appropriately enough, of treasures of the ancients.
James said he nearly stopped a few times because he did not believe so much good fortune could possibly continue.  "Just when you feel like your luck's run out," he said, "Look what happens!"
The Joys of Mobile Casino Games
James said he often visits the Thunderbolt Online Casino during breaks in his job as an event planner in the company he owns along with his wife. He steps out with his mobile phone and spins the reels to relax and unwind, and hope for some good fortune - something James has managed to enjoy quite frequently.
That's the magic of the mobile casino. It is accessible from anywhere and everywhere. And the online casino never closes. Whenever there is a will to play, there is an opportunity at the mobile casino. That means no one ever has to let any time go to waste. If someone is stuck waiting - at the doctor's office, at the grocery store, or even for a response to a crucial question on a project - they can always pull out their mobile phones and play a few games.
The games are quick and easy to play and work perfectly in between other projects. Letting go and giving your fate over to luck is a good way to clear the mind between projects, or as a way to relax and recharge when there is a block or a difficulty. The games are so quick, no one has to plan times to play. Just take advantage of the natural pauses in the day that always used to go to waste.
Hundreds of Games at the Thunderbolt Online Casino
There are so many high quality games at Thunderbolt that everyone seems to have a different favorite. For James it was Secret Jungle. For others it could be one of the other games in the massive collection. While it often pays to concentrate mostly on a single game - just ask James! - it also makes sense to switch it up now and then to keep the experience new and exciting
Of course, when you're on a winning streak, the last thing you want to do is change anything at all. Winning streaks don't come often, and streaks as strong as the one James experienced are particularly rare. So you think it through many times before disturbing that flow that is working so efficiently in your favor. Luck is suck a fickle thing, all you can do is stand back and watch it work.
But if your luck is not quite as strong as James' luck, it couldn't hurt to try out a few games and see which one feels better. You can never know how it will feel to play a particular game until you've tried. And that includes card games and other table classics as well as the broad array of slots.
Congratulations to James S. and his wife, who will be using their enormous winnings to take a well earned vacation. That's what happens when a player pushes luck to the limit and doesn't stop just because he thinks it might not continue.