Crack Open the Live Poker Treasure Chest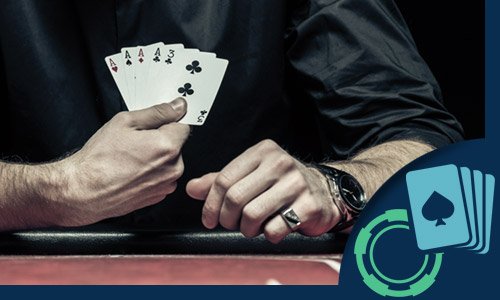 You've heard about the World Series of Poker, the European Poker Tour and the Aussie Millions?  And you've surely heard of the poker players who walk away from the final tables with serious amounts of hard cash.  Some are pure poker pros who spend their time trawling the globe for live poker events... and others are ordinary Joes, like you and I, who get their ticket to the big time through online qualifiers.
So what's stopping you from cracking open the live poker treasure chest?  Confidence, low self esteem or are you simply out of your depth?  Well if you want to stand in line behind dudes like Toby Lewis, Scott Blumstein and Eric Afriat, poker buffs who have won serious coinage in the past few months, there are ways and means of refining your game plan.
Here are easy ways to up the proverbial ante, so that you have a full arsenal at your disposal.  You'll need all the weapons you can get to win and win big at the Stud, Omaha, H.O.R.S.E and Texas Hold'em tables:
Read the Poker Books
Your first step is to know the game...intimately and absolutely.  You have to understand the nuances, tempo and ebbs and flows of poker before you can own it and win the pot.  As with most things in life, there's no better way to learn than from someone who's reached the summit - be it climbing Mount Everest, claiming Olympic Gold for the 100 metre sprint or scooping up $1.4 million at the final table of the Aussie Millions.
Fortunately card sharps seem to like sharing their tricks, tips, plays and tells.  There's literally an entire library of published poker books out there that explore the game from every possible angle.  So if you want to learn from the masters, read what they have to say in print.  Be sure to make notes and refer to them over and over again...so that you can easily retrieve vital knowledge when you're in the middle of a heated head-to-head.
Doyle Brunson's 'Super System', 'The Theory of Poker' by David Sklansky, 'Sit n Go Strategy' by Collin Moshman and 'Caro's Book of Tells' by Mike Caro are a great starting point.  If Hold'em is your game, check out Matthew Janda's 'Applications of No Limit Hold'em', Daniel Negreanu's 'Power Hold'em Strategy' and Hold'em Poker for Advanced Players by Mason Malmuth.
Learn to Read Poker Tells
The psychology of poker is probably more important than anything else.  If you can't read the other players, you'll have a hard time in assessing whether they have a good or bad hand.  Poker is about information and misinformation.  The best players are those who bluff.
The best poker players are also men and women who are expressionless, unemotional and completely impassive.  That's why so many high earners wear sunglasses and hats to hide their eyes and disguise their facial expressions.
But even tournament hardened poker pros have little tics, movements or expressions that give their game away.  Betting patterns - or the way a player bets throughout a hand – are also a dead giveaway for folk who have paid attention to the other players' wagers.
So if you want to dip into the tournament millions, you'd better learn how to read poker tells.  Zachary Elwood's book 'Reading Poker Tells' is an invaluable resource that reveals how you can get into another player's head!
Practice Online at Thunderbolt Casino       
Once you've absorbed all the tips, tactics, strategies and signs, you can apply what you've learnt at Thunderbolt Casino.  You can tap into Tri Card poker, power up your game play in Pai Gow and flex your mind and fingers with sheer speed in a host of online video poker games - All American, Sevens Wild, Joker Poker, Bonus Deuces Wild, Double Bonus Poker and a few more.
Although it may not be Texas Hold'em, it will get your mind in shape so that you make the right decisions every time without giving it any real thought.  Ideally, you want your play to be automatic.  You want to be able to assess your options and then make the right play... over and over again.  Once you've fine tuned your cognitive space, flexed your brain and saturated yourself in poker... you're probably ready for the big stage.
Start Small and Progress Ever Upwards    
Start out on your poker journey by looking for comparatively small cash tournaments online.  There are literally dozens of web-based poker sites that offer freerolls, satellite tournaments and scheduled events with meagre buy-ins.  Once you're winning regularity and you feel confident about your game, you can upgrade to online tourneys with consistently bigger prize pools.
Then it's on to the qualifiers that unlock free access to really big online and live events, many of which take place in the dazzling B&M casinos in Las Vegas, on Caribbean cruise ships and in some of the world's most exciting gambling destinations - London, Paris, Macau and Melbourne!
If you're really good, you'll be in line for sponsorships, poker shows and all sorts of cool goodies... as well as an opportunity to bank a gold bracelet and $8 million or more at the final table of the World Series of Poker.  So what are you waiting for?  Read, learn, practice and ante up.  You too can crank that million dollar poker treasure chest wide open!