How is Online Harassment Changing the Olympics?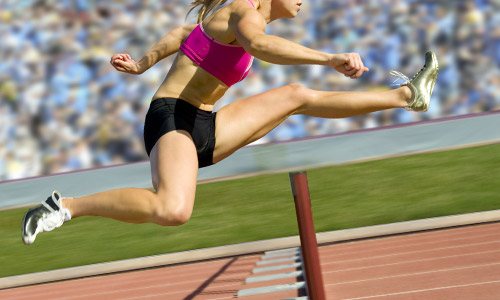 Fandom in China is taking new turns as nationalistic Chinese leash a campaign of online harassment on their own athletes for losing and on other countries' athletes for winning.
The modern Olympics were established in 1896 as a way of uniting the world under the banner of sportsmanship. Casual sports viewers and diehard fans follow the Olympics every 4 years as each country sends their best to engage in what's supposed to be honest, fair and principled gamesmanship. The Olympics are eagerly anticipated by patriots of all countries who watch the competitions and place bets on their countries' athletes' performances.
The Olympics have never been completely devoid of controversy and politics. In 1920 Austria, Bulgaria, Germany, Hungary, and Turkey were not invited to the Games because they had fought against the Allies. Germany was excluded again in 1924, again over anger at their actions during WWI. As the world prepared for the 1936 Berlin games, plans became entangled with the politics of the German Nazi regime which proceeded to politicize the games to showcase German superiority. Multiple countries chose to boycott the Berlin games.
Germany and Japan were excluded from the 1948 games because of their aggression during WWII. In 1964 South Africa was suspended from the Olympics due to its apartheid policies – a ban that was overturned only in 1992.  After Russia invaded Afganistan the United States refused to participate in the 199- games in Russia – the Russians retaliated in 1984 by boycotting the Los Angeles games.
In 1996 the Atlanta Games were shaken by a bombing in Centennial Park that claimed the lives of two people and caused injuries to dozens more. Over the last decade a movement has evolved with the aim of creating new esports casino online games events at the Olympics.
2021
The Tokyo games of 2020 were delayed a year because of the COVID-19 outbreak but the controversial decision was made to move forward in 2021.   Despite several athletes testing positive for COVID-19 and entire teams being quarantined, the Games moved forward with relative order, despite the limited number of fans being allowed to attend the events.
However, fans were able to watch and react online. The viciousness unleashed online by some nationalistic Chinese fans has stunned the sporting world.
Nationalism
Nationalism is rising around the world and China is no exception. During the 2021 Olympics that nationalism often took the form of online harassment of both failed Chinese athletes and successful athletes from other countries.
After the Japanese table tennis team won against the Chinese in the final of the mixed doubles, the online hate started even before they went up to  receive their medals. Their social media accounts were flooded with messages to "go to hell" and disappear along with death threats. Earlier, a Taiwanese badminton champion who dedicated his gold medal to "my country, Taiwan was the target of hate posts and a Japanese gymnast was accused of cheating after she beat a Chinese favorite.
The hate isn't only directed at foreign teams. A Chinese sports shooter who failed to qualify for her final was bullied into deleting a selfie. "How dare you post a selfie after losing the game?" said one poster. Liu Yuchen Lei Junhui, who won the silver in badminton were hounded by cries of "weak", the worst loss in the nation's history" and "rubbish" after they failed to win the gold.
The Chinese social media site Weibo is the main recipient of the vitriol. It comes from Chinese nationalists who blame Chinese athletes who don't do well as well as their competitors from other countries, specifically those from Japan and Taiwan.
Online Abuse
Japanese table tennis player Jun Mizutani spoke out publically about the online abuse that he and his partner Mima Ito are enduring. "I've been attacked probably more than others, so I have more immunity than others," Mizutani said in a press conference. "But that doesn't mean that I can forgive them, and if I do, they will just move to the next target, so it needs to be dealt with properly."
National sentiment often surges during the Olympics in China but the Internet has given trolls more freedom to harass their targets. Some say that it's a symptom of a state-backed rise in nationalism. But now it's spiraling out of control. Ali Wyne, a senior analyst at Eurasia Group says, "This variant of nationalism - it's more intense, more uncompromising, and more unabashed." These attackers don't represent most everyday Chinese people, Wyne emphasizes, but they reflect a Chinese public that has gained a sense of power through online activity. The Chinese Communist Party, under Xi Jinping, is encouraging the nationalism – many observers believe that Jinping is using the strategy to maintain his grip on power.
There are forces in China that are struggling against these expressions but they're fighting against a surging tide. "Nationalism - once that genie is out of that bottle, it can be hard to contain," said Wyne.
Internet
Nationalism is nothing new in China but with 1 billion people having access to the Internet, today's nationalism is harder to control. Even though China's Internet is tightly controlled,  social media platforms like Weibo have turned into environments where extremist and polarizing posts thrive. Zealotry takes center stage as government censorship has erased much of the nuance in online discourse.
Part of the current issue revolves around the symbolic resonance that the Olympic games hold in China. Suisheng Zhao, director of the Center for China-U.S. Cooperation at the University of Denver says that this year's Games are seen as a chance to show that the country is at the top. "The message is that they have regained their position," said Zhao. "It's a very unique sense of Chinese national rejuvenation."
Winning the Gold
Athletes who contribute to the gold medal tally - considered the most important metric to China - have been rewarded in the public sphere. Gymnast Tang Xijing was lauded by nationalists for using songs from a pro-China film during her floor routine (Xijing won the gold for her balance beam routine). Sprinter Su Bingtian was widely praised on Weibo after he became the first Asian athlete to qualify for the men's 100-meter final in almost 100 years.
But many observers feel that nationalist fervor is becoming a dangerous driving force in China. Zhao says that such sentiment is limiting the government's options for improving ties with the United States, Taiwan, Japan and others and is hampering China's foreign policy approach all together.
Zhao asks, "Can this type of emotional and irrational sentiment really serve China's interest? How far will Xi let this go on? We have to wait and see." The Olympic Games may have been a preview of the answer.