How Can You Play Safely and Securely at the Online Casino?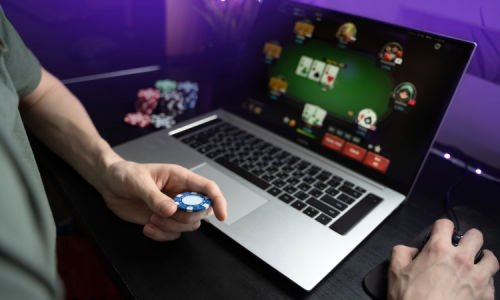 ZAR casinos (Thunderbolt at the top of the list - wink, wink) allow casual gamers and dedicated players to enjoy the opportunity to play and interact in a convenient atmosphere of light-hearted fun and real-money prizes. Not only does the online casino feature multiple game, it gives users a chance to choose from many different types of games.
So within an hour of gaming entertainment at online casinos ZAR you can jump from a simple slot machine to a blackjack game of strategy and focus and then on to a roulette game where you balance your bets between risky inside bets and less chancy outside bets for a real money game that meets your individual needs and expectations.
Many gamblers choose to play online because it's accessible 24/7 and convenient to all via the casino's website which can be accessed on any PC or mobile screen. Every game is available for free gaming in the Free Mode or for Real Money competition in the Real Mode.
Once the player links his or her ebank account to the casino, deposits can be made within seconds and withdrawals initiated at the player's request. There are no table limits at the online casino which gives every gamer the choice of playing for high stakes, at a budget level or somewhere in-between.
Online players need to remember that the online casino is …..online. Meaning that if you don't take proper precautions with your ZAR casino login info, ebanking links and casino communications you could become susceptible to online fraud and scams. Scammers target anyone with an online presence but individuals who are transferring funds to and from other sources need to be especially vigilant in order to play safely and maintain privacy.
What do you need to know to play safely in an online environment?
Your Account
You must guard access to your casino account as closely as you guard your bank account details. That's because, for all intensive purposes, your casino account IS a type of bank account. It's the account where your casino winnings are kept until such time as you're ready to withdraw those payouts.
In addition, your casino account is linked to your ebank account or to your cybercurrency wallet which means that someone who has entered your account can get information about your online bank or credit/debit card and, possibly, gain access to that as well.
Therefore, your top priority should be to maintain the integrity of your online account by guarding your username and password.
Don't share that information with anyone and never include it in any electronic transmissions – for instance, if you receive an email that purports to come from the casino or your ebank asking for that information in order to "confirm your account." Treat such requests for information with suspicion.
If the casino, or your ebank, wish to contact you, a copy of any email will be found in your personal section of your account under "messages" or "inbox."
Your password should be a strong one comprised of both big and small letters, numbers and symbols. It shouldn't include your name, birthdate, address or any other letter or number sequence. It's a good idea to change your password every six months or so and to log out of your account when you aren't using it.
Finally, don't log into your casino account via a public computer or via public WiFi.
Emails
As mentioned, confirm that any message from the casino is, in fact, from the casino by checking your account's inbox. A copy of any casino-sent email will be archived in the inbox. If the casino is presenting you with extra coupons or bonus codes, you'll receive that information in your casino account's message center so there's no need for you to click on any link that's sent to you through email.
Regardless of how tantalizing or intriguing that email may seem ("Extra bonus credits for your casino play! Click Here!" or "Click here to receive new promotional cash give-aways"), do NOT click on any links that you receive in an email.
Games
There are hundreds of game developers who supply the casinos with their games. Most of these developers are reputable and honest but that's not always the case. You can determine the reliability of a casino by checking the licensing of the game developer that supplies the casino with its games.
Licensing ensures that the games are fair and that the Random Number Generator that powers these games delivers random results for every spin or the reels, deal of the cards or throw of the dice.
You can find information about the casino's game developer on the homepage footer and you can then proceed to check the licensing status of that company.
Transfers of Funds
If you're playing casino games for real money you will need to transfer money into your casino account and withdraw your winnings back into your ebank account. This is accomplished by linking your ebank account to your casino account.
The casino makes it easy to link accounts and ensures your funds are safe and secure via a 256-bit encryption  that encrypts the code used to facilitate these transactions. That means that your ebank account should also be accessible only through a unique username and password that you don't share with anyone.
Keep an eye on your ebank/credit card statement and watch for any suspicious transactions. If you see something, contact the credit card company or bank immediately so that you can dispute suspicious transactions, change your credit card number or bank information, etc.
If you're using bitcoin or another cybercurrency for your gaming activities, there is no option to dispute transfers of funds so keep your password to your ewallet secure and set it at a high level with numbers, capital letters, small letters and symbols.
Enjoy a great, secure and safe gaming experience when you play at the (Thunderbolt :)) online casino!