Hot Slots to Warm You Up at Our Online South Africa Casino This Winter!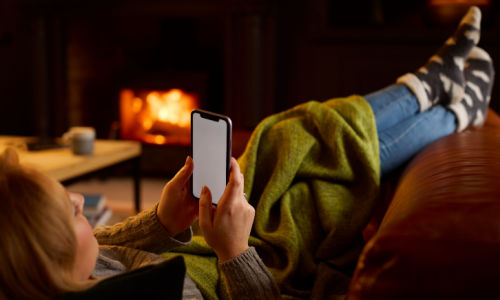 Things are starting to cool down weather-wise and that unmistakable winter chill is setting in.  How can we warm things up a bit and help you make it through the icy days and nights?  At Thunderbolt Online South Africa Casino, we'd like to introduce you to three low volatility slots that promise to deliver red-hot wins!
What Does "Low Volatility" Mean at Thunderbolt Casino
When it comes to the world of online slots and online gambling at Thunderbolt Casino, understanding the concept of "low volatility" is crucial for players seeking a specific gaming experience.  In simple terms, low volatility refers to the level of risk associated with a slot game.
Slots at South African casinos with low volatility tend to offer more frequent but smaller wins.  These games provide a steady stream of payouts, making them an ideal choice for players who prefer a longer gameplay session with regular wins to keep their excitement levels high.  It also makes them the perfect winter companions as we snuggle up for extended periods of time!
Low volatility doesn't mean that the games are any less exciting or entertaining though...  Check out the following four low volatility slots available at the Thunderbolt Online South Africa Casino and you'll see what we mean!
Gem Strike – A World of Shimmering Riches!
Gem Strike, a dazzling low volatility slot game available at Thunderbolt Casino, takes players on an enchanting journey into a world filled with precious gems and bountiful rewards.  The game features a 5x3 reel interface with 25 fixed paylines, ready to dish out dazzling wins!
Apart from being a low volatility game, Gem Strike is very accommodating when it comes to betting sizes.  You can spin the reels for as little as R0.25 up to a maximum of R125, with plenty of increments in between.  This makes the game as suitable for high rollers as it does for South Africans enjoying online gambling on a budget!
One of the highlights of Gem Strike is its generous payouts.  The game offers a top payout of 50,000x a spin – a hefty number of bucks that would depend on your triggering bet size!  As for the symbols, the purple gemstone is the highest paying – with a chance to win 500x your bet for 5 symbols.
In addition to its enticing base gameplay, Gem Strike online South Africa casino players with the Free Games feature.  Land three or more of the golden lightning bolt-shaped gemstone and you'll trigger the complimentary games as follows:
3 Scatter Symbols – 15 Free Games
4 Scatter Symbols – 30 Free Games
5 Scatter Symbols – 50 Free Games
This thrilling bonus element adds an extra layer of excitement and anticipation to every spin.  We're also pretty sure that 50 free spins at our online South Africa casino is more than enough to warm you up on the coldest of days!
Frog Fortunes – An Immersive Jungle Adventure
Embark on an immersive jungle adventure with Frog Fortunes, an exciting low-volatility slot game available at our online South Africa casino!  This visually stunning game invites players to explore a lush tropical setting filled with vibrant colours and captivating creatures.  With a 5x3 reel layout and 243 ways to win, Frog Fortunes is sure to keep you engaged and entertained for hours.
In terms of betting sizes, Frog Fortunes offers flexibility to suit different preferences.  Whether you're a cautious bettor or a high roller, you can adjust your wagers to your liking.  The game offers top-notch online gambling for as little as R0.25 per spin, up to R125 – with plenty of options in between.
One of the standout features of Frog Fortunes is its potential for generous payouts.  While the exact payout amounts depend on your triggering bet size, the game offers the opportunity to win up to 50,000x your bet on a single spin.  With various symbols, including colourful frogs and mystical crystals, there are ample chances to secure big wins.  The highest paying symbol can boost your bankroll with 150x your bet.
Adding to the excitement, Frog Fortunes introduces a captivating Exploding Symbols feature.  Each time a winning combo appears, the winning symbols explode, which makes way for new symbols to drop into place.  This cascading effect can lead to consecutive wins within a single spin and create a chain reaction of payouts, which spells H-O-T!
Dr. Winmore – A Mad Scientist's Laboratory of FUN!
Step into the eccentric world of Dr. Winmore at our online South Africa casino!  This fascinating low volatility slot game invites players to the mad scientist's laboratory of fun.  The game has a unique 5x5 grid with cascading symbols, creating an innovative online gambling experience that keeps players at South African casinos enthralled.
When it comes to betting flexibility, Dr. Winmore hits the spot with a minimum bet of just R0.10!  If you want to chase bigger payouts, you can adjust your wager in increments, up to a maximum of R25.  The maximum win per paid spin is 3000x your bet – which is plenty when converted to South African rands.
During regular online gambling at South African casinos, including Thunderbolt Casino, the highest paying symbol is the plasma ball, or globe.  It can reward players with up to 300x the cluster bet – which is one tenth of your bet – for a cluster of 8 or more of these symbols.
What is sure to keep you warm at Thunderbolt Online South Africa Casino this winter is the cascading feature.  By now you should know that cascading wins can mean loads of cash in a single spin!  Yet there's another unique offering that gives this low volatility slot an edge at South African Casinos…
In the exciting Dr. Winmore slot game, special Robot symbols play a vital role.  These distinctive symbols represent the eccentric inventions of the mad scientist and bring exciting abilities to the gameplay.  The Blue Robot clears a row, the Gold Robot clears a column, the Green Robot clears a row and column whilst the Red Robot clears adjacent symbols.
These Robot symbols create cascades, remove symbols, and open up opportunities for more wins! With their unique abilities, the Robot symbols add an extra layer of excitement and anticipation to every spin at our online South Africa casino.  This makes Dr. Winmore not only a thrilling and rewarding slot experience – but also a sure-fire winter hit!
Sign Up at Thunderbolt Casino Now – Be Winter & BIG Wins Ready!
Now do you see why you don't have to spend big to win big at South African casinos?  It isn't only high volatility slots that have the potential to deliver grand paydays at Thunderbolt Casino.  We've just shown you that you can spin and win for as little R0.10, with frequent hits thanks to 'low volatility'!
Browse through the slots menu at Thunderbolt online South Africa Casino and tap on the 'i' for 'info' button on our game icons to find more low volatility slots that can serve up warm winter winnings… guaranteed.  What better way to spend your time as we count the days towards September when we can celebrate Spring and the warmth that comes with it?