Go Wild Over Wild Casino Symbols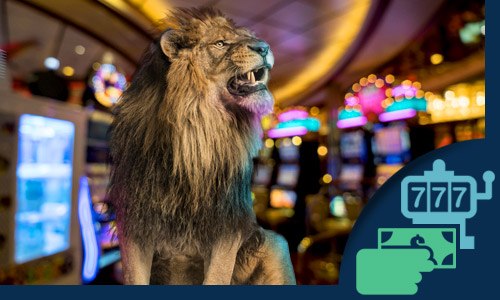 Slots games online used to be simple affairs. They had three reels, and only the most progressive and innovative ones had more than one pay line. Maximum, the game offered three pay lines.
It was an era where the wild symbol was just emerging as a major element of the game. At that point, it was much like a joker in a game of cards. It was nice to get and everyone knew what was happening when it appeared. But it wasn't something you bank on or expect on any level. It was a nice bonus that made the game a bit more fun, and a bit more profitable when you got one.
That era seems like ancient history today, and it actually is quite a long time ago in terms of how long the online casino has been around. As the slots casino began to evolve into the dynamic thrill-a-minute machine of innovation it has become today, the wild symbol was one of the tools of the transformation.  You can most definitely see this in the vast slots selection we have here, at Thunderbolt Casino.
From a Little Wild to Mostly Wild
It may not be fair to refer to the original use of the wild symbol as being only a little wild. It did, after all, transform into any symbol on the reels so that you could complete a pay line. So it was perfectly wild after all.
But compared to what it became in the next stage of development, it really does seem to be only a little bit wild. But that stage would not be considered the apex of the wild symbol either, so it may be best to refer to it as mostly wild.
By now, the wild symbols had gained more impact than simply replacing symbols. They become multipliers as well. It wasn't just a happy bonus anymore if a wild symbol came along and completed a pay line. It become the best way of all to win because it was a bigger payout when a wild symbol was involved.
However, it was still not the limit of wild that the symbol would evolve to in the next wave of innovation. In some ways, it wasn't even close.
The Wild Symbol Gets Even More Wild
As slots games online continued to serve as the casino's primary laboratory for experimenting with new and innovative features, the wild symbol took on a new role as one of the most interesting elements of many new games. It wasn't just a replacement symbol or a multiplier anymore. It was a key to whole new dimensions of some games.
Instead of simply showing up at random times when the reels would spin, the wilds were suddenly being stacked in certain reels, or even capable of jumping from reel to reel to complete pay lines. Sometimes, reels would expand to turn all-wild. It was as though the wild symbol was deemed too tame and needed to be reminded if its inherent wild nature.
In addition, there are trailing wilds that simply refuse to leave their position after a game ends and resume from where it left off on the next spin. The new one takes up a position just below the original wild, making a wall of wild symbols.
When Online Games Go Wild
The evolution of the wild symbol is far from over, just as the growth and experimentation game developers have applied to slots games in general are far from complete. As long as people want to see new features, there will be something new and exciting to discover with each new wave of development.
The wild symbol on its own could be called pregnant with potential. It was only a matter of time before that potential was unlocked and placed on display.
It's hard to predict what the next development may be. But game developers are always looking for new ideas from a fresh perspective. If you ever had any ideas of what could be done with a wild symbol that hasn't been done yet, this may be the best chance yet to make your idea known.