February Promotions: Thunderbolt Spreads the Loooove Around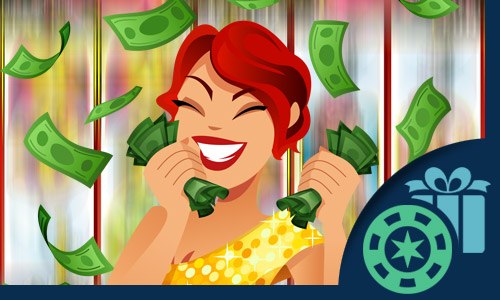 February is the month of love.  It's a time for kissing and getting all misty-eyed about that special someone in your life.  It's a time when fresh new romances blossom and more mature lovers dance to the tune of 'maybe, should we, could we' commitment... now and forever more! 
To celebrate the power, accuracy and sustained singularity of Cupid's little bow, we've decided to spread the love with a few commitments of our own.  So before you blow off the online entertainment to focus on love and love alone, make a mental note of our gifts to you. 
Who knows....our Lady Luck bonuses may just be the fillip you need to fund an awesome night out on Wednesday February 14 - and every other night in-between!
Fire Up Your February with Lady Luck Free Spins Bonuses
It's universally accepted that free spins are one of the most authentic and rewarding online casino bonuses around.  A pokies-playing Aussie will nearly always choose free spins over just about any other bonus or promotion, a trend that's catching on right here in South Africa and beyond. 
Why....you may ask?  Well you have bet-free access to the same symbols, payouts, in-game bonus features and built-in odds as you would had you activated the bet lines of your favourite slot with a cash wager.  In reality you are playing the game for free but still have a reasonable chance of landing at least one or two payout permutations on the reels. 
And when you take the randomly activated progressive jackpots that are common features in RTG slots into account...there are clearly plenty of positives to get excited about.
Free spins can easily boost the value of the bankroll you've just sweetened with a cash deposit.  A bigger bankroll allows you to extend your time on the reels - or tables - and maximise the probability of hitting more and more real money wins... thanks to the generosity of the house!  Can you afford to miss out on a free spins bonus code? 
Free Spins Bonuses for Everyone
At Thunderbolt Casino we're aware that not everyone can afford to deposit big lump sums of money.  That's why we've designed a three-tier free spins bonus that offers exponentially more free spins based on the value of your deposit.
If you can only spare R50 to R99, you're in line for 60 free spins; R100 to R149.99 will unlock 120 spins on the house and you'll cash in on 160 complementary spins of the sizzling hot featured slot game when you augment the money in your casino account by R150 and up.
Aladdin's Wishes Free Spins Slot: There's Value Secreted on the Reels 
A Lady Luck free spins deposit bonus is only valid for use on the featured game, which in this case is Aladdin's Wishes video slot.  You won't be disappointed, we promise, as It's a delightfully crafted 5 reel and 20 payline progressive game with a host of money-spinning features in-play.
In addition to the cartoon-style graphics and fairytale theme there's an entertaining – and potentially super rewarding – pick-me mini-game that you can unleash by hitting three or more magic lamp scatter symbols simultaneously on a bet line.  The rewards are seriously jaw dropping and climax at 100x multipliers and 25 free spins... that's even more complementary game time that you can make count.
But the real showstopper is a randomly activated progressive jackpot that seeds at R1 000.  It gets bigger and bigger until some lucky player gets the proverbial nod from the gambling gods... and there's no reason why that lucky someone can't be you!
Along with the game changing jackpot and mini-game there's a wild that instantly doubles all line wins plus a host of standard gaming symbols that pay up to 5 000x your stake.  Now do you understand why a free spins bonus is red-hot?
Lucky Lady Match Bonuses for the Serious Gambler Deep Within 
You're not a slots player...so now what?  Chancing your arm on a luck based game just isn't in your genes.  You love the thrill of formulating a strategy and beating the dealer - and the house - playing sophisticated skill based casino games in the form of blackjack, baccarat, stud poker, roulette or craps.
Instead of beer you're a martini or champagne player that simply loves a challenge above all else.  Well we've got news for you.  As we value you as a customer and really want you to deposit bet and play at our online establishment, you too are in line for a deposit bonus that can activate a sustained winning streak.  
Simply fund your Thunderbolt casino account with between R50 and R150 and you'll earn a percentage match bonus of up to 150%.  That means you've got a whole lot more money to splash out on the tables.  And if your game plan is as good as you think it is; there's a good chance you'll be laughing all the way to the bank. 
Hey Valentine... how about a luxury week-end away rather than dinner for two? 
Disclaimer
Our Lucky Lady deposit bonuses open up a world of free game time but there's no guarantee you'll win enough cash to turn Valentine's Day into an extended holiday!  As with all great offers, there's a fair bit of fine print you must take into account before you redeem your Thunderbolt casino bonus coupon code.