Expose into Crown Casino Links to Organized Asian Crime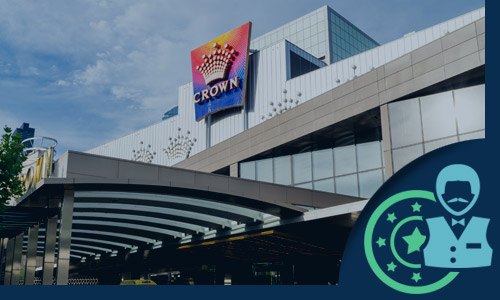 Australian officials are saying that the recent expose into the Crown Casino's links to Chinese organized crime syndicates is "only the tip of the iceberg." The scandal iinvolves the Crown Casino's questionable business practices that allowed the Crown to lure large numbers of high rolling gamers into their casinos for land-based casino games.
Fortuntately, online casino games like at our own Thunderbolt Casino are immune to complications with the underworld.  But let's see what's happening in the news.....
Easier Than Using a Bank
Crown Resorts is alleged to have gone into business with tour operators, known as "junket operators," who were backed by some of the most powerful organized crime syndicates in Asia.  The casino's goal was to attract Chinese high rollers. It is believed that Crown exploited weaknesses in Australia's border control to speed up the granting of visas for big spending Chinese gamblers. The Crown, according to the reports, would fly the VIPs into Australia where they could cross into the country without encountering bureaucratic stumbling blocks.
The payoff for Crown was the increase in high-rolling gamblers while the plus for the crime syndicates involved access to money laundering opportunities. According to junket representative Roy Moo, who was prosecuted for laundering drug money through Crown casino in 2013, the process was  "easier than using a bank". 
The Company
The investigation revealed that a criminal syndicate known as "The Company" used high-roller rooms and Crown-linked bank accounts to launder its funds. Crown licensed and paid syndicate members which generated the turnover in its Melbourne and Perth casinos. 
Crown reaped millions from the Chinese high-roller market by breaching Chinese anti-gambling laws. They partnered with junket operators who had links to money launderers, human traffickers, drug traffickers and Chinese government influence agents. The junket operators were responsible to market the Australian casinos in China, identify VIPers, arrange credit for those players and chase bad debts after the high-betting punters experienced overwhelming losses and returned home. 
Triads
Australian and US government law enforcement officials have been tracking Asian organized crime groups, known as "Triads," for years. They say that some junkets are legitimate but the triads control others.  
One of those triads is "The Company", an Asian organized crime conglomerate run by triad bosses. Police sources say that this syndicate is estimated to have wreaked more harm in Australia over the last 30 years than any other drug importer.
Roy Moo was a junket representative who worked for The Company.  He revealed that he was hired by The Company's Australian network of "mutual trust" and "because of his contacts at Crown Casino." 
How Did it Work?
In one case, a high-ranking member of The Company from Macau was licensed by Crown to operate in Australia as one of Crown's junkets. In 2016 the Crown paid him $250,000 in return for his part in bringing high rollers to Australia.
One trip, in August 2015, involved bringing Company members to the Crown Perth. Among those visitors was a notorious Guangdong triad drug trafficker. Over the course of a few days, the group was able to launder over $800 million. 
First-Hand Report
A Crown Casino driver provided some eyewitness evidence about the goings-on at the casino.  In conversation with M.P. Andrew Wilke, who is pushing for government involvement in an investigation of Crown Casino, the Crown driver claimed that he had transported foreign nationals from a private jet base to the company's Melbourne hotel through the notorious "Access Gate 24".  The foreigners, the driver said, were not asked to go through any type of security checks or border security.  Women in the group, the driver said, were degraded, abused and "slapped around."  
Wilke presented the driver's account to Australia's lower house of parliament. Wilke  believes that the driver's story illustrates the fact that the Crown casino had a "sweetheart deal" with the home affairs department, and that the casino exploited that relationship to facilitate visas for high rollers.
"He recounts that there were no Border Force checks. Foreign nationals [were] getting off with up to 15 bags for a short stay, stopping only on the way to the casino to pick up a sex worker. On violence, this latest whistleblower told my team: 'You see women being degraded, women being abused, women slapped around – things like that. If you saw someone being slapped around you literally become numb to it, and you see it a lot.'"
Wilkie blames Victoria police, the Victorian Commission for Gambling and Liquor Regulation, Border Force, the Department of Transportation and the Australian federal police. He was the driving force behind forcing the national government to take a hand in the investigation.
Government Investigation
Initially, the government struggled to respond to the allegations. After the allegations first aired, Prime Minister Scott Morrison said they were not a government matter but should be investigated by law enforcement.  However, the ensuing uproar caused Attorney General Christian Porter to agree that there were sufficient concerns to warrant further investigation. He referred the matter to the Australian Commission for Law Enforcement Integrity who will be charged with investigating the Crown Casinos.
Crown Response
Meanwhile, Crown has denied all allegations.  The company has taken out newspaper advertisements in which they claim that they are "setting the record straight in the face of a deceitful campaign against Crown".  The Crown accused Porter of trying to damage its reputation and said that the Crown board is "extremely concerned" for its staff, shareholders and other stakeholders. The company pointed out that the junkets are not Crown junkets. "They are independent operators who arrange for their customers to visit many casinos globally. Crown deals with junkets and their customers in essentially the same way as other international casinos" a Crown statement said.
"Crown takes its regulatory obligations very seriously, and works closely with all of its regulatory agencies, including state and federal law enforcement bodies." The company says that it has "a comprehensive anti-money laundering and counter-terrorism financing program which is subject to ongoing regulatory supervision by [the national anti-money laundering agency] AUSTRAC" and that "Crown itself has a robust process for vetting junket operators, including a combination of probity, integrity and police checks".