Crown Casino Facing More Pressure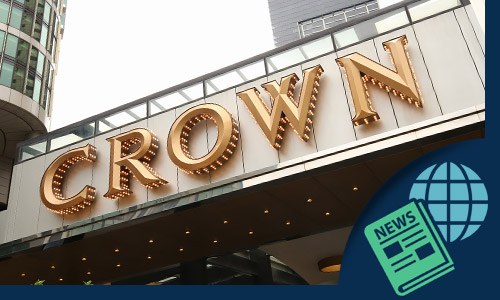 The Royal Commission investigating Australia's Crown has heard testimony that reinforces criticism that the casino acted with impunity in evading passport controls when bringing Chinese VIP gamblers into the country and ignoring money laundering activities taking place in the land-based and online casino.
Inquiry
The Victoria Royal Commission investigation into allegations of improper activities at the Crown Casino has opened. Last month, a national inquiry determined that, after it was shown that the casino dealt with tour operators linked to organized crime,  the Crown is unfit to hold a gambling license. That first commission concluded that the casino had a "dysfunctional" leadership under owner James Packer. It faulted the casino for failing to protect their staff in China when they were arrested for breaking China's anti-gambling laws.
Now, both Victoria and Western Australia states have launched new commissions which are designed to  provide the State Government with an independent examination of the state's regulatory system, with a focus on Crown's functioning within that system. The Commission's concluding report is expected to include recommendations that will guide law enforcement agencies in the future.
During its first week of testimony Crown Resorts' own anti-money laundering manager Nick Stokes testified that, when he tried to raise concerns about the Chinese VIP gamblers, he was told "casinos had always been that way". Stokes tried to hire more team members but the casino quashed his efforts.
In addition to turning a blind eye to the junket operators which were often backed by organised crime syndicates, Stokes, who headed the Crown's Financial Crime division, was told by high ups that the "casino's not a bank and the same rules didn't quite apply."
Stokes testified that he had prepared a paper for Crown's legal boss Joshua Preston on the risk of junkets but the paper was never passed on. Preston left Crown last year after he was criticized for telling last year's NSW Bergin inquiry that he was unawaare that junket operators were linked to crime gangs – groups that included triad-controlled money-laundering and drug trafficking groups.
Crown Casino Responds
Crown Resorts sent a letter to the Victorian Royal Commission that states that it "does not intend" to allow international junket tour high rollers to gamble at its Australian casinos in the future. As the Commission examines the earlier finding that indicated that the company is not fit to hold a casino license in New South Wales, the casino is trying to regain the trust of the public.
Stokes reports that, as attitudes change among Crown management, he now has 20 anti-money laundering positions on his staff. "I've seen that attitude change quite considerably to the point where the business now is very proactive in taking on those first-line responsibilities … we're looking to build the team further, " Stokes said.
Not all members of the Commission are pleased or pacified. Penny Neskovcin, the council assisting the Commission, said that the Crown seemed blind to the money laundering and involvement of crime families in casino operations. "We'll be submitting this as illustrative of Crown doing the bare minimum, and it will be illustrative of what we will call or describe as a culture of not looking too hard," said Neskovcin.
ABC News reports that the Crown has put in writing its intentions to ban junket groups from its casinos unequivocally. In its letter to the Commission, Crown wrote  "Each of Crown Resorts Limited and Crown Melbourne Limited confirms it has ceased dealing with international junket operators and it has ceased dealings with junket tour operators. It does not intend to deal with international junket operators in the future, whether by staff based in Australia or otherwise, and does not intend to deal with junket tour operators in the future."
Merger
As Crown Resorts attempts to find a way out of their current situation, Australia's second casino operator, Star Entertainment Group, is proposing a $12 billion merger with Crown that would create a hospitality/gambling giant to encompass seven properties in 4 states. The proposal is in response to a proposed merger put forward by US investment Blackstone which had put forth an $8 billion bid for Crown earlier this year. Oaktree Capital, a US investment firm, is also interested in taking a piece of Crown – Oaktree Capital made an offer of $3 billion for Packer's 37% stake in the company.
The Crown is considering all three offers but it has indicated that it believes that its long track record of operating casinos in Australia, including in Sydney, the Gold Coast and Brisbane, may allow it to continue operations without partners. The Crown must now overcome the finding of the first NSW Commission which, in February, found the Crown to be unfit to operate its new casino at Barangaroo.
The Star believes that by merging the two groups, it would be possible to save up to $200 million in costs every year through combined marketing, digital systems and loyalty programs. As travel and tourism begin to recover after COVID, such a partnership would put the merged group in a better position to tape into new global growth markets.
If the two companies combine the existing Perth, Sydney and Melbourne properties would retain the Crown brand while Star's properties would continue to operate as Star brands. For the merger to move forward The Star would need to be approved by gambling regulators in Western Australia and Victoria as a license holder and the Australian Competition and Consumer Commission would have to give its OK.
Crown's governance reform complicates the decision making process. James Packer still owns 37% of the company's shares and his word still carries significant weight, even though he is the focus of much of the inquiry. Crown's board and management are barely functioning – 5 directors, along with former chief executive Ken Barton, have left the company and a new CEO hasn't yet been appointed. Executive chairman Helen Coonan is operating as temporary CEO and is operating with just four directors.
If a merger could be organized, it might speed up reestablishment of Crown's governance and management. The Star and Crown executive teams could be combined and a board could be put together with existing Crown and Star directors.
One stumbling block may be James Packer who owns 37 per cent of Crown. The NSW casino license that The Star currently holds states that no single shareholder may own more than 10 per cent of company shares. On the other hand, Packer has been trying to sell off his shares for years – this may be the opportunity that he's been waiting for.