Sports Fans Turning to Online Casino eSports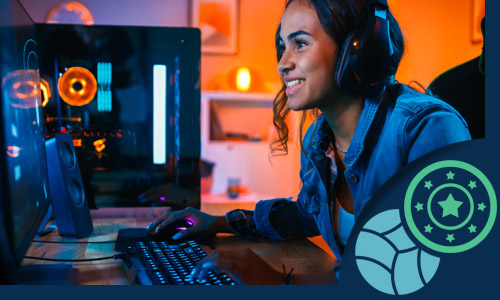 Video game competitions, once the realm of gaming geeks, is now mainstream, thanks to online casino sports fans' search for gaming competition that will allow them to enjoy the same thrills and excitements that they had once enjoyed via mainstream sporting event.
These days the sports calendar for almost all sporting events is largely on hold but professional video gamers are showing sports fans that athletes can compete virtually as well. eSports takes matches to the virtual world where esports athletes face their rivals online. 
Competitions stream on video-sharing platforms such as Twitch, YouTube and Facebook Gaming.  eSport competitors include traditional favorites including the League of Legends series of tournaments, the Overwatch World Cup and the Fortnight World Cup. Many of the tournaments are held in support of sports athletes who have been hit by the sports shutdown as well as to benefit medical organizations that are fighting COVID-19.
Increased Interest
eSports industry officials are seeing  increased interest from sports fans. These sports enthusiasts miss their favorite spectator pastimes due to the current shutdown. But esports believes that it has some answers by offering these sports fans the chance to watch a wide range of virtual sporting matches online alongside tens of thousands of fellow sports aficionados.
Spectators can even bet on the esports in the same way that they once bet on major league games. Sportsbooks around the country are scrambling to add esports to their list of accepted sporting events. Nevada has legalized esports betting in its' casinos' sportbooks. The games virtually recreate real-life stadiums where the sports stars compete, albeit virtually.
Competitions
After the Madrid Open was canceled, tournament organizers decided to run a 16-man, 16-woman tournament in which players let their fingers do the work. There were two competitions, split evenly between WTZ and ATP players. The tournament gave the winners the chance to donate part or all of their winnings to their fellow tennis pros who are suffering due to tournament postponements and cancellations.
In the virtual Madrid Open Andy Murray captured the men's championship after winning a series of matches 7-6 over David Goffin from Belgium. Murray committed to donating his purse – half to the player relief fund and half to Britain's National Health Service. "(I) hope anyone who watched got some sort of enjoyment out of it in these tough times," Murray wrote in an Instagram post.
There have been other such competitions in other professional sports.  At the MLB where spring training has been cancelled and the start of the season postponed, a video game tournament was held with one player competing from each of the 30 clubs. It  was won by Tampa Bay Rays ace Blake Snell. A total of $175,000 was raised for charity organizations which included an additional contribution of championship prize money for the 2018 American League Cy Young winner.
North America's National Basketball Association, which suspended its games in mid-March, hosted an esports competition where 16 players vied virtually. One of the most popular games was played by Kevin Durant of the Brooklyn Nets which attracted nearly 400,000 viewers.
Japanese rookie Rui Hachimura of the Washington Wizards also participated. "Even though it's a video game, all the players took the competition seriously. It was fun to compete against each other with that mindset," Hachimura said. 
The Wizards posted a Twitter Q&A in April where Hachimura said he prepared for the tournament by practicing with his friends so that he could become accustomed to playing the game on the XBox console.
Popularity
Even before the corona shutdown, esports were surging in popularity. Now, the attraction of being able to participate in, join as a spectator and bet on virtual games is exploding.  National leagues and official teams are moving quickly to get in on the bandwagon.
One of the biggest recent matches took place in April when footballer Shinji Okazaki, who plays for Spain's Second Division Huesca. competed in an international charity tournament with Web Nasri. Nasari is a pro esports player and has been named to the Japan Football Association's esports national team which was launched only this year.
The tournament included competitors from 43 regions and countries. In the competition esports players teamed up with celebrities and professional athletes. The video was posted by the Japan Football Association. 3000 fans watched Okazaki and Nasri defeat the Malaysian team.
The surge in popularity isn't going unnoticed by other industries. The Riot Games' League of Legends European Masters Spring 2020 season regional tournament named Japanese ramen brand Nissin as its  official partner for instant noodles and other convenience foods.
Nissin has been involved in esports sponsorships in the past, including past Evo Japan and Evo events. It is also partnered with the Rocket League Championship Series and with game publishers Square Enix and Bandai Namco on marketing deals.
For the League of Legends European Masters spring tournament, Riot Games also created partnerships with AMD as the European Masters' CPU and graphics card partner and with the AFFLELOU Group as its hearing aids and optical products partner.