Clark Region to Become a Land-Based Casino Hub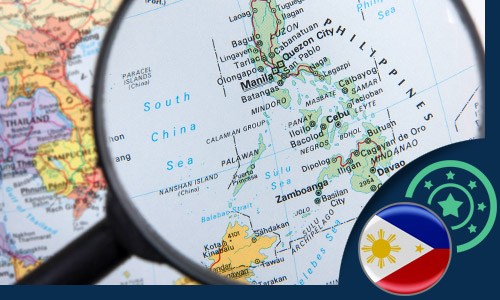 If you're looking for a gaming vacation in the area, you might consider the Philippines, but it's a good idea to catch up on what's going on there these days vis-a-vis casinos.
Philippine president Rodrigo Duterte has had a love-hate relationship with land-based and online casino development in his country.  He initially cancelled Landing International Development's US$1.5 billion integrated casino project in Manila and shut down thousands of local lottery operations.
At the same time, he stood firm against Chinese demands that he force Philippine gaming operators to shut down and is now preparing to develop the area near the Clark airbase as a major casino hub.
Pampanga Province
Clark is located 2 hours north of Manila. It's a region that is starting to attract more tourism and local Pampanga Province leaders see tourism and business development as their region's future. The Pampanga Province for Investments and Tourism has created a comprehensive strategic plan that will harness the expected rapid growth while trying to bring employment and business opportunities to as many people as possible.
The plan involves five key investment priorities:
Anchor tourism destination.
Light industrial parks.
High-value manufacturing.
High-value agriculture.
Smart city technologies.
There are 22 towns in the region and each town will compete to host the investment priority that best meets what it has to offer. 
No Town Left Behind
Oliver Butalid, a consultant of Pampanga Province for Investments and Tourism says that "the idea is that no town will be left behind." Clark is located along the north-western border of Pampanaga, a Special Economic Zone that the Government of the Philippines has targeted to be the nation's next major economic center.
Clark was once a US Army base and hosts the Clark Air Base which, until 1991, was America's largest overseas military installation. The Clark Main Zone has been designated a Freeport Zone.
The former Clark Air Base is now Clark International Airport. Noel F. Manankil, President and CEO of Clark Development Corporation (CDC) – the government body tasked with overseeing Clark's transformation from a military base to an economic center, says,  "Right now, Clark is about 50% tourism related industry and 50% investor manufacturing, but the way it is shaping up our focus is on Clark as an MCE (Meetings, Conferences, Exhibitions) destination. We envision Clark eventually being entirely tourism, and manufacturing will be pushed back to New Clark City….that's how we see it and the main driver for this is the airport. It's also why we see now such a rise in integrated resorts and expansion of the casinos here."
On the Map
Clark was identified as the best place to expand a business and tourism center partially because of its status as an international airport – it is 4 times larger than Manila's Ninoy Aquino international airport.  The surrounding infrastructure has been slow to catch up but with the expansion of the region's casino and tourism industry, everyone's eyes are now on the possibilities that casino expansion could bring.
Presently, there are casinos in Mimosa, Widus, Royce and Fontana.  They opened pre-2010, lured by the lucrative tax incentives that the Freeport Zone classification provides. The advantages for Clark Freeport businesses are significant. 
Business owners do not pay property taxes and pay only 5% on gross income earned, less allowable deductions. Since the CDC holds absolute governance of the broader Clark area they experience far less red tape than business owners face in other areas of the Philippines.
Manankil explains that "one of the features that makes Clark very attractive to foreign investors is that they only talk to one face of government, so all construction permits, building permits, excavation permits, we issue all of that. It's only the CDC that issues all of this. It's less complicated and our governance in handling our locators is much preferred."
Duterte's Government
President Duterte, who has declared that no new casinos will be built in the Philippines during his presidency and who once said "I hate gambling. I do not want it….there will be no casinos outside of what are existing. I am not granting anything" is choosing pragmaticism.  His government is promoting the new Clark casino developments under his national infrastructure program of "Build, build, build."
The first of four new passenger terminals planned for Clark International Airport will be completed by 2020. That will lead to the airport's ability to accommodation 110 million people annually. Better road and rail infrastructure are also in the process of being completed -- the most notable being the US$15 billion North-South Commuter Railway that will connect Manila and Clark and will feature links to Clark International Airport.
All of this gives casino operators the signal that go-aheads for casino development are just a formality. Two of the six present casinos – Widus and Royce – are in the middle of major expansions and two more properties, one by PH Resorts Group and another by Filinvest Development Corp are in the works.  Fontana, which was forced to close in 2016 due to the hiring of illegal Chinese workers, could also re-open under new ownership. Fontana was previously the most successful of the Clark casino venues.
Revenue
Duterte is almost certainly reviewing past revenue numbers. Clark's casino GGR grew 22.4% in 2018 and should meet its goal of growing by an additional 37% for 2019. According to an Innovation Group spokesman the Clark Casinos could take in  Php13.07 billion in 2020 and Php14.64 billion in 2021 – an increase of more than 100% in five short years.
Korean Market
Much of the visitation to Clark casinos comes from Korea.  Korean casino tourists account for 20% of visitors and 70% of casino GGR.  Royce Hotel and Casino's General Manager William L. Avendaño says "When Fontana was still open they were able to produce an average of Php6 billion to Php9 billion from phone (proxy) betting every year. Since the closing of Fontana we don't get the same phone betting numbers but we do produce the same gross gaming revenue in total now, and most of that comes from Koreans."
Widus Hotel & Casino's Assistant Vice President of Corporate Planning and Compliance Neki Liwanag concurs. "That's the market.  Clark has this unique mix of features that Koreans like – golf, casinos and nighttime entertainment."
All of Clark's casino operators recognize the role that casino amenities play in drawing Koreans, especially the casinos' golf courses.  There are 11 world-class courses either already operational or in development in the Clark region including two 18-hole courses at Mimosa, an 18-hole course next to the shuttered casino at Fontana and two more at Sun Valley. Widus plans to develop 450 hectares in nearby New Clark City with four additional golf courses. Three more courses can be found in Subic, 45 minutes away.
Manankil  says, "The Korean story is all about the fact that it's cheaper for them to take a plane to Clark, play daily golf and fly back than to stay in Korea and book a single round of golf. It's cheaper to come to the Philippines, and of course there is the added bonus of the casinos which they can't access back home."
Tourism Center
Clark is now seen as one of the world's newest and most successful global tourist destination. They offer everything from the very best in leisure and entertainment to world-class business and convention facilities. There are luxury casinos, five star hotels, large-scale family theme parks and an abundance of golf courses.
Together with the Clark developments, local casino operators admit they have Manila's Entertainment City in their sights as well.