China's Ruling Party Tries to Stem Online Casino Games Play Among Chinese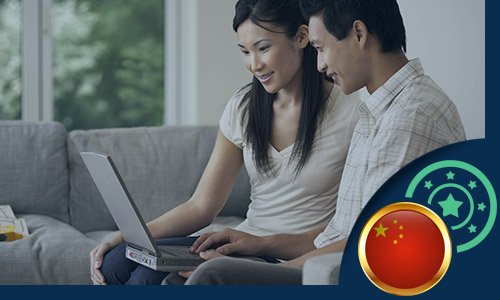 The Communist Party is trying to stop the spread of digital gambling in Asia but thus far, their efforts have not been successful, either in China itself or with the countries where the servers for the casino online games that are serving China are located.
Online gaming is a massive industry in Asia and, together with other Asians, Chinese citizens on all levels of society are participating eagerly.  China is a big market because, other than the online casinos, the only other option for Chinese gamers is to travel – to Macau, the Philippines, Australia, Hong Kong, Singapore, Vancouver, Las Vegas or another destination. Not an easy prospect in a country where the average monthly salary is approximately $1100.
The ruling Communist Party sees the online casinos as a growing problem on many different levels.  The government says that the transactions are draining hundreds of millions of yuan from the national economy as those funds disappear into  casinos that are licensed and operated from other countries. In addition, Beijing has always been highly suspicious of gambling, believing it to be a vice that fuels social unrest.
Chinese law prohibits gambling on the mainland and that includes online gaming.  But there are online gambling clubs throughout China. These clubs offer platforms where players can gamble. The clubs host the off-shore operators and those operators offer sessions for popular games such as blackjack, baccarat, lotteries and sports betting. Many of the platforms are in Chinese which makes it user-friendly for Chinese gamers to enjoy playing their favorite games. A single baccarat table in one of these clubs can draw betting volumes of up to 75,000 yuan ($10,500) in a 30-second game. 
Chinese bettors are drawn to the digital gaming halls because the internet affords them anonymity. Thanks to Chinese players, Asia's online gambling sector is expected to reach $24 billion in sales this year.
Lobbying
Beijing has been in communication with jurisdictions where online gambling platforms are registered and operated. They want them to shut down the industry. Two such locales in Asia include the Philippines and Cambodia, both of which have seen big revenues from these new companies. China is particularly anxious to shut down the online platforms because its economy is slowing as a result of the current U.S – China trade war. Chinese exports are slowing and the government wants to stem its cash from leaking out to other countries.
However, it's not easy for Beijing to stop Chinese citizens' access to online casinos. David Lee, a partner at Taipei-based law firm Lin & Partners, says that the host countries have little incentive to cut down what is, for them, a lucrative industry. "It's become a cross-border business, and it's very difficult for China to prosecute" says Lee.
Online Gaming Market
The two countries that are the most active in providing online gaming access to China are Cambodia and the Philippines. Those countries license and regulate the online platforms that cater to international players. Chinese players also have access to sites that originate in Costa Rica, a country that registers online casinos but doesn't regulate them or ban the online casinos from providing gambling services overseas. Ben Lee, a Macau-based managing partner at Asian gaming consultant IGamiX  says "Many online gaming companies operate under the radar. There are so many of them. It's like China's trying to whack a mole."
Gambling Clubs
The Chinese government says that multiple problems stem from online casino gambling including telecommunication fraud and citizens being lured to the Philippines to work illegally. The online casino websites accept wagers of as little as 10 yuan which makes them accessible to lower-income bettors. The clubs may also be luring bettors away from Macau, a city under Chinese control where casinos are allowed and which make much of their profits from Chinese travelers. The Chinese government has a vested interest in seeing the Macau casinos succeed.
Payment Systems
Chinese citizens can enter a club and log into the platform to play their preferred games. They deposit their wagers and receive their winnings via accounts at several Chinese banks. China's biggest banks, including the Bank of China Ltd, and Industrial & Commercial Bank of China Ltd. facilitate the transfers.
Some of the platforms that are featured at the clubs allow gamblers to use popular online payment systems from billionaire Jack Ma's Ant Financial Services Group and Tencent Holdings Ltd. The payment systems point out that their controls are helping the government control online gaming.
Tencent said it takes measures to act against those attempting to use its system for illegal gambling and help identify transactional risks. Ant Financial uses an AI-powered risk engine to intercept suspicious transactions. Ant has zero tolerance for online gambling and when it identifies a merchant engaged in gambling online, Alipay stops working with it and limits its ability to collect payment. It also reports the case to the police. 
China has won some concessions from Cambodia which has said it won't issue any new online gambling licenses and won't renew existing ones when they expire. The Philippines was also approached by Chinese officials but Philippines President Duterte has been candid about the benefits of the industry to the country. Duterte has said that he is willing to go as far as to stop issuing licenses to new companies, at least till the end of the year, but is not willing to promise anything beyond that. In addition, work is continuing on two new multi-million dollar online casino hubs in Manila which is intended to house workers and operations.  Andrea Domingo, head of the Philippine gaming agency PAGCOR, has spoken out about the issue and made it clear that, in her estimation, online casinos "are here to stay."