Landscape Changing for Macau Casinos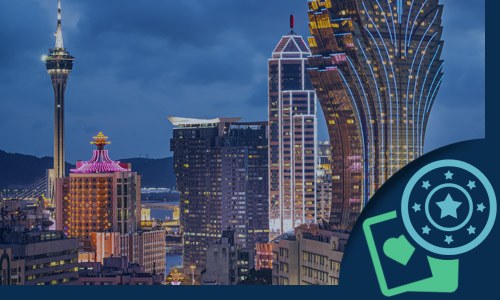 The retail and online casino industry is a billion-dollar industry worldwide. While most of the media attention has been focused on Vegas during the pandemic, Macau, also a major center of casino entertainment, has been coping with an unstable landscape on multiple fronts. In many ways, the Macau casino industry is coping with an even more unsteady forecast than is Vegas.
Two of the main upcoming issues for Macau casinos include:
Casino Concession Licenses Set to Expire
Macau's six concessions, or casino licenses, are set to expire on March 31, 2022. 
The casino concessions were granted based on a 2001 law that states that licenses are the property of the government. Six companies currently hold licenses – SJM Holdings, Wynn Resorts, Melco Crown Entertainment, Sand China, Galaxy Entertainment group and MGM China.
Licenses held by SJM Holdings and MGM China are set to expire in 2020. The concessions of Wynn Resorts, Melco Crown Entertainment, Galaxy Entertainment Group and Sands China all run until 2022. The implications of these license renewals are huge for Macau. The gaming industry is the city's largest employer and last year, direct taxes on gambling accounted for 82 per cent of all government revenue. That doesn't even begin to take into account the income from the resort stays, employment of Macau residents and other visitation and tourist income.
Less than a year ago, it was assumed that all six operators would apply for re-licensing of their casinos and would have gladly paid license renewal fees and/or agreed to tax increases. Now, with the territory's economy in shambles due to the pandemic shutdowns, the industry can't be taken for granted.
Most operators are assuming that the government will be reasonable. But there are other implications of the upcoming license conundrum. A number of the casinos, including Sands and Galaxy have land on Cotai that they are prepared to start to develop. SJM, Wynn and MGM have also stated that they want to develop more sites. Will they go ahead with those projects?
Investors are balking at providing financing these projects without some kind of government commitment to the license renewals. The South China Morning Post quoted Eric Greenberg, managing director of Goldman Sachs, who said that, 'Investors, from a debt perspective in particular, will be quite nervous about extending beyond that [expiry] date unless there is some clarity given, Hopefully, the government won't wait until the last minute but will rather give some sort of indications to the market so it doesn't prevent companies from doing necessary financing or refinancing or capital raising.'
Macau's government has not given any indication on how the renewal process will work or what the territory intends to ask of the casino operators. A legislative committee has asked the government to help calm the environment by communicating its intentions.
Lei Cheng I of Macau's Legislative Assembly's Monitoring Commission for Land Issues and Public Concessions (MCLIPC). He said that the commission has begun to request that the government present its stance on gaming law amendments. "The gaming industry is the most vital source of our economy and relates to a large number of employees," said Cheng.
The influence and impact [are] great and wide. The current gaming concessions will end by 2022, so we want to know the planning for the amendment of gaming licenses."
Junkets
A second concern for the Macau casino industry involves China's new stance on gambling junkets which could end the junket trade and significantly reduce the number of Chinese citizens who come to Macau to gamble at the casinos. Wynn Resorts is expected to be especially hard-hit. Wynn has relied heavily on the junkets and if a proposed anti-junkets law is passed in China this March, Wynn, which markets to upscale travelers, may find itself struggling to survive in Macau.
At an earnings conference, Wynn CEO, Matt Maddox struggle to paint an optimistic picture. AGBrief.com quoted Maddox who said,  "As far as the junkets, again, lots of conversation about junkets. That business is not dead as some people like to say. We saw it getting back to 25 percent to 30 percent of its previous levels. I believe it will continue to consolidate with some of the largest operators, and we will continue to participate in it. So I don't anticipate that junket business will be back to 2019 levels, because it is consolidating and it is shrinking."
Last year there were 100 licensed junkets operating in Macau. The number has been declining steadily and casinos have had to adjust. Maddox did find some bright lining in the gloomy forecast, asserting that Wynn wasn't writing junkets off all together. "Clearly [the junket industry] is changing and it will be smaller than it was before, but it's still very real. That business is not dead as some people like to say. The industry will continue to consolidate into the larger operators, and we will continue to participate in it."
Maddox said that Wynn is recovering from the Macau pandemic closures and is already seeing operations picking up.  "I don't know at what pace," said Maddox, but the overall mood and trajectory is quite good."
Bottom Line
Macau has weathered a substantial portion of the blow that has fallen the global casino industry this year. From January through October 2020, Macau has seen only 25% of the tax revenue that it took in during the same period last year. The Macau casino industry is plagued by the continuing worldwide pandemic, though it reports that a rebound is peeking out -- after months of depression, October 2020 has been Macau casinos' best month this year.
A strong Macau casino industry is in everyone's interests so the hope is that the casinos and the government will find ways to work together to rebuild and flourish in 2021 and onward.