Casino Gaming Being Considered in Thailand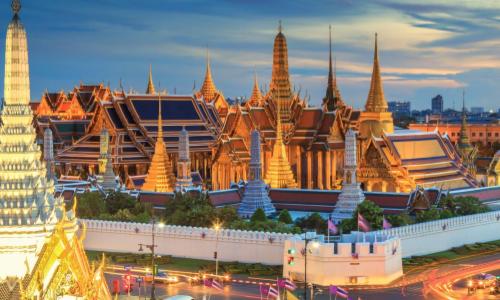 The once-thriving tourist economy in Thailand came close to being devastated by the COVID-19 pandemic. In 2020 Thailand's GDP fell by 6.1%, largely due to the financial crisis created by the almost complete demise of the tourism sector which accounts for 20% of employment and a fifth of GDP in Thailand. Now, Thai officials are considering legalizing retail and gambling in the country as they look ahead to the new possibilities for international travel.  Get your Thunderbolt casino coupons update right here.
Thailand's Tourist Industry and the COVID-19 Pandemic
The world economy was negatively impacted by the COVID-19 pandemic but Thailand, whose economy is heavily dependent on tourism, was particularly affected. As tourism dried up low-skilled workers, migrant workers, women and young workers were disproportionally affected by diminished employment opportunities.
The stress built up and although the government's containment measures proved to be successful in flattening the infection curve, government fiscal policies – stimulus payments, help for debtors, health-related spending increases and assistance to affected households – weren't enough to keep the fiscal deficit from widening to 4.8%  and public debt-to-GDP ratio from increasing to 49.6%.
Now the government is focusing on economic recovery including fiscal expansion. Economists have suggested a medium-term revenue mobilization strategies to ensure fiscal sustainability and rebuild fiscal buffers. One way to achieve this, financial advisors say, is to transform the tourism sector from mass and low-cost to low-density and high-end. A casino industry, many believe, would help to achieve this goal.
Casinos
Any form of gambling, other than betting on horse races, is currently illegal in Thailand. How, in an effort to lure high-end tourists back post-pandemic, the country is looking to open casinos. The Thai parliament is examining a proposal to allow "entertainment complexes" to be built in key cities across the country. These complexes are envisioned as casino resorts with casinos and other types of family entertainment and recreation options.
Tourism infrastructure investment is expected to grow in Southeast Asia over the next few years and Thailand doesn't want to lose out to places like Vietnam and Indonesia.   If Thailand can Bottom of Form
diversify its tourism and travel sector to attract new investors they believe that they can rebuild and expand their economy, making such tourism a central part of the country's economic narrative in the coming years.
IR Market
The market for Integrated Resorts  -- resorts with hotels, restaurants, entertainment shows, themed attractions, family attractions, luxury retail and convention facilities – is already crowded in Asia. Countries including Macau, Cambodia, Vietnam, South Korea, Malaysia, the Philippines and Singapore have already started to develop the sector and Japan has recently passed legislation to create three IRs of its own.
Alan Woinski, CEO of Gaming USA Corporation cautions that integrated casino resorts should be regarded as a tool for tourism and  shouldn't be seen as the  reason for it.
South Korea and Vietnam are examples of how integrated resorts can cause more problems than they solve, said Woinski, while the Singapore model, which involves only two integrated resorts —Resorts World Sentosa which is geared towards tourism/leisure and Marina Bay Sands that caters to business — is a good model of how things can be done correctly.
"Vietnam is making developers spend $2 billion per resort and does not allow locals to gamble," says Woinski. "Their locations were also picked to create tourism. South Korea also allows only foreigners to gamble. Both countries have seen nothing but losses from these resorts."
Macau, which had significant success for many years, is now seeing business cave in as their main feeder market, China, has clamped down on casino destination tourism. He warns that Thailand shouldn't pin its hopes on its popularity with Chinese tourists because the future of the junket market which supported the casino sector in Macau is crumbling.
Thailand
Several Thai lawmakers are calling to amend Thailand's Gambling Act of 1935, which prohibits most types of betting. The 1935 Gambling Act does have a provision that would allow the government to issue licenses for certain gaming activities and venues so bringing casinos into the country could be done by simply amending existing legislation. Pichet Chuamuangphan, vice-chairman of the panel of legislators who are examining the issue notes that "at least $11 billion in additional tax revenue would be collected annually once several facilities are operating."
If the pro-gambling forces are successful in getting an amendment passed, there would be a tender and licensing process. Master planning and approval would need to be undertaken, investors and franchisees would need to be secured and construction could begin.
Japan, which passed a law allowing for the construction of Integrated Resorts in the country six years ago and still hasn't even closed on approved sites or chosen vendors, demonstrates just how long and complex the process is.
The Casino Committee of Thailand believes that the country can reasonably support five casino resorts with suggested locations of the capital city of Bankok, Chiang Mai or Chiang Rai in the north, Phuket, Phang-nga or Krabi in the south, Pattaya City in the east, Ubon Ratchathani and Udon Thani or Khon Kaen in the northeast. Woinski supports the estimates of the tourist-centric location choices although he thinks that five casinos in Thailand is too much.
But he does suggest that Thailand closely examine the Japanese experience.  "It really will depend on how Thais feel about it" he said. The Japanese have made it quite clear they want nothing to do with integrated resorts. Local opposition, along with Japan's ridiculously high investment parameters, have resulted in only two proposals, while there were early indications of more than 30 bidders."
Risks
Thailand must also consider the risks of opening up their country to IR resorts. Thailand is the most visited country in Southeast Asia which would seemingly make it the perfect location for investors to put their money.
But the pandemic left behind it a lesson of caution and even if the government amends the 1935 Gambling Law, the most prudent course of action would be to take things slow. Wosinski cautions, "If they are reasonable, like Singapore, this can be very successful. However, if they turn out to be hostile and unrealistic, like Japan, it won't work," he said.